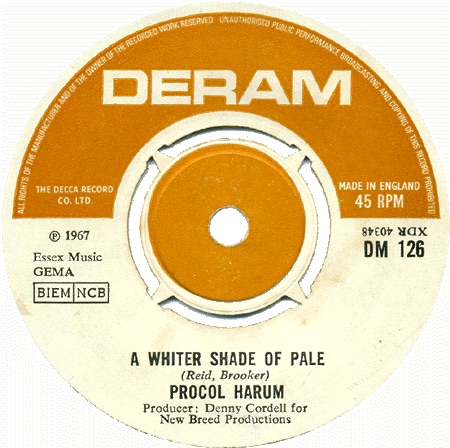 Keith Reid, who wrote the lyrics for Procol Harum's original songs, usually working in tandem with pianist/music composer Gary Brooker, died on March 23, 2023. Reid provided the words for Procol Harum's best known hit, 1967's "A Whiter Shade of Pale," as well as such rock classics as "A Salty Dog," "Shine on Brightly" and "Grand Hotel."
The cause of death was cancer. Reid's death was confirmed by his wife Pinkey, in an email sent to friends of the writer.
Born Oct. 19, 1946, in Hertfordshire, England, Reid grew up in London and in 1966 began collaborating with Brooker when his previous band the Paramounts morphed into Procol Harum. "A Whiter Shade of Pale" was one of the pair's earliest compositions, and it sold remarkably well around the world, reaching #1 in their native U.K. as well as Australia, Canada and several European countries, and #5 on Billboard's Hot 100 singles chart in the U.S.
Although Procol Harum was often classified as prog-rock, their first hit shared more in common with then-current American R&B ballads, due to Brooker's soulful piano playing and vocal delivery, as well as Matthew Fisher's organ line. (Fisher later claimed in court that he deserved partial writing credit; he won the case.)
Reid was not considered an official member of Procol Harum, due to his status as a non-performer, but he was essential to the group, as his words—often quite oblique—helped shape every song the band recorded. From ballads to heavy rock, Reid's poetic, sometimes surreal lyrics often kept Procol fans debating the meanings of the group's songs. Some of Reid's compositions, notably epics such as "In Held 'Twas In I," from the album Shine on Brightly, were considerably complex musically and lyrically dense by design.
Reid worked with Brooker and other members until 2017, when Procol's 14th album, Novum, became their first not to feature Reid's lyrics.
Related: The story behind "A Whiter Shade of Pale"
In addition to his work with Procol Harum, Reid also formed a company that handled personal management, publishing and production, and also a record label. Among his clients was former Procol Harum guitarist Robin Trower.
In addition to Procol, Reid's songs, particularly "Whiter Shade…." have been recorded by Annie Lennox, Willie Nelson, Heart and many others.
Watch the video for "A Whiter Shade of Pale"
In 1986, Reid was one of four songwriters of "You're the Voice," a worldwide smash (with the exception of the U.S.) for Australian singer John Farnham.
Related: Musicians we've lost in 2023

Latest posts by Jeff Tamarkin
(see all)