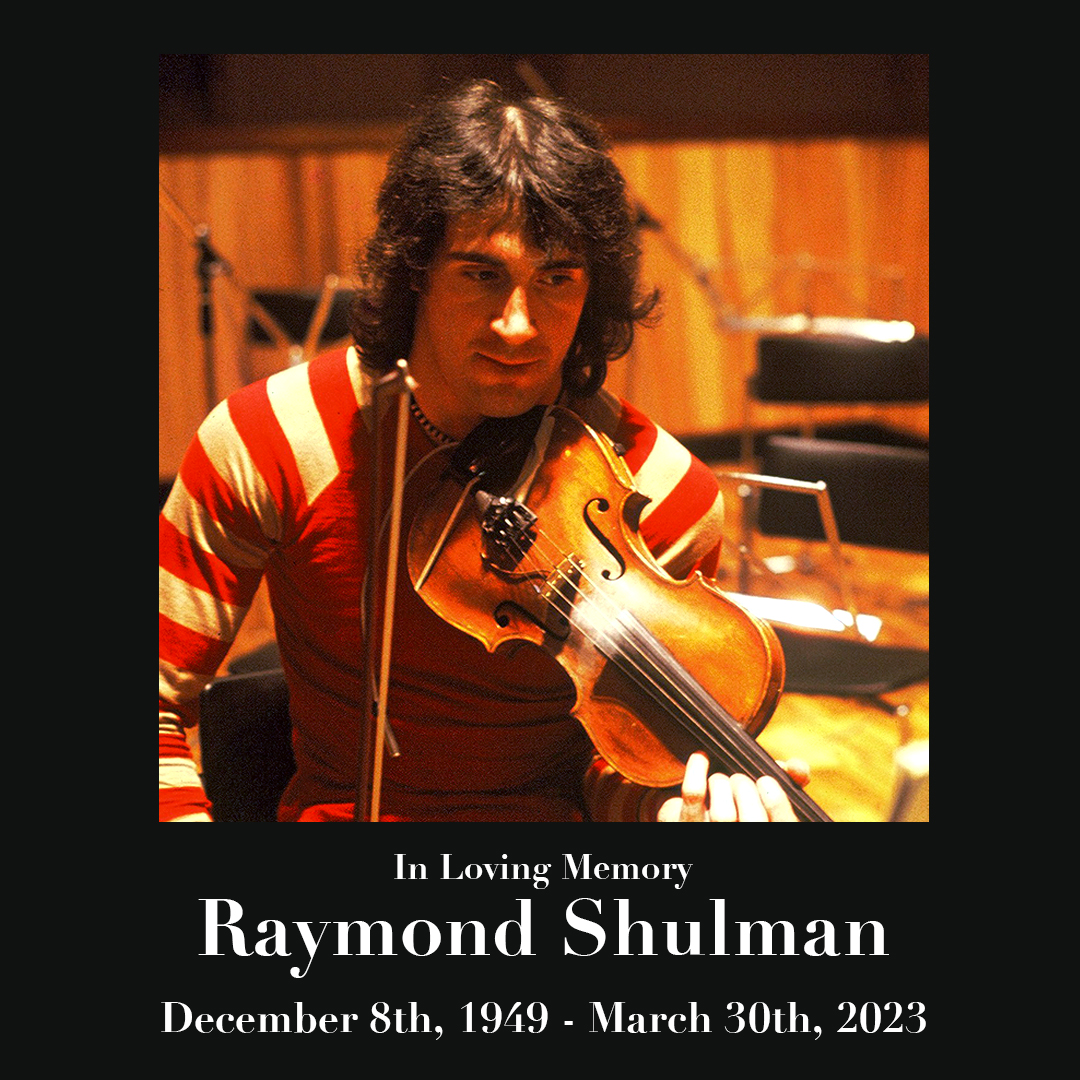 Ray Shulman, a founding member, with two of his brothers, in the progressive rock band Gentle Giant, died March 30, 2023, at 73. His death was announced by his bandmate and brother, Derek Shulman, today (April 1). Ray Shulman had been battling a long illness, though the specific cause of death wasn't disclosed.
In his Facebook post, Derek Shulman called his brother "my best friend." He wrote, in part, "Ray really was a genius in so many ways. He was such a kind and caring soul. He was an incredible composer, musician, music producer and tech wizard. He was a true artist and preferred to stay in the background and let his body of work speak for him rather than talk about himself."
Gentle Giant was formed in 1970 by their frontman Derek, multi-instrumentalist Ray, and their older brother, Phil, a multi-instrumentalist and vocalist, in London, U.K., along with multi-instrumentalist Gary Green, keyboardist and vocalist Kerry Minnear, and drummer Martin Smith. They released their self-titled debut album, produced by Tony Visconti—already well known at that time for his work with David Bowie and T. Rex, among others—that same year.
Throughout the 1970s, the prolific band released 11 studio albums for a variety of labels, and though they never achieved any significant commercial success, they became a popular opening act for many other bands, most notably Jethro Tull and Yes. Their highest charting album was their seventh, 1975's Free Hand, which became their only one to reach the Top 50 on the Billboard chart.
In 2017, Visconti said, "I was a very optimistic young man in 1970…I thought music like theirs would save the world from mediocrity. I couldn't wait to sink my teeth in it. I championed their cause by becoming sympathetic to the point where I temporarily joined the band for both albums. I modified their arrangements and pulled off some stunning audio effects that gave their sound more depth and immediacy. The band knew I was on their side. I remember there being a great feeling of camaraderie during the sessions. In our own way, we've touched the ears, minds and hearts of thousands of true believers."
The group disbanded in 1980. In a 2005 interview, Derek Shulman recalled that "the creative juices just weren't flowing. I was living in Los Angeles at the time when we broke up. We weren't really sure what direction to take. I don't regret the decision we made to disband, and I'd do it again if we were to do the whole thing all over again." Derek Schulman went on to significant success as a record company executive. At PolyGram, he signed Bon Jovi and Cinderella, among others.
In an interview, Ray Shulman said, "There was definitely the decision that the last tour would be the last tour. Once we knew that, we enjoyed ourselves. We decided to quit then rather than let it go on too long."
Ray Shulman was born Dec. 8, 1949, in Portsmouth, England. With Derek and Phil, they formed a band, Simon Dupree and the Big Sound, releasing several non-charting singles. Ray later produced albums for several acts including the Sugarcubes and Ian McCulloch. He is survived by both of his brothers.
Jethro Tull's Ian Anderson posted a tribute. "I remember Ray fondly for the many tours we did with Giant in the 70s. He will be missed greatly by fellow professionals in the music industry and by all fans of Gentle Giant."
Related: Musicians we've lost in 2023

Latest posts by Best Classic Bands Staff
(see all)