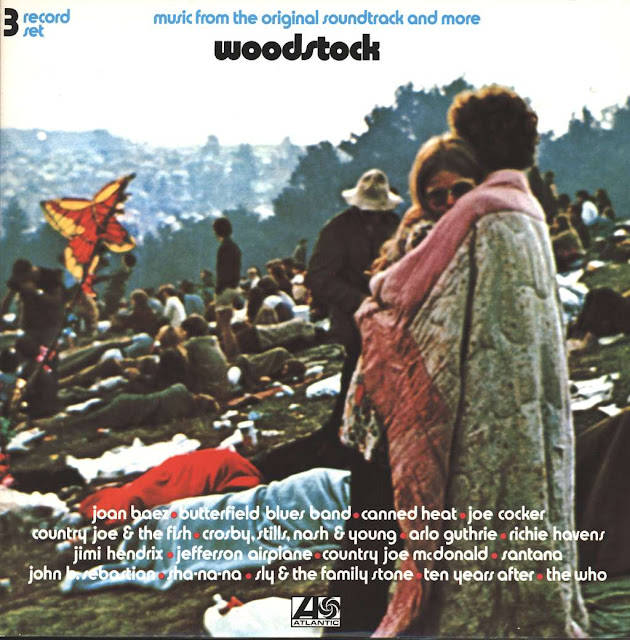 Bobbi Ercoline's name may not be familiar to most, but millions own her photograph: Bobbi, whose last name at the time was  Kelly, and her then-boyfriend, Nick Ercoline, were huddled together under a quilt at the 1969 Woodstock festival when photographer Burk Uzzle snapped their picture. The couple, both then 20, were unaware that their photo had even been taken until several months later, when the three-LP Woodstock soundtrack album was released. They were among friends when they first realized the couple on the album cover was them.
"We were passing the jacket around when someone pointed out the staff with the orange and yellow butterfly," Nick told AARP in 2019 for the organization's magazine. "That belonged to Herbie, a guy from Huntington Beach, Calif. He was lost and having a bad trip, and we hooked arms with him until he was clear-headed. Then we saw the blanket. Oh my lord, that's us!"
Bobbi and Nick only lasted one night at Woodstock, and never even got near the stage. They had given it their all trying to get to the festival, ditching their car when traffic became snarled and walking the final two miles. They spent most of their single day there on the hillside where the famous photo was taken.
Two years later, in 1971, they married. They remained together until Bobbi Ercoline's death yesterday (March 18, 2023).
Nick posted the news on Facebook: "It's with beyond great sadness that I tell my FB family and friends, that after 54 years of life together, of the death of my beautiful wife, Bobbi, last night surrounded by her family. She lived her life well, and left this world in a much better place. If you knew her, you loved her. She lived by her saying, 'Be kind.' As a School Nurse she always championed the kids … ALWAYS! As a person, she always gave. 'How much do you really need if you have all you need or want?' So she gave and gave and gave. She didn't deserve this past year's nightmare, but she isn't suffering from the physical pain anymore and that brings some comfort to us."
Ercoline did not specify the cause or place of his wife's death, or her exact age.
Related: The story behind Joni Mitchell's classic "Woodstock"
"Woodstock was a sign of the times," Bobbi said in an article posted in 2019 on the website Vintage Everyday. "So many things were churning around in our world at that time: civil rights, the Vietnam War, women's rights. It was our generation."
This became a popular photo over the years…
Couple on the Woodstock album cover 40 years later pic.twitter.com/YfvRvysryr

— Classic Rock In Pics (@crockpics) April 16, 2017
Watch a short video of the couple's return to the festival site decades later
Related: Musicians we've lost in 2023

Latest posts by Best Classic Bands Staff
(see all)