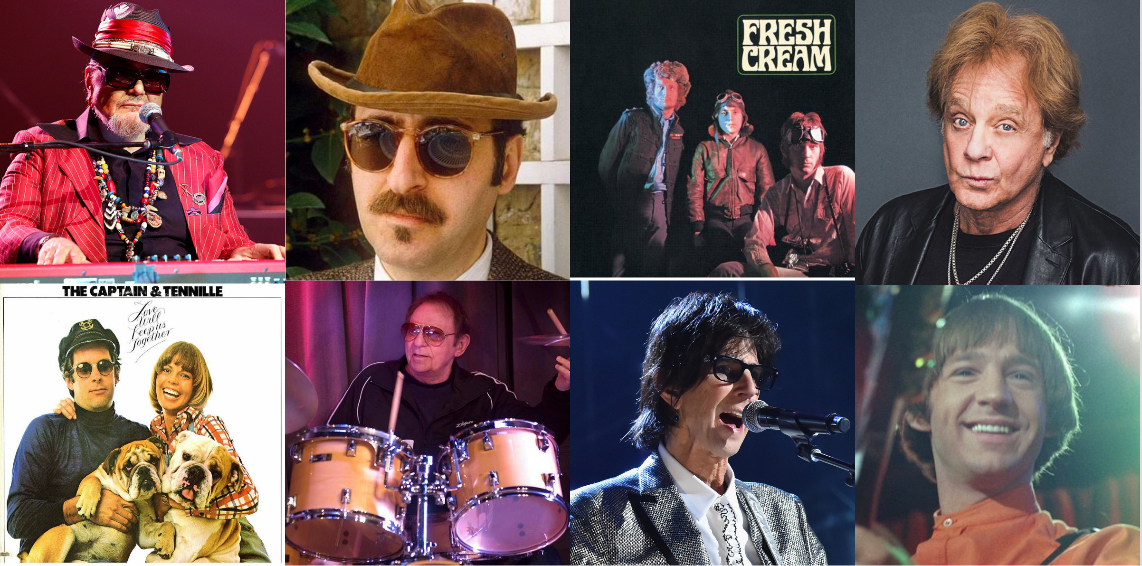 We lost many greats of the music world in 2019: musicians and singers, songwriters and producers, music industry giants and others who made it all happen.
They span all genres, from the New Orleans gris-gris of Dr. John to the blue-collar rock of Eddie Money, from the powerhouse jazz-informed drummer Ginger Baker to the good-time pop-rock of The Monkees' Peter Tork to the innovative new wave pioneer Ric Ocasek of The Cars.
Speaking of Ocasek, during the "In Memoriam" segment which aired on the Grammy Awards on CBS on Jan. 26, 2020, the musician's first name was misspelled as "Rick."
Watch the Recording Academy's "In Memoriam" clip; "Rick" Ocasek appears at the 23-second mark
The 2020 Grammy telecast was the lowest-rated in history.
Here we pay tribute to some of those who've left us in 2019. While it's a cliché, it's also true that, although they are gone, their music will always remain with those who are still here to listen.
(The names are listed alphabetically by surname, followed by the date of death and a brief description of their place in our world. We've done full obituaries for many of them; click on their names to read their stories.)
Jeff Austin—6/24—Mandolinist/singer with Yonder Mountain String Band bluegrass group
Ginger Baker—10/6—Drummer for Cream, Blind Faith and other bands
Chuck Barksdale—5/15—Singer with the Dells
Paul Barrere—10/26—Little Feat guitarist/singer/songwriter
Dave Bartholomew—6/3—New Orleans musician/producer/arranger/songwriter; Fats Domino collaborator
Don Baskin—10/22—Syndicate of Sound ("Little Girl") singer
David Berman—8/7—Musician/singer with the band the Silver Jews
Hal Blaine—3/11—Session drummer with the L.A. studio team the Wrecking Crew
Asa Brebner—3/10—Guitarist with the Modern Lovers
Kofi Burbridge—2/15—Keyboardist/flutist with the Tedeschi Trucks Band
Irving Burgie—Musician and songwriter who wrote Caribbean-flavored songs for Harry Belafonte, including "Day-O."
Diahann Carroll—10/4—Singer and actress
Donna Carson—11/21—Singer in '60s-'70s folk duo Hedge and Donna
Neal Casal—8/26—Musician with Ryan Adams, others
Steve Cash—10/14—Ozark Mountain Daredevils harmonica player
George "Pops" Chambers—10/12—Bassist/singer with the Chambers Brothers
Carol Channing—1/15—Actress and singer
Johnny Clegg—7/16—South African singer/musician
J.R. Cobb—5/4—Atlanta Rhythm Section member
Dick Dale—3/17—Surf guitar pioneer
Doris Day—5/13—Singer, actress and animal rights activist
Dr. John—6/6—Born Mac Rebennack, he was a legendary New Orleans singer/songwriter/musician
Lorna Doom—1/16—Bassist with the Germs
Daryl Dragon—1/2—The "Captain" in the Captain and Tennille
Gary Duncan—6/29—Quicksilver Messenger guitarist/singer
Molly Duncan—10/8—Saxophonist with the Average White Band
Stephan Ellis—2/?—Survivor bassist
Roky Erickson—5/31—Singer/songwriter with the 13th Floor Elevators
Keith Flint—3/4—Singer with the Prodigy
Willie Ford—5/29—Singer with the Dramatics
Kelly Jay Fordham—6/21—Singer/songwriter/keyboardist with Crowbar
Fred Foster—2/20—Founder of Monument Records, producer for Roy Orbison
Marie Fredriksson—12/9—Singer with Roxette
Robert Freeman—11/7—Photographer of Beatles album covers
Donnie Fritts—8/27—Songwriter/keyboardist for Kris Kristofferson
Ian Gibbons—8/1—Keyboardist with the Kinks
João Gilberto—7/6—Brazilian guitarist/singer, bossa nova pioneer; collaborated with Stan Getz on "The Girl From Ipanema"
Tony Glover—5/29—Blues harmonica player
Tom Goodkind—2/28—Washington Squares singer/guitarist
Rowland "Boon" Gould—4/30—Founding member of the band Level 42
Eric Haydock—1/5—Bassist with the Hollies
Greg Haymes—4/10—Member of the band Blotto
Mark Hollis—2/25—Lead singer/songwriter with Talk Talk
Robert Hunter—9/23—Grateful Dead lyricist, solo artist
James Ingram—1/29—R&B singer
Neil Innes—12/29—Member of the Bonzo Dog Band and The Rutles
Daniel Johnston—9/11—Singer-songwriter with an international cult following
Larry Junstrom—10/6—Lynyrd Skynyrd founding bassist
Clydie King—1/7—Backing vocalist and session singer with Bob Dylan, others
Sleepy LaBeef—12/26—Rockabilly singer and musician
Jerry Lawson—7/10—Singer with the Persuasions
Roy Loney—12/13—Founding member/vocalist with the Flamin' Groovies
Doug Lubahn—Bassist for the Doors, Clear Light and others
Steve Madaio—1/15—Trumpeter for Stevie Wonder, Paul Butterfield, others
John Mann—11/20—Canadian guitarist and singer for Spirit of the West
Barrie Masters—10/2—Singer with British pub-rock band Eddie and the Hot Rods
Phil McCormack—4/26—Singer with Molly Hatchet
Ted McKenna—1/19—Drummer with the Sensational Alex Harvey Band
Eddie Money—9/13—Singer/songwriter whose hits included "Two Tickets to Paradise," "Baby Hold On"
Eric Moore—5/17—Singer with the Godz
Jackie Moore—11/8—R&B singer known for her 1971 hit "Precious, Precious"
Willie Murphy—1/13—Blues musician
Art Neville—7/22—Keyboardist/singer and founding member of the Meters, the Neville Brothers
Ric Ocasek—9/15—Singer/songwriter/guitarist with the Cars
Terry O'Neill—11/16—Photographer of musicians
D.A. Pennebaker—8/1—Documentary filmmaker (Monterey Pop, Don't Look Back)
Leon Rausch—5/14—Singer with Bob Wills and his Texas Playboys
Paul Raymond—4/5—Guitarist/keyboardist with UFO
Leon Redbone—5/30—Singer/songwriter/guitarist who specialized in old-time jazz and blues
Les Reed—4/15—Songwriter of Tom Jones' hit "It's Not Unusual" and more.
Elliot Roberts—6/21—Music business executive; managed Neil Young
Sara Romweber—3/5—Drummer with Let's Active
Doug Sandom—2/27—First drummer for the Who
Jack Scott—12/12—Early Canadian-born rocker
Kim Shattuck—10/2—Singer-songwriter with the Muffs
Joe Smith—12/2—Record industry executive at Warner Bros., Elektra and Capitol labels
Russell Smith—7/12—Amazing Rhythm Aces singer/songwriter
Iain Sutherland—11/25—Member of the Sutherland Brothers and Quiver
Norma Tanega—12/29—Folk-pop singer known for the 1966 hit "Walkin' My Cat Named Dog"
Larry Taylor—8/19—Bassist with Canned Heat, others (nicknamed "The Mole")
Joe Terry—4/15—Singer with Danny and the Juniors
Peter Tork—2/21—Member of the Monkees, solo singer/songwriter
Bernie Torme—3/17—Guitarist/singer with Ozzy Osbourne, Gillan
Bill Vitt—7/16—Drummer with Jerry Garcia's solo bands
Scott Walker—3/22—Member of the Walker Brothers, solo artist
Larry Wallis—9/19—English musician with the Pink Fairies, Motörhead
Jeff Walls—5/29—Guitarist with Guadalcanal Diary
Guy Webster—2/9—Photographer of album covers for Beach Boys, Doors, Mamas and the Papas, others
Paul Whaley—1/28—Drummer with Blue Cheer
David White—3/17—Member of Danny and the Juniors, writer of "At the Hop"
Mike Wilhelm—5/14—Musician with the Charlatans, Flamin' Groovies
Andre Williams—3/17—R&B singer
John Gary Williams—5/28—Singer with the Mad Lads
Mac Wiseman—2/24—Bluegrass singer
Nicky Wonder—8/7—Guitarist with Brian Wilson
Pegi Young—1/1—Singer-songwriter, ex-wife of Neil Young
Reggie Young—1/17—Guitarist with the Memphis Boys
Bonus Video: The Cars' "You Might Think"

Latest posts by Best Classic Bands Staff
(see all)