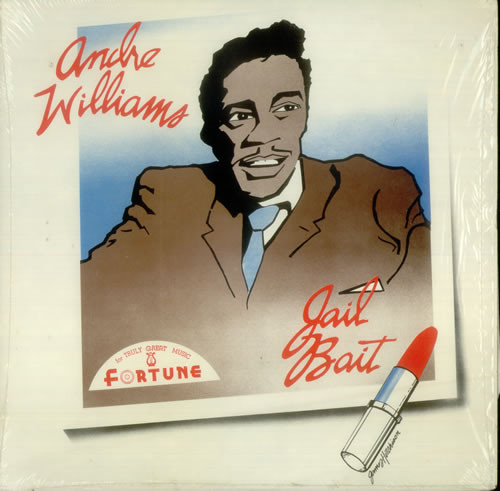 Andre Williams, an R&B singer known as "Mr. Rhythm," died yesterday (March 17) in Chicago at age 82. His passing was confirmed on his Facebook page. The cause of death was not reported.
Williams was best known for his top 10 R&B hit "Bacon Fat," from 1957, released on Epic Records (and later covered by the Cramps). He scored one other Billboard R&B chart single, "Cadillac Jack," in 1968. Two different singles, "Rib Tip's (Part 1)" and "Pearl Time," made the lower reaches of the trade magazine's Hot 100 chart in 1966 and 1967, respectively. His other popular recordings included "Jail Bait" and "Greasy Chicken." He also co-wrote the popular soul tune "Shake a Tail Feather," covered by the Five Dutones, Ike and Tina Turner, Mitch Ryder and others.
Listen to "Bacon Fat," Williams' biggest hit
Born Zephire Andre Williams in Bessemer, Alabama on Nov. 1, 1936, Williams, whose mother died when he was young, moved with his father to Detroit in his late teens, where he became the lead singer of the R&B group the Five Dollars in 1955. The group was signed to Fortune Records, which then began releasing recordings by Williams with the Don Juans. "Bacon Fat," billed as Williams solo, did particularly well and was sold to the larger Epic Records, which took on its distribution—it ultimately reached #9 on the national R&B chart.
Fortune released an album of Williams' singles in 1960, titled Jail Bait after one of his more risqué early songs, but by then Williams had moved on to the short-lived Motown subsidiary Miracle Records. His sole single for that label, "Rosa Lee (Stay Off the Bell)," was issued in 1961 but failed to chart. Williams also wrote "Thank You (For Loving Me All the Way)," an early Stevie Wonder recording released on the Tamla label.
Another Williams composition, "Twine Time," was a 1965 top 10 R&B single for Alvin Cash and the Crawlers.
Williams continued to release recordings on labels such as Avin, Wingate and Ric-Tic without further success, then signed to Checker, a sister label to Chicago's Chess Records. "Cadillac Jack" proved to be his biggest hit for that firm, peaking at #46. None of Williams' subsequent releases under his own name fared well nationally, but he kept occupied producing artists such as Ike Turner and Mary Wells, and writing songs for Parliament-Funkadelic and others. He also managed soul singer Edwin Starr in the '60s.
Related: Other recent music world passings include David White, co-writer of such hits as "You Don't Own Me" and "At the Hop"
Reportedly, Williams hit hard times by the '80s, but in 1996 he returned to music with the album Mr. Rhythm, featuring re-recordings of his early sides. He also recorded in the country music genre. He became quite prolific in the past couple of decades, releasing more than 20 further albums for labels such as Bloodshot Records and others. According to Bloodshot's website, Williams "crashed, burned, and was re-born when he recorded the garage rock sleaze classic Silky with members of the Dirtbombs and Demolition Doll Rods. Since then, he's recorded albums with the Sadies, Jon Langford, Two-Star Tabernacle (featuring Jack White), Jon Spencer, Morning 40 Federation and the Goldstars."
In 2012, Williams was inducted into the Michigan Rock and Roll Legends Hall of Fame. He was the subject of a documentary, Agile, Mobile, Hostile. His final album, released in 2016, was titled I Wanna Go Back to Detroit City.
Watch Williams perform "Jail Bait" in 2006

Latest posts by Best Classic Bands Staff
(see all)