It was announced by family members that singer/performer Leon Redbone, whose musical style recalled an earlier era, died on May 30, 2019. The location was not revealed; the Washington Post reported that he had been suffering from dementia. He was 69.
A notice was posted on LeonRedbone.com that read as follows:
"It is with heavy hearts we announce that early this morning, May 30th 2019, Leon Redbone crossed the delta for that beautiful shore at the age of 127. He departed our world with his guitar, his trusty companion Rover, and a simple tip of his hat. He's interested to see what Blind Blake, Emmett, and Jelly Roll have been up to in his absence, and has plans for a rousing sing along number with Sári Barabás. An eternity of poring through texts in the Library of Ashurbanipal will be a welcome repose, perhaps followed by a shot or two of whiskey with Lee Morse, and some long overdue discussions with his favorite Uncle, Suppiluliuma I of the Hittites. To his fans, friends, and loving family who have already been missing him so in this realm he says, "Oh behave yourselves. Thank you…. and good evening everybody."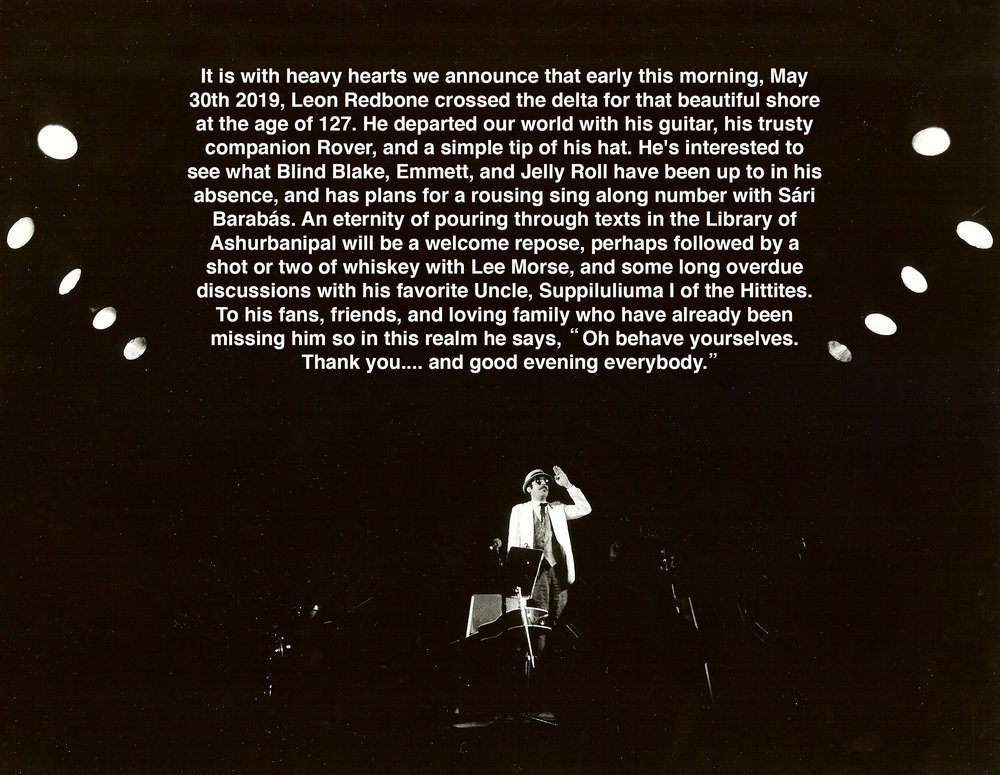 Redbone had retired from performing in 2015 after a career that saw the release of 16 full-length albums beginning with On the Track, his 1975 debut on Warner Bros. He went on to put out albums on his own August imprint through Blue Thumb, Private Music and Rounder with his most recent new release, 2014's Flying By, issued through his August Records imprint (distributed by Rounder) as have all of his recordings dating back to the mid-1980s. A compilation of his earliest recordings titled Long Way From Home was released in 2016 via Third Man Records.
Redbone's reverence for gramophone-era music including jazz, country, ragtime, blues and vaudeville, was reflected in his performance, stage patter and attire. Most often dressed in a white suit with a string tie, wearing dark glasses and a panama hat, he gave voice to a bygone era of music, recalling Bing Crosby, Jimmie Rodgers, Jelly Roll Morton, Ted Lewis, Emmett Miller, Blind Blake and other notable artists whose heyday was the first half of the 20th century.
The enigmatic Redbone, born August 26, 1949, emerged from the folk scene in Toronto and experienced a breakthrough when Bob Dylan "discovered" him at 1972's Mariposa Folk Festival in Orillia, Ontario. Dylan noted that if he had his own record label, he would have signed Redbone. Always protective of his identity, Redbone eschewed a photo of himself for his first album. Instead, it was adorned by an illustration of Michigan J. Frog, the cartoon character who had sprung into the modern day from a time capsule, the perfect visual metaphor for Redbone's focus on that which had gone before. "The only thing that interests me," said Redbone in a 1991 interview, "is history, reviewing the past and making something out of it."
Watch Leon Redbone perform "Please Don't Talk About Me When I'm Gone" in 1977
His voice was heard in films and on TV, most notably "According To Our New Arrival," the theme song for Mr. Belvedere, the hit series that ran on ABC for six seasons. His version of Fats Waller's "Your Feets Too Big" was the theme of all 72 episodes of Universal Television's Harry and the Hendersons in the early '90s.
He was the first performing artist to appear twice in the same season of Saturday Night Live (season 1: 1975-76) and returned to the show in season 3 (1977) and season 8 (1983). He provided the voice of the animated character Leon the Snowman in the 2003 film Elf and performed a duet with Zooey Deschanel of "Baby, It's Cold Outside" for the film.
He never directly answered questions about his origin, age, etc., preferring to invest his creative energies in his artistry and the persona he inhabited. He offered, "I don't do anything mysterious on purpose. I'm less than forthcoming, but that doesn't necessarily mean I'm mysterious. It just means I'm not inclined to go there."
Related: Musicians who died in 2019

Latest posts by Best Classic Bands Staff
(see all)