Joe Smith, Colorful Head of Warner Bros., Elektra Labels, Dies
by Greg Brodsky
Joe Smith, whose long music industry career spanned senior roles at Warner Bros. Records, Elektra/Asylum and Capitol Records, died Dec. 2, 2019. He was 91. In his storied career, Smith oversaw the careers of such classic rock legends as James Taylor, Rod Stewart, Linda Ronstadt, the Eagles, Jackson Browne, Black Sabbath, Bonnie Raitt, the Cars, Alice Cooper, the Grateful Dead, and countless others.
The longtime Los Angeles resident was a fixture at Lakers games in his courtside seats. (See below.) He even received an honorary Lakers #1 jersey, presented to him by the team's Hall of Fame guard and executive.
Smith was well known for his humor and often served as toastmaster at music industry functions. His easygoing manner and insider status served him well in his retirement, when he had a stunning second act, conducting several hundred interviews with legendary recording artists and industry executives. The Joe Smith Collection of over 225 recordings with such stars as Bob Dylan, Paul McCartney, Barbra Streisand, George Harrison, Dick Clark, Ray Charles, Quincy Jones, and David Bowie, is housed at the Library of Congress.
In 1989, Smith published Off The Record: An Oral History of Popular Music, which featured transcripts of these interviews. Many of them have been animated and featured on the website Blank on Blank.
In 1986, Smith interviewed Joni Mitchell; they knew each other well from their years together at both Warner Bros. Records and Asylum. He asked her about her days living in New York City. "I got in before SoHo was SoHo," she said. "It was just Little Italy when I was in there. It's too expensive. It's insane. You've got to be a billionaire to live on Manhattan now."
Smith joined Elektra/Asylum in December 1975 as Chairman, replacing David Geffen, who at the time moved to a senior role at Warner Bros. Inc. (Geffen founded Asylum Records and it was later merged with Elektra.) At the time of Smith's promotion, Stephen Ross, who formed entertainment juggernaut Warner Communications Inc., said, "With Ahmet Ehtegun, Joe Smith and Mo Ostin heading Atlantic Records, Warner Bros. Records and Elektra/Asylum Records respectively, I believe we have the strongest record company leadership in the industry today." Few would disagree.
Smith joined Warner Bros. Records in 1961 and became its president in 1972. When he departed to join the sister labels Elektra/Asylum, Ostin said, "Joe's contribution to the success of Warners in his 14 years may never be fully appreciated." The vibe emanating from Warners' legendary "ski lodge" headquarters in Burbank, Calif. helped make it the hippest label in the industry.
Smith signed the Grateful Dead to Warner Bros. Years later, he told Variety, "The Grateful Dead was probably the most important signing because we were changing from the Petula Clark-Frank Sinatra company to what was happening in music."
Smith resigned from his position at Elektra/Asylum in January 1983. He later served as president of Capitol-EMI Music. He received a star on the Hollywood Walk of Fame on Aug. 27, 2015, with a grateful Bonnie Raitt and Jackson Browne in attendance. He said to Variety at the time, "I'm so fortunate to have gotten out of (the music business) when I got out of it because there's no fun anymore. We were there during a great time, and (then) it hit a wall."
Prior to working on the label side of the business, Smith was one of the top radio broadcasters in the country, working as a sportscaster and disc jockey in Pittsburgh and Boston.
Listen to the theme song, "We're Gonna Rock With Joe Smith," on WMEX and WILD radio in Boston
Smith was born Jan. 29, 1928, in Chelsea, Mass. and served in Asia with the U.S. Army Infantry. He graduated from Yale University. Smith is survived by his wife of 62 years, Donnie, two children, and their families.
Watch a NBA promotional spot for its "Fan-tastic" series. (That's Smith on the left slapping palms at the :23-second mark.)
Related: Smith's interview with David Bowie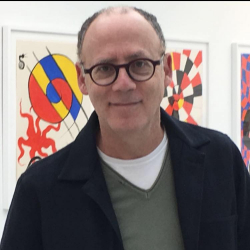 Latest posts by Greg Brodsky
(see all)