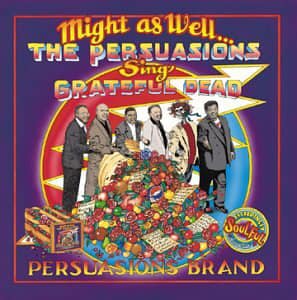 Editor's note: This article is copyright Rip Rense, The Rip Post, 2019. Used with permission.
Jerry Lawson, the former baritone lead singer and arranger of the a cappella group The Persuasions, died July 10 at a Phoenix, Ariz., hospice following a long illness. He was 75.
Lawson, born Jan. 23, 1944, in Ft. Lauderdale, Fla., formed the Persuasions with Jimmy Hayes, Joseph Russell, Herbert Rhoad and Jayotis Washington in 1962 on the stoops and basketball courts of Brooklyn, N.Y., and toured with the group for 40 years, releasing nearly 25 albums in the process.
Listen to the Persuasions sing a medley of the Hollies' "He Ain't Heavy, He's My Brother" and Carole King's "You've Got a Friend"
Dubbed by critics a "baritone Sam Cooke," Lawson's singing style combined gospel influence from his youth in rural Apopka, Fla., with popular music of all types. Under his guidance, the Persuasions released albums covering everything from Cooke to Motown to Frank Zappa.
The Persuasions were, in fact, first signed to an album deal by Zappa, who released their album Acappella in 1969 on his Bizarre Records label. From there, major labels discovered and signed them, and they were championed by Barret "Dr. Demento" Hansen and an array of music greats including Stevie Wonder and Joni Mitchell (with whom they recorded and toured.
Watch: The Persuasions joined Joni Mitchell for this 1979 live version of her song "Shadows and Light"
"Who can ever forget the first time they heard Jerry Lawson's voice singing with the Persuasions?" said Miles Merritt, a documentary filmmaker who produced and directed The Jerry Lawson Story, to be released this fall. "His rich, reassuring, raspy baritone was tantamount to an epiphany, an awakening to the possibilities of the human voice to stir us, to lift us, and to make us want to sing along in harmony."
Despite Lawson's singing skills and charisma, and the Persuasions' unique, gutsy street harmonies, the group retained a cult following throughout its career. Not until a cappella (unaccompanied) singing hit the mainstream with younger groups such as Boyz II Men, who cited the Persuasions as a main influence, were Lawson and the Pers, as they were known to fans, more widely recognized.
The group placed five albums on the Billboard charts in the 1970s: We Came to Play (1971, #189), Spread the Word (1972, #195), Street Corner Symphony (1972, #88), We Still Ain't Got No Band (1973, #178) and More Than Before (1974, #52 Billboard R&B chart)
After leaving the Persuasions in 2002 for personal reasons, Lawson relocated to Phoenix. He and his wife co-produced what he considered his a cappella masterwork Jerry Lawson and Talk of the Town, in which he paired up with a long-standing San Francisco singers who had based themselves on the Persuasions. Lawson and TOTT made a memorable series of appearances on NBC's The Sing-Off in 2011. Lawson continued with various solo performances, local gigs and in 2005 joined Rod Stewart on stage for the Katrina Benefit Concert for the victims of the hurricane.
Stewart, told of Lawson's passing, said this: "After working together at the Hurricane Katrina Benefit Concert, I admired the undeniable depth in Jerry's big voice. A true soul singer…"
It was singer-songwriter Eric Brace, a lifelong Persuasions/Lawson fan, who approached Lawson with what became his first and only solo album, Just a Mortal Man, released on Red Beet Records in 2015. Critically acclaimed, the project featured a number of Brace originals, country singer-songwriter Jim Lauderdale, the McCrary Sisters, and included one song, "Woman in White," co-written by Lawson and Grateful Dead lyricist Robert Hunter. (In 1999, the Persuasions released Might As Well—The Persuasions Sing Grateful Dead.)
After moving to Phoenix, Lawson took a full-time job caring for disabled adults at Arizona Mentor, where he was employed until his death.
Listen to the group's cover of the Grateful Dead's ballad "Ship of Fools"

Latest posts by Best Classic Bands Staff
(see all)