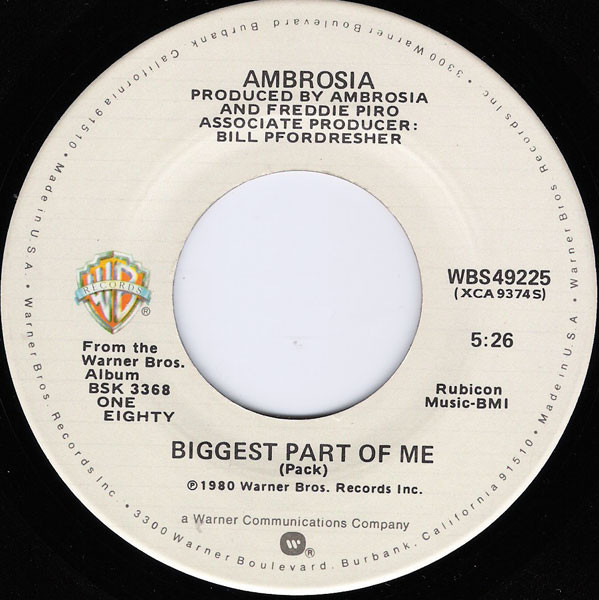 David Cutler Lewis, the keyboardist for Ambrosia in the late '70s/early '80s, who played on their 1980 pop hit, "Biggest Part of Me," died June 8, 2021, reportedly from brain cancer. The news was announced by the band on their Facebook page, though neither the location, nor his age was revealed. He later went on to win a Grammy with the New Age band Shadowfax.
From the group's statement: Lewis' first appearance on an Ambrosia LP was on their 1978 release Life Beyond LA where his legendary "mini-moog" solo sound was first unleashed on the song "Not As You Were." David thought like a guitar player but found a way to express it more uniquely than anyone else had on keyboards.
Founding member Joe Puerta (bass, vocals) said, "Dave was a genius in creating some of the most amazing sounds and fiery solos that added so much to the music and sound of Ambrosia.
Guitarist-vocalist David Pack, also a founding member, said, "David helped take our music to a higher place at the perfect time. He helped me 'decode' chord changes I was hearing at the drop of a hat, or find a riff or synth color almost telepathically. No one sounded like him; he created a monster mini-moog hybrid guitar synth sound whereby he'd split the overdriven upper harmonic with a foot pedal and do amazing note bends… that were simply stunning.
"He was Ambrosia's musical Swiss army knife, he could do it all."
Watch the group perform "Biggest Part of Me" in 1980
Co-founder/drummer Burleigh Drummond said, "He is one of the greatest soloists I ever had the chance to play with, especially with his beloved Moog synth with which he could soar like Hendrix and cry like Vaughn Williams."
Ambrosia's commercial peak was with the 1978 album Life Beyond L.A. and its follow-up, 1980's One Eighty. The albums yielded the big pop hits "How Much I Feel" and "Biggest Part of Me," both of which reached #3 in the U.S.
Lewis was born in Seattle, Wash. and began taking lessons in classical piano at age five. When he was 19 he moved south to California and entered the California Institute of the Arts where he took his further studies in modern, classical and jazz piano
After he had graduated he performed with several Californian bands and then became a member of Ambrosia. In 1984 he joined Shadowfax and in 1989 he won a Grammy Award with them for Best New Age Performance.

Latest posts by Best Classic Bands Staff
(see all)