The Byrds' 'Sweetheart of the Rodeo': Cornerstone of Country-Rock
by Sam Sutherland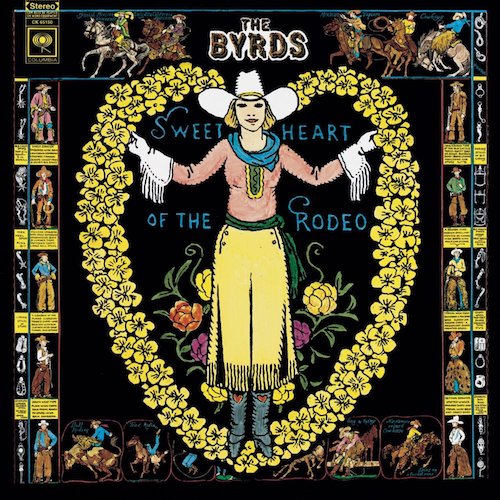 Fifty years after its creation, Sweetheart of the Rodeo looms as a cornerstone of country-rock and point source for alt-country and Americana, The Byrds' most consequential stylistic stroke since the band's pioneering folk-rock debut three years earlier. Yet when planning for the album began during the first months of 1968, the group was struggling against commercial headwinds and crippled by personnel changes, reduced to co-founder and lead guitarist Roger McGuinn and bassist Chris Hillman.
The duo was licking its wounds at the disappointing reception to the band's fifth and most ambitious album, The Notorious Byrd Brothers, which found them stretching to meet the high bar set by Sgt. Pepper. With its aggressive electronic edge and topical material reflecting political and cultural unrest, Notorious had earned them some of the best reviews of their career. By the time of its completion, however, internal dysfunction had boiled over, with McGuinn and Hillman firing David Crosby and drummer Michael Clarke. That album's lead-in single, a wistful version of Gerry Goffin and Carole King's "Goin' Back," had stalled after its October '67 release, with the album likewise peaking at #47 on the Billboard album chart after its release in early January.
By February, the two surviving members had drafted Hillman's cousin, Kevin Kelley, as drummer and embarked on a trio tour that exposed their lack of firepower. With McGuinn and Hillman as the only signatories to a new Columbia Records contract, the plan was to proceed with hired sidemen. McGuinn, meanwhile, envisioned an even more ambitious full-length that would double down on Notorious' scale by attempting a pan-generic survey of 20th century music.
Related: When "Mr. Tambourine Man" hit #1
Enter Gram Parsons. The Florida-born, Georgia-raised Parsons was a new kid in town seeking success with the International Submarine Band, whose debut album was weeks from release. Invited by Hillman to audition for the Byrds on piano, Parsons' voice, guitar and original songs quickly established him as more versatile—and ambitious. Not content to be a mere hired hand, the charismatic Parsons lobbied for a shift away from McGuinn's grand concept. Instead, Parsons pushed for a narrower focus highlighting the country elements he was already exploring with the ISB.
Not that the Byrds were strangers to country, especially Chris Hillman. As a teenager, he'd established himself as a mandolin player with Southern California bluegrass bands. As a Byrd, he had persuaded his bandmates to cover Porter Wagoner's 1955 hit, "A Satisfied Mind," and his Byrds debut as lead singer and songwriter came with "Time Between," a brisk country shuffle on 1967's Younger Than Yesterday. In Hillman, Parsons gained a crucial ally and future collaborator, and together they closed ranks with McGuinn around Sweetheart's focal concept. With producer Gary Usher, they headed for Nashville and a week of March sessions reinforced by seasoned country session musicians. Subsequent Los Angeles sessions would follow in April and May.
Listen to "You Ain't Goin' Nowhere" from Sweetheart of the Rodeo
Sweetheart's opening track underlined the Byrds' pivot from Hollywood to Music Row vividly. "You Ain't Goin' Nowhere" found them turning yet again to Bob Dylan for material, this time tapping into the bucolic spirit of the as-yet-unreleased Basement Tapes. In place of McGuinn's signature Rickenbacker 12-string, the arrangement spotlighted Lloyd Green's giddy pedal steel filigree, dancing between the vocals above a loping country beat. The album would close with another Basement Tapes gem, "Nothing Was Delivered," but the set list otherwise leaned on country and folk material, plus a recent R&B ballad, William Bell's "You Don't Miss Your Water."
Listen to "You Don't Miss Your Water"
Related: 50 years later, McGuinn and Hillman performed the album on tour – Review
Bell's soulful weeper was tied to Parsons' no-longer-hidden agenda in his Sweetheart input, a second draft for what he deemed "cosmic American music"—a junction of Southern idioms that prized both white country and black rhythm 'n' blues. Vocal harmonies, pedal steel (by Jay Dee Maness) and honky-tonk piano (by Earl P. Ball) were anchored in Nashville, while Bell's lyrics were pure Memphis, but Parsons' original vocal ran afoul of protest from Lee Hazlewood and LHI Records, to which the International Submarine Band was signed. McGuinn tracked a new vocal lead in a compromise intended to quell the dispute.
Listen to the Gram Parsons-sung version of "The Christian Life"
Now listen to the official, Roger McGuinn-sung version
The same fate befell several other Sweetheart tracks, most notably "The Christian Life," an Ira and Charlie Louvin classic celebrating faith despite the loss of less devout friends. Parsons may have been a wealthy trust-fund kid and practicing libertine, but his reverent vocal featured here honored the Louvins' sincerity, nodding toward the axis of sin and soul shared by country and R&B. As heard on the finished album, McGuinn's sarcastic drawl betrays his ambivalence, if not contempt, for the Louvins' fervor.
The legal détente with Hazlewood and LHI over Parsons' ISB obligations didn't entirely erase him from the tracks. Most crucially, Parsons landed two original songs on the album. "Hickory Wind," written with former ISB member Bob Buchanan, was a homesick reverie, a country waltz set against sighing fiddles and graced with gorgeous vocal harmonies. Parsons' aching lead vocal projected weary vulnerability, alluding to worldly "riches and pleasures" that prove powerless against loneliness.
Listen to "Hickory Wind"
Parsons was less fortunate, however, with his second Sweetheart original, "One Hundred Years From Now," another concession to LHI. Once more, McGuinn was pressed into service for the lead vocal, providing one of the set's two mid-tempo rockers alongside "Nothing Was Delivered."
Listen to "One Hundred Years From Now"
Parsons' lead vocals were retained for covers of Merle Haggard's penitent "Life in Prison" and Luke McDaniels' barroom lament, "You're Still on My Mind," clinching the newest Byrd's prominence on Sweetheart.
Elsewhere on the album, McGuinn turned to Woody Guthrie for "Pretty Boy Floyd," which cast the '30s gangster as a Depression-era Robin Hood. Hillman, meanwhile, contributed the album's other nod to country gospel, "I Am a Pilgrim," and took the lead vocal on Cindy Walker's "Blue Canadian Rockies."
Listen to "I Am a Pilgrim"
By the time Sweetheart of the Rodeo was released on August 30, 1968, Parsons had left the group after refusing to play dates in South Africa. Hillman would soon follow him to join forces in the Flying Burrito Brothers, building on the "cosmic American" blueprint that would be further refined with Parsons' solo albums with protégé Emmylou Harris.
Although other bands, including the Beatles, Lovin' Spoonful, Buffalo Springfield and Monkees had nodded affectionately toward country, the Byrds had leaned into country too far, too soon, for Sweetheart, notching the lowest sales of any Byrds album to date: the album peaked at #77 in Billboard. Over the next year, however, the project's legacy would slowly reveal itself in a rising tide of country-rock full-lengths from the Burritos, Poco, ex-Byrd Gene Clark and, yes, the Byrds themselves, in a lineup now featuring Clarence White, whose nimble country guitar leads had been featured on the band's studio albums since 1967.
Bonus video: Watch the Byrds perform "You Ain't Goin' Nowhere" and "This Wheel's on Fire" on Playboy After Dark in 1968

Latest posts by Sam Sutherland
(see all)