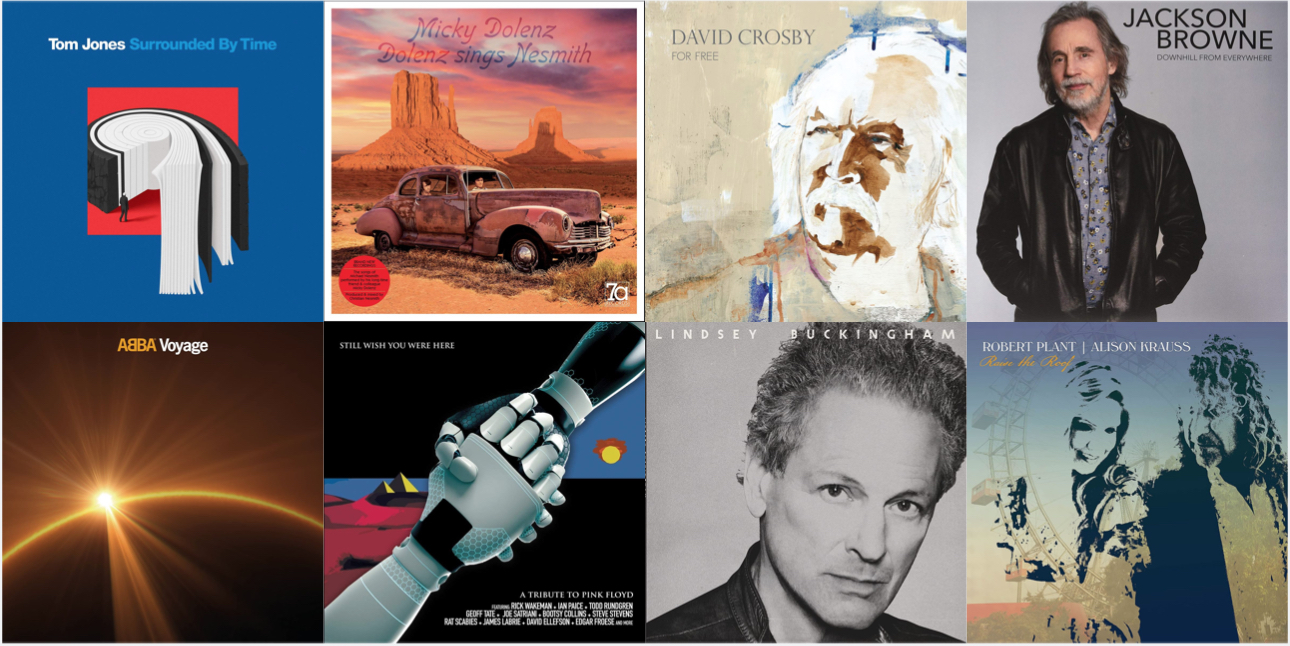 In part one of our three-installment 2021 holiday gift guide, we looked at the best of the boxed sets, reissues and historical collections aimed at classic rock fans.
Part two focused on the year's best music books.
For this third and final segment, we're focusing on newly recorded albums by classic rockers, including Yes, ABBA, Robert Plant, Elton John, Lindsey Buckingham, Jackson Browne and many others.
This list is arranged alphabetically by artist—no rankings here because they're all worthy. All of these are available on CD, many also on LP and digitally. All can be found via the handy ordering links at the bottom of this story.
For more information on any of the albums, click on the title following the artist's name.
Happy listening!
ABBA—Voyage
The Swedish quartet's first new album in four decades has been described as "a mixture of everything." There's even a Christmas tune. Member Björn Ulvaeus said, "Memories rushed back in in a matter of seconds."
Jackson Browne—Downhill From Everywhere
Asked about the process of creating his new release, the singer-songwriter said, "It's harder and harder, because your standards plague you. You wind up trying to write something as good as this other song that you wrote. That's just death."
Lindsey Buckingham—Lindsey Buckingham
The new solo set from the ex-Fleetwood Mac mainstay "showcases Buckingham's instinct for melody and his singular fingerpicking guitar style, reaffirming his status as one of the most inventive and electrifying musicians of his generation," says a press release.
David Crosby—For Free
Arriving during the 50th anniversary of his debut solo album, Croz's latest—his fifth release since 2014—finds the folk-rock legend continuing to tap into his tremendous surge of creativity. The album, titled after the Joni Mitchell track he covers, includes guest appearances from Donald Fagen and Michael McDonald.
Dion—Stomping Ground
The all-star collection from the early Rock and Roll Hall of Fame inductee features collaborations with Bruce Springsteen, Peter Frampton, Billy Gibbons, Mark Knopfler and more, and includes a cover of Jimi Hendrix's "Red House," as well as new Dion originals.
Micky Dolenz—Dolenz Sings Nesmith
Said Dolenz in an announcement, "I first mentioned it to Nez [Michael Nesmith] years ago; I don't know where the idea came from, maybe from my friend Harry Nilsson and his Nilsson Sings Newman album. I thought to myself, 'Wow, Dolenz Sings Nesmith.'" The album includes not only Monkees songs but tunes from the various phases of Nesmith's solo career.
The Doobie Brothers—Liberté
The band's 15th full-length album was produced and co-written by John Shanks (Bon Jovi, Sheryl Crow). It contains 12 new tracks by Tom Johnston, Pat Simmons and John McFee.
Richie Furay—50th Anniversary Return to the Troubadour
One of the architects of the country-rock genre celebrated Poco's 1971 live DeLIVErin' album and other songs from his catalog, including Buffalo Springfield. He was joined by former bandmate Timothy B. Schmit on "A Good Feelin' To Know."
Barry Gibb—Greenfields: The Gibb Brothers Songbook, Vol. 1
The new album by the only surviving Bee Gee features collaborations with Alison Krauss, Olivia Newton-John, Sheryl Crow, Brandi Carlile, Keith Urban, Little Big Town together with Tommy Emmanuel, and others.
Chrissie Hynde—Standing in the Doorway
Wrote our reviewer, Hynde's nuanced vocals prove a perfect match for the Dylan material she covers, and [Hynde's collaborator, Pretenders' James] Walbourne's understated acoustic instrumentation—which includes such instruments as piano, harmonium and mandolin, in addition to the aforementioned guitar—is sublime.
The Immediate Family—The Immediate Family
The album features session giants Danny Kortchmar (guitar and vocals), Waddy Wachtel (guitar and vocals), Leland Sklar (bass), Russ Kunkel (drums) and Steve Postell (guitar and vocals). Combined, they are some of the most recorded, respected and sought-after players in modern music.
Related: Read our interview with Waddy Wachtel and Danny Kortchmar here
Elton John—The Lockdown Sessions
John was forced to pause his record-breaking Farewell Yellow Brick Road tour due to the COVID pandemic. As the world began to shut down, different projects presented themselves, with artists Elton had enjoyed getting to know like Stevie Nicks, pop star Dua Lupa, and Stevie Wonder. This album saw him coming full circle and returning to his roots as a session musician.
Tom Jones—Surrounded By Time
The Welsh wonder's 41st studio album (!) "marks out new territory with a sonic landscape of outstanding musicianship and a vocal delivery that re-imagines a diverse set of songs of personal importance that have impacted the artist throughout a long, unpredictable but undeniably impressive career," says his press release.
Los Lobos—Native Sons
On their latest, the East L.A. band covers favorites and deep cuts by other Los Angeles luminaries such as the Beach Boys ("Sail on Sailor") and Jackson Browne ("Jamaica Say You Will"), plus War, Buffalo Springfield and more.
Willie Nelson—That's Life and The Willie Nelson Family
On That's Life, the singer honors the enduring influence and inspiration of Frank Sinatra's artistry and repertoire, an exploration exemplified by 2018's My Way. The 88-year-old, still prolific, has also released The Willie Nelson Family, which, just as its name implies, features Willie and close relatives singing songs by George Harrison, Kris Kristofferson and others.
Robert Plant/Alison Krauss—Raise the Roof
"It gives us the opportunity to put our own personality into somebody else's work," says Plant of his second collaboration with Krauss, "which in places it's quite profound and coming from another time when songwriting and people's stories and statements and concerns were from a totally different time with a different onus. And I think that gives us a opportunity not to crush the original idea, but to just take it into another place, which is our goal."
John Sebastian/Arlen Roth—Explore the Spoonful Songbook
The album features former Lovin' Spoonful frontman Sebastian and the extraordinary guitarist Roth reworking a number of tunes from the band's catalog, among them "Do You Believe in Magic," "Daydream," "Nashville Cats" and deep album tracks like "Four Eyes" and "Jug Band Music."
Ringo Starr—Change the World and Zoom In
The ex-Beatle was prolific this year, releasing two EPs. One song on Zoom In, the Diane Warren-written "Here's to the Nights," features such guests as Paul McCartney, Joe Walsh, Corinne Bailey Rae, Eric Burdon, Sheryl Crow, Dave Grohl, Ben Harper, Lenny Kravitz, Jenny Lewis, Steve Lukather and Chris Stapleton. The other EP, Change the World, features the optimistic title track and a Ringo remake of the old Bill Haley and the Comets hit "Rock Around the Clock."
Steely Dan—Northeast Corridor: Steely Dan Live! and Donald Fagen—The Nightfly Live
In advance of their fall tour, Steely Dan released two live collections. The first, Northeast Corridor: Steely Dan Live!, is the band's first concert set in more than 25 years. and features all of the greatest hits you'd expect. The second release is a live version of Donald Fagen's highly praised solo album The Nightfly.
Rod Stewart—Tears of Hercules
For his 31st studio album, Stewart wrote nine of the album's 12 songs, including an upbeat love song, "I Can't Imagine," one of the singles released from the album. It's his fourth new album of original songs since 2013.
Tedeschi Trucks Band—Layla Revisited: (Live at LOCKN') and The Brothers—March 10, 2020/Madison Square Garden/New York, NY
Fans of the Allman Brothers Band are fortunate that several former members of the band are still quite active. Tedeschi Trucks Band, featuring guitarist Derek Trucks, released a one-off live recording of the Derek and the Dominos album Layla and Other Assorted Love Songs, performed in its entirety with special guest Trey Anastasio of Phish. The Brothers' March 10, 2020/Madison Square Garden/New York, NY is another live set, this one featuring bassist Oteil Burbridge, guitarist/vocalist Warren Haynes, Trucks, percussionist Marc Quinones and drummer Jaimoe.
Various Artists—Still Wish You Were Here and Animals Reimagined
Still Wish You Were Here includes performances from keyboard wizard Rick Wakeman, Steve Hackett, Rod Argent, Deep Purple drummer Ian Paice, Todd Rundgren and more, reworking Pink Floyd's Wish You Were Here. Animals Reimagined features such stars as Wakeman and Jethro Tull guitarist Martin Barre recreating and retooling Floyd's 1977 concept album Animals.
Yes—The Quest
Guitarist Steve Howe produced the band's first album in seven years. He commented, "We commissioned several orchestrations to augment and enhance the overall sound of these fresh new recordings, hoping that our emphasis on melody, coupled with some expansive instrumental solo breaks, keeps up the momentum for our listeners."
But wait, there's more!
These too may be of interest to the classic rock fan on your shopping list (with links to our previous coverage):
Herb Alpert—Catch the Wind
Eric Clapton—The Lady in the Balcony: Lockdown Sessions
Alice Cooper—Detroit Stories
Ellen Foley—Fighting Words
Peter Frampton—Forgets the Words
Billy F. Gibbons—Hardware
Iron Maiden—Senjutsu
Alan Parsons—The NeverEnding Show: Live in the Netherlands
Nathaniel Rateliff and the Night Sweats—The Future
Santana—Blessings and Miracles
Brian Setzer—Gotta Have the Rumble
Styx—Crash of the Crown
Mammoth WVH (Wolfgang Van Halen)—Mammoth WVH
Brian Wilson—At My Piano
Nancy Wilson—You and Me

Best Classic Bands is an authorized Amazon affiliate. We're grateful for purchases made by our readers.

Latest posts by Best Classic Bands Staff
(see all)