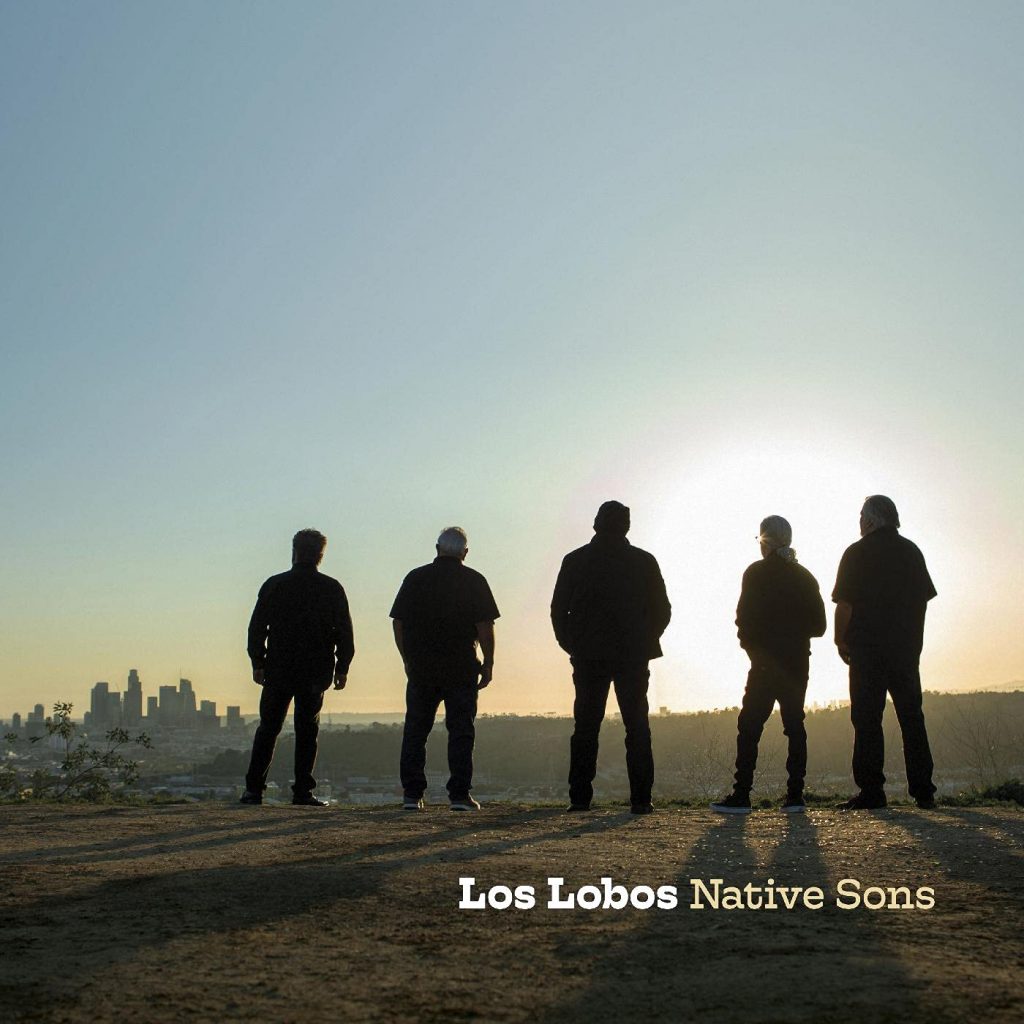 Los Lobos has signed with New West Records and released Native Sons, a new album consisting nearly entirely of covers, on July 30, 2021. The 13-song set was produced by the band in East Los Angeles and consists mainly of songs related to their L.A. musical heritage.
Says a May 5 press release: Having formed in 1973 and gotten their start playing spirited renditions of Mexican folk music at parties and in restaurants, Los Lobos are no strangers to reinterpretation…In a nod to their neighborhood, Native Sons opens with the wide-eyed frenzy of "Love Special Delivery" by Thee Midniters, an East L.A. garage band and one of the first Chicano rock groups to ever score a major hit in the U.S. From there, it features favorites and deep cuts by other Los Angeles luminaries such as the Beach Boys ("Sail on Sailor") and Jackson Browne ("Jamaica Say You Will"), plus War, Buffalo Springfield, and more.
Listen to their covers of two Buffalo Springfield classics
In a particularly meaningful moment for the band, Native Sons includes a cover of "Flat Top Joint" by the Blasters, the L.A. roots-rock band that helped pave the way for their signing to Slash Records in the early '80s.
The album's title track is its sole original song, an homage to Los Angeles.
Of "Love Special Delivery," Los Lobos' David Hidalgo says, "We grew up on Thee Midniters and felt like they were representing us, so their music means a lot."
"Sail On, Sailor," an early-'70s track originally sung by longtime Los Lobos friend Blondie Chaplin, was one that Los Lobos' Steve Berlin says "seemed like it would be easy, but once we broke the eggshell it revealed itself to be a lot more complex," adding "The genius of so many of these records is all the layers that meld together in a way that isn't very obvious at first."
Listen to "Sail On, Sailor" from Native Sons
Los Lobos has also announced their initial 2021 and 2022 tour dates in support of Native Sons. Tickets are available here.
Native Sons will be available across digital platforms, compact disc and standard black vinyl. The double LP vinyl editions will be housed in a gatefold sleeve and will feature three sides of music and a custom etching on its fourth side.
Listen to their cover of "Jamaica Say You Will" from Browne's 1972 debut album
Los Lobos are: David Hidalgo (vocals, guitars); Louie Pérez Jr. (vocals, guitars); Cesar Rosas (vocals, guitars, bass, Hammond B3 organ); Conrad Lozano (vocals, bass); Steve Berlin (saxes, midisax, keyboards).
Los Lobos Native Sons Track Listing
1. Love Special Delivery
2. Misery
3. Bluebird / For What It's Worth
4. Los Chucos Suaves
5. Jamaica Say You Will
6. Never No More
7. Native Son
8. Farmer John
9. Dichoso
10. Sail On, Sailor
11. The World Is A Ghetto
12. Flat Top Joint
13. Where Lovers Go
Listen to "Misery," a hit for Barrett Strong in 1961
Related: Our feature interview with Los Lobos' Louie Pérez Jr.

Latest posts by Best Classic Bands Staff
(see all)