By the end of the 1960s, most successful rock bands were writing their own songs. It hadn't always been that way. Although some bands and solo artists of the '50s and early '60s, including Buddy Holly, Chuck Berry and the Beach Boys, had scored their biggest hits with their own material, many others went into the recording studio and performed tunes churned out for them by professional songwriters. It wasn't until the arrival of the Beatles that it became de rigueur, expected, for performers to create their own material. Nearly all of the major American and British bands and solo performers—the Rolling Stones, Dylan, Creedence, the Who, CSN&Y, the Kinks, the Doors, Sly, et al.—were selling millions of albums and singles populated with self-penned tracks.
There were exceptions, of course (Joe Cocker, the Monkees, most of the Motown crew), and most bands did toss at least a few covers into their repertoire, but for the most part artistic credibility was assessed, at least in part, by songwriting chops alongside the artist's playing and singing.
Three Dog Night, formed in 1967, was one of those exceptions, a band whose value lie not in its compositional skills but in its knack for choosing songs, written by others, that fit their style and continually broadened their appeal. They were song interpreters, not song creators. Over the course of six years, 1969-75, the trio of vocalists—Danny Hutton, Cory Wells and Chuck Negron—placed 22 singles onto the Billboard Hot 100, of which an astounding half made it to the top 10. Three of those reached the coveted #1 spot.
But what made Three Dog Night such a unique phenomenon was not only their success rate, but the fact that no two of those songs sounded alike. 3DN had impeccable taste, and in the process of crafting hits that defined them they introduced or, at the very least, boosted the profile of some of the best songwriters of the era, among them Harry Nilsson, Randy Newman, Laura Nyro, Paul Williams, Hoyt Axton and Leo Sayer.
Those were just their top 10s. The group, whether on albums or singles—all released on the Dunhill label—also did its part to popularize songs written by Elton John and Bernie Taupin, John Hiatt, Allen Toussaint, Russ Ballard (of the band Argent) and others.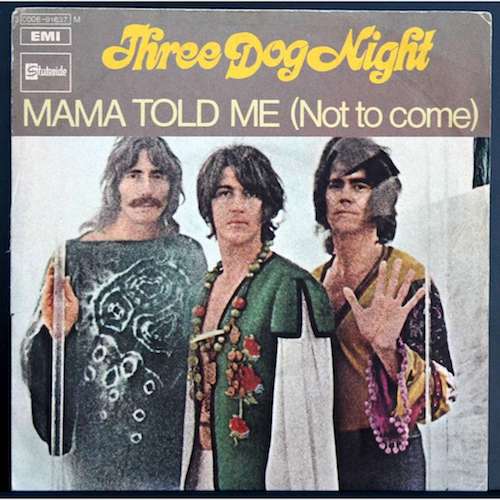 Their very first significant hit, "Try a Little Tenderness," which reached #29 in early 1969, actually predated rock music by decades. Composed in 1932 by Jimmy Campbell, Reg Connelly and Harry M. Woods, the ballad had been recorded by many singers and orchestras (including Bing Crosby) before it was completely transformed into a dynamic soul showpiece by the great Otis Redding. Three Dog Night virtually copied the Redding arrangement—in fact, many of their hits were quite similar to the source material—and it put them on the map. At the time, 3DN was a full band—the vocal trio (all of whom had logged experience with other bands prior to forming this one) plus a quartet of accompanists who were versatile enough to glide from style to style.
Their next hit, Nilsson's "One," was absolutely nothing like "Try a Little Tenderness," but audiences were looking for creativity, not consistency, and they took the dramatic number (with its alluring opening line, "One is the loneliest number that you'll ever do") to #5.
Going in another direction completely, 3DN next reached into the pot of gold that was the hot Broadway rock musical Hair, releasing their own take on "Easy to Be Hard," credited to Gerome Ragni-James Rado-Galt MacDermot. This one outdid its predecessors, hitting #4, but the newcomers were on a roll and next chose Nyro's "Eli's Comin," from her album of the previous year, Eli and the Thirteenth Confession. That one went to #10. It was still 1969 and Three Dog Night was just getting started.
The new decade was launched with "Celebrate," another soul-infused number, marked by a catchy a cappella chorus. Written by Gary Bonner and Alan Gordon—whose previous successes included the Turtles' smashes "Happy Together" and "She'd Rather Be With Me"—the single went up to #15.
Related: "Celebrate" was part of one of the best weekly charts of 1970
Although they were making their name primarily as a singles band, Three Dog Night also enjoyed considerable success on the Billboard albums chart: their self-titled debut peaked at #11, followed by Suitable for Framing (#16) and their first top 10, Was Captured Live at the Forum, which reached #6, all in 1969. It Ain't Easy, their first LP of 1970, topped out at #8 but again the real action for the group was happening on the AM dial. In the spring of 1970, they cut a song called "Mama Told Me (Not to Come)," written by a young songwriter named Randy Newman, who'd been slowly making a name for himself but had yet to see any breakthrough smashes.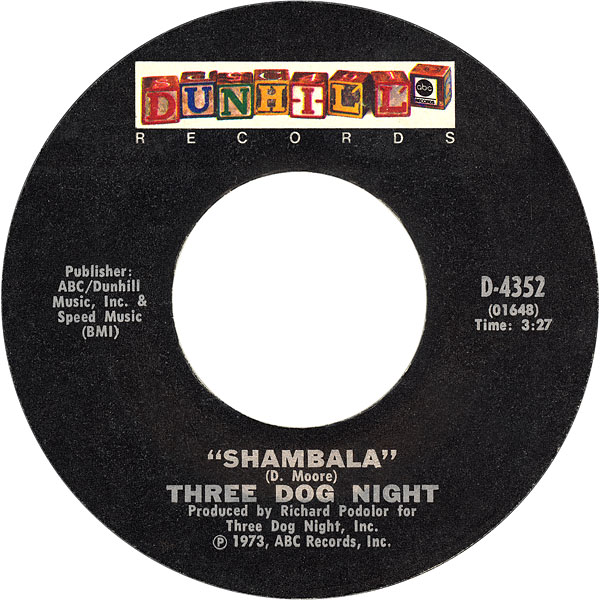 Three Dog Night took care of that. Their funky take on Newman's tune, with Cory Wells singing lead, gave the band its first #1 hit, turning them into one of the hottest groups in the country in the immediate aftermath of the '60s. The song was certified Gold by the RIAA on July 14, 1970.
Their cover of Paul Williams' "Out in the Country" found its way to #15 but it was "Joy to the World," released in early 1971, that took them back to the top. This recording, with Chuck Negron handling the lead vocal, was written by Hoyt Axton, a folkie/musician whose previous hits included "The Pusher," made famous by Steppenwolf. (Trivia note: Hoyt's mother, Mae Boren Axton, was the co-writer of Elvis Presley's major hit "Heartbreak Hotel"!)
There would be one more #1 hit for Three Dog Night down the line a bit, but first they had three more top 10s in them. "Liar," by Russ Ballard, recorded by 3DN for their 1970 #14 album Naturally, had first been cut by Argent—the group led by former Zombies keyboardist Rod Argent—for that group's self-titled debut (Ballard was the group's guitarist). "Liar" peaked at #7 in the summer of 1971 and was followed a few months later by "An Old-Fashioned Love Song," another early composition by Paul Williams, who would go on to have his songs covered by everyone from the Carpenters to Barbra Streisand.
This one hit #4 for 3DN and was quickly followed by "Never Been to Spain," another Hoyt Axton tune, with Wells singing lead. It could also be found on the group's #8 album Harmony, which itself came on the heels of their first hits compilation, Golden Bisquits, which sailed easily up to #5 in 1971.
Related: When Three Dog Night played the Tournament of Roses Parade
By this time, Three Dog Night was a massive phenomenon that could do no wrong. They began 1972 still on top of the world, although it wasn't until the summer that they enjoyed their next #1. Titled "Black & White," it had been written all the way back in 1954 by David I. Arkin and Earl Robinson, and had been recorded by both Pete Seeger and Sammy Davis Jr. The version that 3DN heard was by a British group called Greyhound, who put a reggae beat to it. The Dogs held onto that arrangement for the most part, and with Danny Hutton taking the lead on that one, watched as it became their next (and final) chart-topping single. (Trivia note #2: That meant that each member of the trio had now sung lead on one of the group's #1 singles.)
Even if they would never again rise to the top of the singles chart, there was still plenty of life left in the act. The 1972 album Seven Separate Fools peaked at #6, their last to hit the top 10, and as the spring of 1973 rolled around, there would be yet another top 5 single, "Shambala." Contributed by a songwriter named Daniel Moore, this one had an unusual life in that it also made the chart in a version by country singer B.W. Stevenson. But his take, which squeaked up to #66 on the Hot 100, was no match for the Dogs', who landed it at #3, notching up another tune that would find airplay on oldies radio stations for decades to come.
Things were starting to wind down for Three Dog Night as the '70s marched along. One last top 10 hit, "The Show Must Go On," co-written by Leo Sayer and David Courtney, topped out at #4 and that was it for the amazing streak of Three Dog Night. Three more singles made the charts, including the #16 "Sure As I'm Sittin' Here," written by the up-and-coming singer-songwriter John Hiatt, and that was that. Three Dog Night played their final concert in that original incarnation on July 26, 1976, at L.A.'s Greek Theater. They reunited in the early '80s and various lineups would continue to come and go through the years, with Hutton and Wells carrying on (sans Negron) until 2015, when Wells passed away. Hutton continues to lead a Three Dog Night group today, and Negron works as a solo artist (he's appeared on the Happy Together Tour for a few seasons).
Three Dog Night was one of the last groups of its kind and an anomaly of the era, a mega-successful, remarkably versatile rock band that maintained its commercial position in both the AM and FM worlds without sacrificing any integrity—and without having written a single one of its biggest hits.

Latest posts by Jeff Tamarkin
(see all)