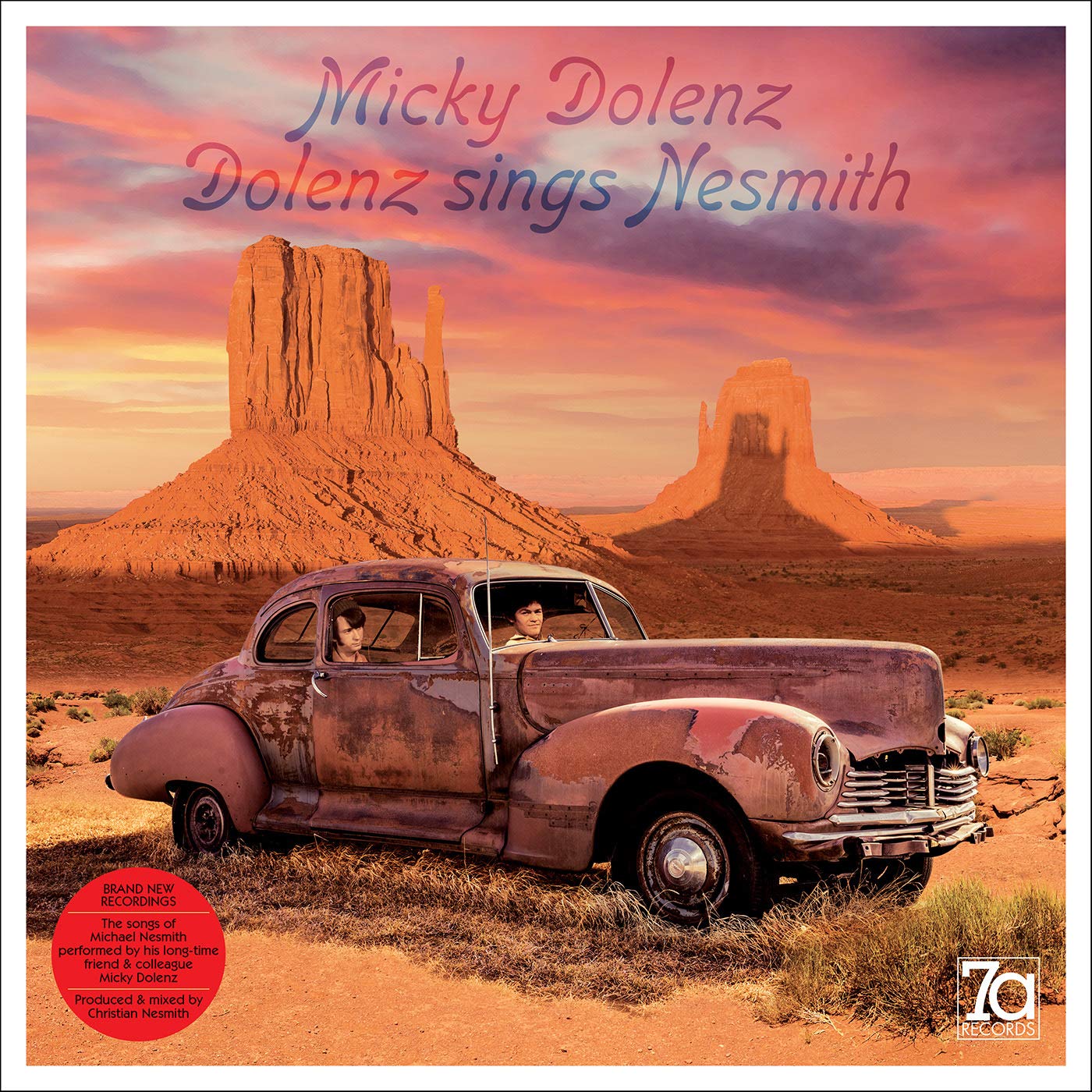 Micky Dolenz has released his first new solo studio album in nine years, comprised entirely of songs Michael Nesmith wrote throughout his career. Dolenz Sings Nesmith, produced by Nesmith's son, Christian Nesmith, arrived from 7a Records on May 21, 2021. Listen to Dolenz' recording of "Different Drum" and other songs below.
From the announcement: Dolenz got the idea for the album a long time ago. "I first mentioned it to Nez years ago; I don't know where the idea came from, maybe from my friend Harry Nilsson and his Nilsson Sings Newman album. I thought to myself, 'Wow, Dolenz Sings Nesmith'."
The album, which was recorded during lockdown between September 2020 and February 2021, features songs written throughout Nesmith's long career, including many from the critically acclaimed Michael Nesmith & The First National Band albums, as well as a few Monkees deep cuts. Christian Nesmith, who has done an incredible job in coming up with fresh and completely new arrangements for all of the songs. See the track listing below.
Listen to "Different Drum"
The album marks the biggest financial undertaking for 7a Records to date as it marks a departure from being a reissue-only company.
The label was founded in 2015 by Danish music executive Glenn Gretlund and British broadcaster Iain Lee. Both were big fans of the The Monkees. The initial idea was that the label would reissue Micky Dolenz's MGM singles, after which the pair would simply go their separate ways. However, the success of the initial release quickly opened the door for other projects, with a string of other Monkees-related releases including two previously unreleased Nesmith albums, as well as the critically acclaimed 2018 album, Michael Nesmith & The First National Redux – Live At The Troubadour.
Watch a trailer for Dolenz Sings Nesmith
Nesmith himself has a new collection which arrived on April 30, Different Drum: The Lost RCA Victor Recordings, with 22 tracks drawn from the vaults, including a vastly different alternate version of the title track.
Dolenz and Nesmith have scheduled their final tour as the Monkees. Tickets are available here and here.
Listen to "Carlisle Wheeling" and "Don't Wait For Me"
Dolenz Sings Nesmith Track Listing
1. Carlisle Wheeling
2. Different Drum
3. Don't Wait For Me
4. Keep On
5. Marie's Theme
6. Nine Time Blue
7. Little Red Rider
8. Tomorrow And Me
9. Circle Sky
10. Propinquity (I've Just Begun To Care)
11. Tapioca Tundra
12. Only Bound
13. You Are My One
14. Grand Ennui (CD Bonus Track)
Listen to "Nine Time Blue and "Propinquity (I've Just Begun To Care)"

Latest posts by Best Classic Bands Staff
(see all)