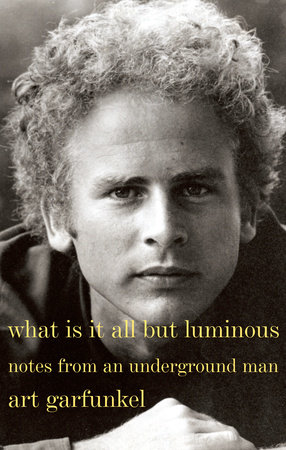 What Is It All But Luminous (Notes From an Underground Man) is the title of the forthcoming memoir from Art Garfunkel, the golden-voiced half of the massively popular duo Simon and Garfunkel. The book will be published by Penguin Random House on Sept 26.
A press release for the book states: "From the golden-haired, curly-headed half of Simon & Garfunkel–a memoir (of sorts): artful, moving, lyrical; the making of a musician; the evolution of a man, a portrait of a life-long friendship and collaboration that became one of the most successful singing duos of their time."
The blurb continues: "Art Garfunkel writes about his life before, during, and after Simon & Garfunkel … about their folk-rock music in the roiling age that embraced and was defined by their pathbreaking sound. He writes about growing up in the 1940s and '50s (son of a traveling salesman), a middle class Jewish boy, living in a red brick semi-attached house in Kew Gardens, Queens, a kid who was different–from the age of five feeling his vocal cords 'vibrating with the love of sound' … meeting Paul Simon in school, the funny guy who made Art laugh; their going on to junior high school together, of being twelve at the birth of rock 'n' roll, both of them 'captured" by it; going to a recording studio in Manhattan to make a demo of their song, "Hey Schoolgirl' (for $7!) and the actual record (with Paul's father on bass) going to #40 on the national charts, selling 150,000 copies."
Related: When "Mrs. Robinson" went to #1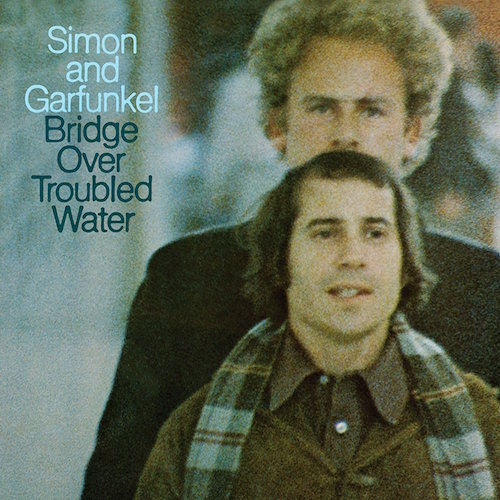 Finally, it says, Garfunkel "writes about their becoming Simon & Garfunkel, taking the world by storm, ruling the pop charts from the time he was sixteen, about not being a natural performer, but more a thinker … touring; sex-for-thrills on the road, reading or walking to calm down (walking across two continents–the USA and Europe). He writes of being an actor working with directors Nicolas Roeg (Bad Timing) and Mike Nichols ('the greatest of them all') … getting his masters in mathematics at Columbia; choosing music over a PhD; his slow unfolding split with Paul and its aftermath; learning to perform on his own, giving a thousand concerts worldwide, his voice going south (a stiffening of one vocal cord) and working to get it back … about being a husband, a father and much more."
Pre-order the 256-page hardcover book here.
The singer has added new tour dates into spring 2018. For tickets go here.
Art Garfunkel Tour Dates
Sep 11-12 City Winery New York, NY
Oct 26-27 City Winery Boston, MA
Oct 28 Stadium Theater PAC Woonsocket, RI
Nov 6  Shi Kyoiku Bunka Kaikan Sapporo, Japan
Nov 8  Kyra Hall Morioka, Japan
Nov 10 Tohoku Gakuen Kawauchi Hagi Hall Sendai, Japan
Nov 13 Aster Plaza Hall Hiroshima, Japan
Nov 14 Archaic Hall Osaka, Japan
Nov 16-17 Orchard Hall Tokyo, Japan
Jan 25  The Palladium Carmel, IN
Jan 26  Mendel Center Benton Harbor, MI
Mar 9  Elgin Community College Arts Center Elgin, IL
Mar 10 Wentz Concert Hall Naperville, IL
Apr 17 Gallo Center for the Arts Modesto, CA
Apr 19 Fox Theatre Redwood City, CA
Apr 20 Golden State Theatre Monterey, CA
Apr 21  The Uptown Theatre  Napa, CA
Watch Art Garfunkel sing "Kathy's Song" and "Bridge over Troubled Water"

The BCB team brings you the latest Breaking News, Contests, On This Day rock history stories, Classic Videos, retro-Charts and more.

Latest posts by Best Classic Bands Staff (see all)