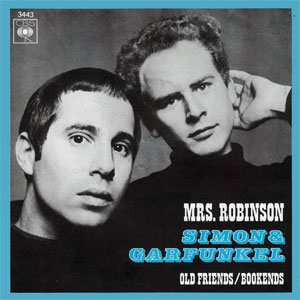 The folk-rock duo return to the top of the charts for the second time, following up their first #1 and million-selling single "The Sound of Silence" two years earlier with a tune that became the theme song for the hit 1967 movie The Graduate. Director Mike Nichols had been listening to the music of Simon & Garfunkel before, throughout and after making the film, and invited Simon to submit a few songs for its soundtrack.
After Nichols passed on his first two submissions, Simon & Garfunkel played him an as-yet unfinished number titled "Mrs. Roosevelt" they'd been working on that struck a chord with the director; the name change from its original title to "Mrs. Robinson" – the movie's older seductress – was seamless. Nichols also liked the phonetic place-holding "dee de dee dee" in the verses in lieu of final lyrics and they ended up in the final version. The other nonsense lyrics in the number, "coo-coo-ca-choo," were a nod from Simon to The Beatles.
On June 1, 1968, the song reached the top of the Billboard and Record World chart, where it replaced Archie Bell & the Drells' "Tighten Up" at #1.
Related: The #1 singles of 1968
"Mrs. Robinson" went on to become the first rock song to win Record of the Year at the Grammy Awards the following year, and also earned Simon & Garfunkel a Grammy for Best Contemporary Pop Performance – Vocal Duo or Group. It became their second million-selling 45.
The duo had a third #1 single in 1970 with "Bridge Over Troubled Water." They earned seven Top 10 singles (and four others that went Top 20) between 1965-1970.
The Graduate famously starred Dustin Hoffman in the title role, with Anne Bancroft and Katharine Ross.
Related: Simon & Garfunkel had three hit albums in 1968

Latest posts by Best Classic Bands Staff
(see all)