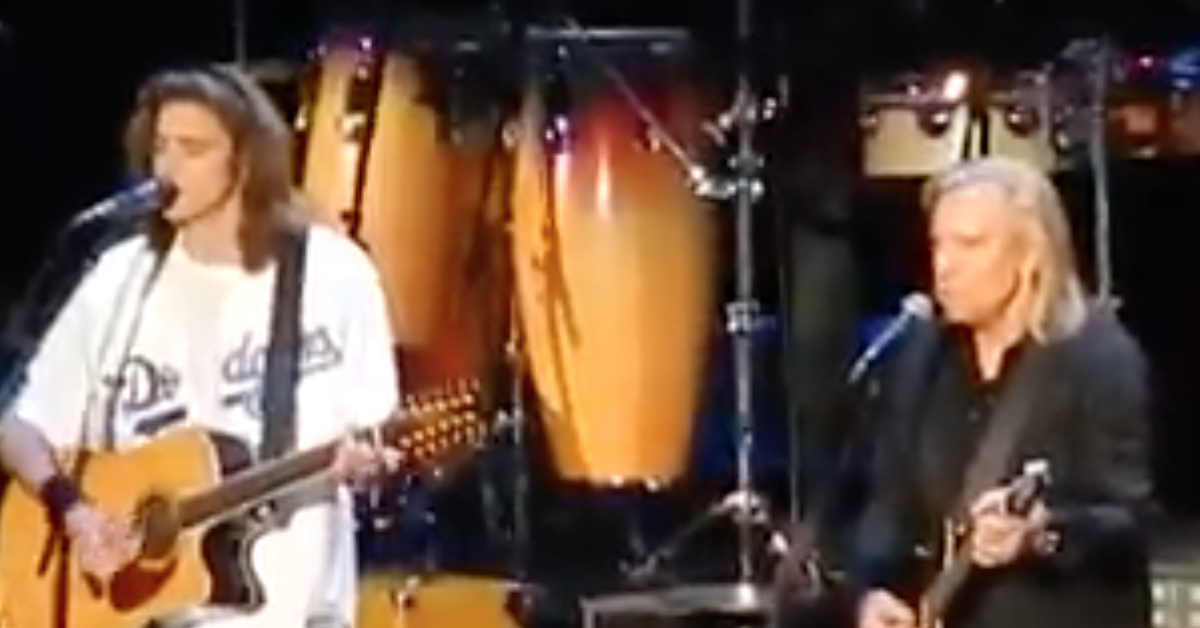 For those who stubbornly insist that with Glenn Frey's death in 2016 and Don Henley's (premature) announcement that Eagles were thus finished, get over it (as Henley himself famously sang on the classic rock band's 1994 album). Eagles returned to the concert stage on Saturday night, July 15, 2017, albeit with a significantly altered lineup of family and friends at Dodger Stadium, as the first night headliner for the first of two festival-like appearances billed as the Classic.
Eagles' Henley, Timothy B. Schmit and Joe Walsh were joined for their 23-song set by Frey's 24-year-old son, Deacon, and by country star Vince Gill, each of whom sang lead vocals on some of Frey's well known hits. When news of Frey fils broke on May 15, Henley said, "Glenn's son Deacon is a very talented young man, and he seems to be up for the task. He's enthusiastic about it and he's been working real hard on it, and he's gonna do it with us. I think that's appropriate."
Deacon Frey and Gill weren't the only newcomers on stage. Bob Seger was a surprise guest, singing lead on "Heartache Tonight," which he co-wrote with Henley, Frey and J.D. Souther.
It didn't take long for Deacon Frey to get his feet wet. The set's second song was on the band's breakthrough hit, 1972's "Take It Easy." And there, singing lead vocal was Deacon, wearing a hometown Dodgers jersey. Frey was supported by Gill on backup vocals and Walsh for the guitar solo, as well as the large crowd who sang along on the familiar song. Said Walsh: "Ladies and Gentlemen, please give a warm Eagles family welcome," as Deacon Frey's name was shown on the stage screen.
Watch a report from KTLA-TV
Deacon Frey was born on April 17, 1993.
[Eagles are among the handful of acts that remove material from YouTube faster than a newly married couple's clothes on their wedding night. When this story was originally published, many more videos were featured for viewing.]
"The co-writer of this next song… one of the most beloved figures in rock 'n' roll music…" Bob Seger sang lead on "Heartache Tonight."
Watch (sort of) the final number of the main set
Watch the night's final performance, "Desperado"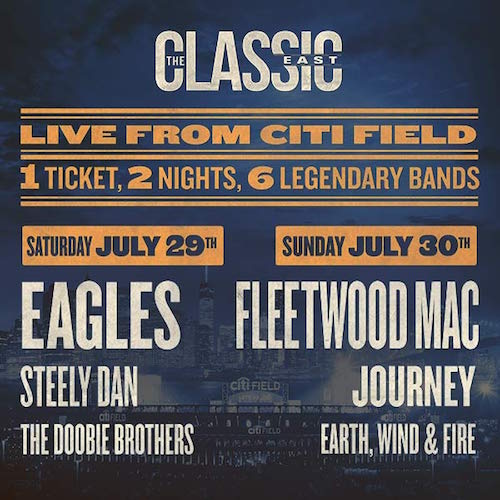 Saturday's event also featured sets by the Doobie Brothers and Steely Dan. Fleetwood Mac headlines Sunday night's show, with opening acts Earth, Wind & Fire and Journey. (This one in Los Angeles was dubbed by its organizers as Classic West; two weeks later, they'd do it all again at New York's Citi Field for the Classic East.
Eagles had such a good time that they added another concert, Classic Northwest.
Tickets to see Eagles concerts are available at Ticketmaster and here.
Eagles, July 15, 2017, Classic West Setlist
Seven Bridges Road
Take It Easy
One of These Nights
Take It To the Limit
Tequila Sunrise
Witchy Woman
I Can't Tell You Why
Lyin' Eyes
Those Shoes
Peaceful Easy Feeling
Best of My Love
Love Will Keep Us Alive
New Kid in Town
The Last Resort
Already Gone
In the City
Heartache Tonight
Life's Been Good
Funk #49
Life in the Fast Lane
Encore
Hotel California
Second Encore
Rocky Mountain Way
Desperado
Related: After Eagles announced in April 2022 that Deacon Frey was leaving their touring band, he was a surprise guest two months later

Latest posts by Best Classic Bands Staff
(see all)