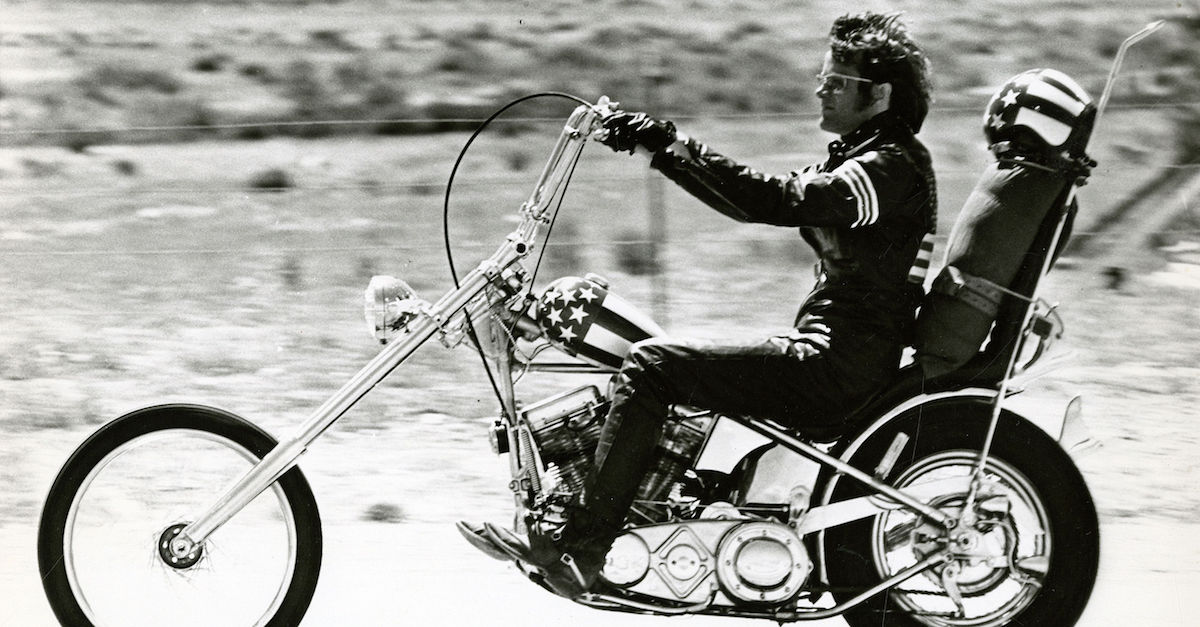 It's truly one of the most defining moments in 1960s cinema, and the music makes it so. Peter Fonda (Wyatt, a.k.a. "Captain America") and Dennis Hopper (Billy) are riding gleaming handcrafted choppers, somewhere in the desert. They come to a complete stop on the side of the road and we see them from behind. Captain America—stars-and-stripes flag on the back of his jacket, on his fuel tank, on his helmet—lifts his left arm to look at his watch. Billy, shades and cowboy hat, is to his right.
They say nothing. We see Wyatt remove the watch and then we see it on the desert floor. He won't be needing it anymore. He is free from the constraints of time.
Wyatt and Billy hit the road and we watch as they become smaller and the desert becomes more vast, open, welcoming yet foreboding too.
The credits roll: Pando Company in Association with Raybert Productions Presents…
Billy and Wyatt disappear in a cloud of kicked-up desert dust. We see Peter Fonda in profile as his name flashes across the screen and we hear the crack of a snare drum: "Born to Be Wild."
The song was written by a fellow named Mars Bonfire (real name: Dennis Edmonton), born in Ontario, Canada, in 1943. Edmonton was the guitarist in a band called the Sparrows, which also included, at various stages, his brother Jerry on drums, singer/harmonica player John Kay, keyboardist Goldy McJohn and others. By 1967, with Kay, McJohn and Jerry Edmonton joined by guitarist Michael Monarch and bassist Rushton Moreve, they evolved into Steppenwolf, the name inspired by the Herman Hesse novel of the same name.
Dennis "Mars Bonfire" Edmonton was not a member of Steppenwolf, but it was his song—released as the group's third single (following "A Girl I Knew" and "Sookie Sookie")—that caught on. With a churning, chunky, now-so-familiar guitar riff driving it, "Born to Be Wild" was more muscular than most of what made it to AM radio top 40 at the time, but its proto-hard-rock texture and message of freedom was just what record buyers were looking for in the summer of 1968. "Born to Be Wild" peaked at #2 on the Billboard singles chart, the band's biggest career hit.
Related: What were the other big hits of the summer of 1968?
Simultaneous to the rise of "Born to Be Wild," Hopper and Fonda, along with Terry Southern (although Hopper claims Southern only came up with the film's title), were writing what they envisioned as a modern-day biker Western—Hopper also directed, Fonda produced, and the film (which ended up being largely improvised) co-starred a young up-and-comer named Jack Nicholson. Nicholson had already worked with Hopper and Fonda on the hippy-dippy cult 1967 film The Trip, but for Easy Rider they wanted to portray the looming darkness that was hovering over America in 1968, the year of the RFK and MLK assassinations as well as the escalation of the Vietnam War. Longhaired men had become targets of the "Love it or leave it" crowd for their appearance, drug use, leftist politics and rock music, and for their film Hopper and Fonda, in choosing to take off across the southern United States on their bikes, filming mostly outdoors along the way, were about to see what America had become.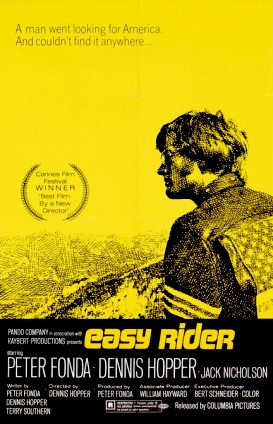 The film, released July 14, 1969, weeks before both the Manson murders and Woodstock, was instantly controversial, to no one's surprise, but it also became a huge hit, embraced by the youth depicted in Easy Rider as victims of an ever-divided American public—in those days, old vs. young as much as any of the racial and class divisions we still see today.
Easy Rider's soundtrack was carefully chosen by film editor Donn Cambern, who licensed the songs he wanted at great expense—reportedly the music cost more than the film itself. Amidst tracks by the Byrds ("Wasn't Born to Follow," Roger McGuinn solo doing "The Ballad of Easy Rider" and a cover of Dylan's "It's Alright Ma, I'm Only Bleeding"), Jimi Hendrix Experience, Fraternity of Man, the Holy Modal Rounders, the Electric Prunes and the Band (whose "The Weight" was replaced on the soundtrack album with a cover by the band called Smith) was the Steppenwolf hit, chosen to accompany the opening credits and the start of the two lead actors' long, fateful ride ahead.
"Born to Be Wild" never specifically mentions motorcycles. Its lyrics, however, including passages such as "Get your motor runnin'/Head out on the highway/Lookin' for adventure/And whatever comes our way," and "I like smoke and lightning/Heavy metal thunder/Racin' with the wind/And the feelin' that I'm under," certainly embodied the feeling of gunning a bike. Its prominent usage at the start of this important countercultural classic locked the Steppenwolf recording into place permanently as the consummate biker anthem. (That phrase, heavy metal, was famously used here for the first time, although it did not come to define a genre of music for a few more years.)
The snare hit, the crunching guitar riffs and taut lead, John Kay's guttural vocal—"Born to Be Wild," for those who saw Easy Rider upon its release, would forever be inextricable from those scenes of Captain America and Billy traversing the American landscape, enjoying their newfound freedom, knowing it could all very much be an illusion.
The original Steppenwolf recording of "Born to Be Wild" has since appeared in more than 40 films, TV programs and commercials—most having nothing at all to do with the biker lifestyle or the time in which it was conceived. (A Blue Cross Blue Shield commercial? Barney's Great Adventure? Seriously?)
Still, its vital role in shaping one of the most emblematic and celebrated films of its time has not been diluted. To those who came up when Easy Rider was new, it served as both a salute to the youthquake of the day and a cautionary tale. In one of the most telling exchanges of the film, Billy is conversing with Nicholson's alcoholic lawyer character George Hanson. It goes like this:
George Hanson: They're not scared of you. They're scared of what you represent to 'em.
Billy: Hey, man. All we represent to them, man, is somebody who needs a haircut.
George Hanson: Oh, no. What you represent to them is freedom.
Billy: What the hell is wrong with freedom? That's what it's all about.
Easy Rider made a generation think about what freedom represented, and when we hear "Born to be Wild," even today, it's that freedom we think about, not insurance or purple dinosaurs.
Watch how the song is used in the classic film's opening scene
If you're a new Best Classic Bands reader, we'd be grateful if you would Like our Facebook page and/or bookmark our Home page.

Latest posts by Jeff Tamarkin
(see all)