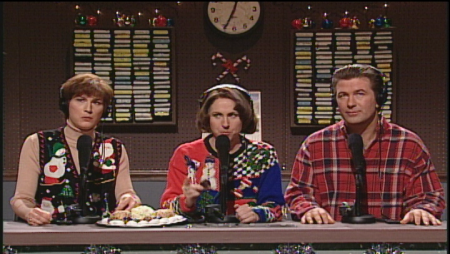 The holiday season means holiday cookies, gifts that are one size too big (or too small) and visits from certain family members you might not be in a rush to see. For the fortunate, it may also mean a sack of Schweddy Balls.
The classic "Schweddy Balls" Saturday Night Live sketch – our Classic Video – was written by cast member Ana Gasteyer who co-stars as co-host (with Molly Shannon's character) of a fictitious NPR series The Delicious Dish. Using Alec Baldwin and his deadpan delivery as entrepreneur Pete Schweddy was a… ahem… stroke of genius. It originally aired on December 12, 1998, during Season 24.
The double entendres may be obvious but Gasteyer and Shannon play it, er, straight. "Over at Seasons Eatings, we have balls for every taste," says Baldwin's character. "Mmm… my mouth's watering just thinking about those balls," says Gasteyer.
"Do whatever you want to them, ladies. My balls are here for your pleasure." Enjoy…
Believe it or not, this was the ninth edition of The Delicious Dish sketch, which had debuted with four versions two seasons earlier. (It would continue through Season 27 in 2002. Gasteyer and Shannon would reprise the NPR sketch eight years later, during a guest appearance in 2010.)
Related: Don't miss our 2022 gift guide
If you're a new Best Classic Bands reader, we'd be grateful if you would Like our Facebook page and/or bookmark our Home page.

Latest posts by Best Classic Bands Staff
(see all)