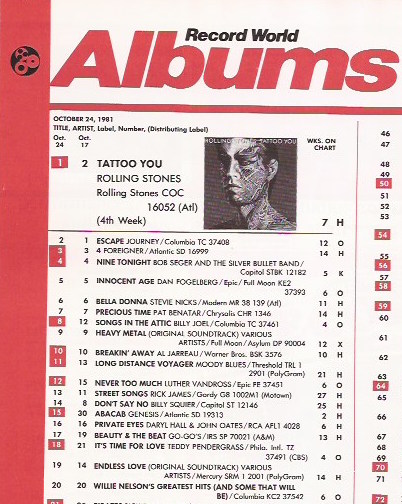 Your eyes aren't deceiving you. In an era when Top 40 radio had embraced artists that fell into the genre commonly referred to as Adult/Contemporary–with such acts as Sheena Easton, Christopher Cross and Juice Newton dominating playlists–music fans were nonetheless steadfastly gobbling up albums by rock acts.
Compiling the data from 1964 until its demise in 1982 was music industry trade magazine Record World. The Album charts were compiled each week from sales provided by the biggest U.S. retail chains, as well as rack jobbers that supplied "product" (using industry parlance) to the big department stores like Walmart, Kmart, and more.
Look at the October 24, 1981 Record World Albums chart and you'll see classic rock artists holding the first nine spots among this week's top-sellers.
The debut single from a new all-girl group was methodically climbing the charts. This week, "Our Lips Are Sealed" took a modest jump from #50 to #45 on Top 40. The Go-Go's first album, Beauty and the Beat was at #17. It would eventually hit #1 thanks to the tireless work of the I.R.S. Records staff on the follow-up single, "We Got the Beat," which ultimately reached #2.
In case you forgot how dominant Genesis was, their Abacab album–released on September 14, 1981, and at #15 with a bullet this week–would become the second of the band's five consecutive studio albums to hit #1 in the U.K. Despite Abacab's U.S. success–it was at the time their highest-charting album at #7–U.S. Top 40 radio programmers for the most part continued to ignore the band. (It would be another five years until pop radio finally embraced them.)
The soundtrack to the film Heavy Metal, based on the magazine, featured a Who's Who of rock stars including Cheap Trick, Black Sabbath, Don Felder, Sammy Hagar and Grand Funk Railroad. We dare you to try to watch this (NSFW) trailer all the way through…
Her first solo album was released on July 27, 1981, and Bella Donna remains Stevie Nicks' most successful release. The album included her duet with Tom Petty, "Stop Draggin' My Heart Around," as well as her thumping "Edge of Seventeen." (When researching this story, we were surprised to see that the latter peaked at only #11 on the U.S. singles chart.)
Related: Our feature on Bella Donna
Dan Fogelberg was on a roll. His The Innocent Age, at #5, included four big hits including three that went Top 10.
Related: The top-selling albums of 1980, one year earlier
Bob Seger and the Silver Bullet Band had a live album, Nine Tonight, at #4.
At #3, Foreigner's 4 became the band's only #1 album, with two of their biggest singles: "Urgent" and "Waiting For a Girl Like You," which jumped to #29 this week (on the way to #2).
With four hit singles–including three in the Top 10–Journey's Escape–the previous week's #1–became the biggest-selling album of their career. "Who's Crying Now" was the current single this week though "Don't Stop Believin'" is the far-more enduring hit from the LP.
The Rolling Stones' Tattoo You moved back to #1, thanks to the popularity of the album's only hit: "Start Me Up" was a solid Top 10 single, though surprisingly not a #1. (It peaked at #2 in the U.S. and #7 in the U.K.)
20. Willie Nelson – Willie Nelson's Greatest Hits (And Some That Will Be) (Columbia)
19. Various Artists – Endless Love (Original Soundtrack) (Mercury)
18. Teddy Pendergrass – It's Time For Love (Phila. Intl.)
17. Go-Go's – Beauty and the Beat (IRS)
16. Daryl Hall & John Oates – Private Eyes (RCA)
15. Genesis – Abacab (Atlantic)
14. Billy Squier – Don't Say No (Capitol)
13. Rick James – Street Songs (Gordy)
12. Luther Vandross – Never Too Much (Epic)
11. Moody Blues – Long Distance Voyager (Threshold)
10. Al Jarreau – Breakin' Away (Warner Bros.)
9. Various Artists – Heavy Metal (Original Soundtrack) (Full Moon/Asylum)
8. Billy Joel – Songs in the Attic (Columbia)
7. Pat Benatar – Precious Time (Chrysalis)
6. Stevie Nicks – Bella Donna (Modern)
5. Dan Fogelberg – The Innocent Age (Full Moon/Epic)
4. Bob Seger and the Silver Bullet Band – Nine Tonight (Capitol)
3. Foreigner – 4 (Atlantic)
2. Journey – Escape (Columbia)
1. Rolling Stones – Tattoo You (Rolling Stones)

The BCB team brings you the latest Breaking News, Contests, On This Day rock history stories, Classic Videos, retro-Charts and more.

Latest posts by Best Classic Bands Staff (see all)