Peter Noone is Still Into Something Good—A Chat With 'Herman'
by Jeff Tamarkin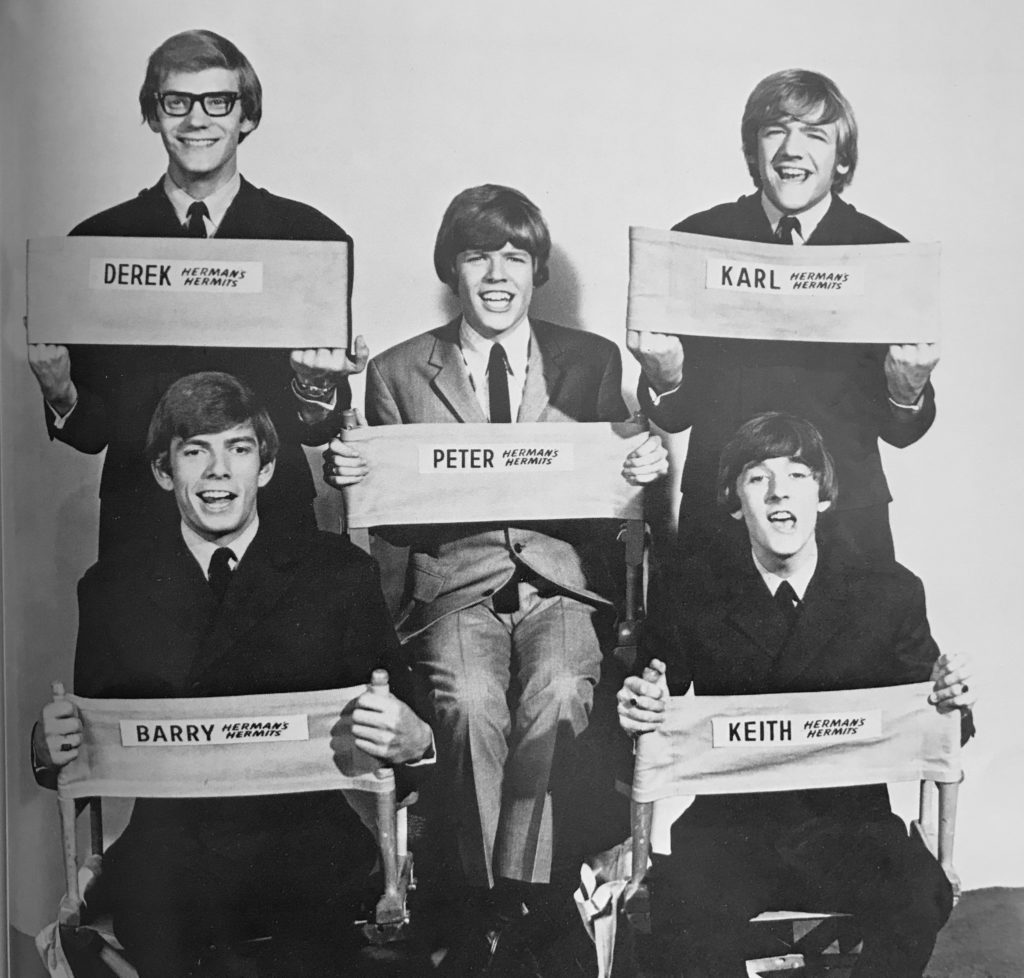 Herman's Hermits were, without a doubt, one of the most popular groups to emerge during the British Invasion. In America alone, beginning in 1964 with a cover of Earl-Jean's "I'm Into Something Good," the Manchester-based quintet logged 23 chart singles, including nine consecutive top 10s. Two of those, "Mrs. Brown You've Got a Lovely Daughter" and "I'm Henry VIII, I Am," climbed to #1 in the Billboard chart, both in 1965. The Hermits, for a while, were ubiquitous—their clean-cut image and frontman Peter Noone's cover-boy looks made the band seem more acceptable than some of the harder, more blues-based bands like the Rolling Stones and the Animals, and they could be seen often on television and even on the big screen.
By 1967 though, rock music was in flux and Herman's Hermits' brand of pop began to lose favor with an audience seeking "heavier" music: their final top 10 was early '67's "There's a Kind of Hush," backed with the equally sublime "No Milk Today," and although they carried on with some equally excellent music, they finally called it quits in 1971.
Since then, Noone, born Nov. 5, 1947, has kept busy in music, theater and, more recently, as a radio host. But he's still most visible onstage, performing as many as 200 concerts per year. We caught up with Noone, who filled us in on his current activities and some great Herman's Hermits memories.
This is the first of two parts.
Best Classic Bands: You're booked to perform some solo shows. Have you done that before?
Peter Noone: Not that many. What I'm trying to do is see if that's any fun, to not have a plan. I'm going to take Vance [Brescia], my guitar player, with me so that I'm not stuck just with the songs that I know. He knows like 500 songs; he knows all the Monkees' songs and all the Beatles' songs. It just opens up this Pandora's box of music for me.
[When Noone tours, tickets are available here.]
Before we talk about the Hermits, I actually want to ask about another band you had after the Hermits, in 1980…

The Tremblers.
That's right. That was a great power pop band. Why did that only last for one album [Twice Nightly]?

It was great fun to do all those songs. I'm not really a songwriter, and I'd written all these songs. What happened was I got offered a job by Joe Papp for the New York Shakespeare Festival. We were touring with Pirates of Penzance and I thought, well, I'll go and do that and we'll come back and finish up [the in-progress second album]. But it's hard to keep a band together if they're not working, especially if they're good. It all sort of fell apart because I signed for six weeks, and then I signed for six months, and I eventually did it for four years. I did it on Broadway, in London and in New Zealand. So the band just fell apart because everybody was good and they all had other jobs; they all had other bands that they were in. The idea in the back of my head was that this [the Tremblers] was a natural followup to Herman's Hermits. It's what they'd be like if they hadn't fallen apart in 1971.
Watch the Tremblers perform Elvis Costello's "Green Shirt" in 1980, fronted by Peter Noone
Tell us about the SiriusXM radio show you've had for a few years.
It's on Saturday afternoons. I do 18 two-minute stories every week, so it's a full-time job. I enjoy doing it, and I get to promote me. I'm not afraid to tell stories that have me in them. So when I play a record by Tommy James, I tell a story about me and Tommy James, and people find it very entertaining.
Related: Our interview with Graham Gouldman, composer of "No Milk Today" and many other British Invasion hits
One of the most famous stories is the time the Hermits toured with the Who as your opening act in 1967. It was their first American tour. How did that bill come together?
We knew the Who and we were fans of them. In those days, you had to be able to say who was on the tour with you. So we brought Wayne Fontana on his first tour because he was a local boy from Manchester. And then we brought the Animals, and then the next tour I think we brought the Hollies. Remember, the record business was different in those days. So you could say, "We're going to put this band in front of 500,000 people in 50 days, and the radio stations will play their record to promote the show." Wayne Fontana had "The Game of Love," the Hollies had "Carrie-Anne" or something, and the Who had "Pictures of Lily." When the Who started, they were just a pop band. All the records I had by the Who were pop songs: "Pictures of Lily," "Happy Jack," "Substitute," "I Can See for Miles." They were all top 40 records. And then, during that tour, they saw this opportunity to become something else, a power band. During that tour, Pete [Townshend] was writing Tommy. We never saw him, ever. He was in his room writing Tommy. It was a very good experience for me to have them on the tour because I watched their show every night and I watched them get more and more confident. The audience in America got it.
Going back further than that, the Hermits played the Cavern in Liverpool. What do you remember about that?
We played there a lot. We used to play the Junior Cavern, as Pete Novak and the Heartbeats. The Junior Cavern was for very young people. Then we moved up and we started to get the lunchtime sessions, and then eventually we played the real Cavern at night. We learned how to be a band there.
In what way?
Well, you had to deliver. You had to be different, because there were hundreds of bands that wanted to play there. Every band in those days had to be different. The Beatles weren't like the Stones. The Stones weren't like the Who. The Who weren't like Herman's Hermits. Herman's Hermits weren't like the Kinks. We all had a unique thing. We would do "My Boy Lollipop" and "Mrs. Brown You've Got a Lovely Daughter," and odd songs and try them out on the audience. And we were most successful there when we did ballads, which was really weird because nobody else was doing ballads. We'd do "I'll Never Dance Again" by Bobby Rydell and "The End of the World" by Skeeter Davis. Eventually, we got signed by a label in 1963-64 because we had a set list. We weren't doing the same songs as everybody else.
Watch: Peter Noone still sings "The End of the World." Here's a clip from 2017
Like most British bands at the time you were doing covers of American R&B records, like Sam Cooke's "Wonderful World" and "Silhouettes" by the Rays. But some of the songs you were doing in the early days were really obscure.
There were two different kinds of record collectors. There were the people who bought the Sam Cooke songs sung by white English people, usually Craig Douglas, and then there were people like me who were Yankophiles. We only bought American records. We had no time for those English copies.
Watch Herman's Hermits performing "Silhouettes" live
How did things change for the band when you got a record deal and Mickie Most entered the picture as your producer?
Most of the time he recorded songs that we did already. "Mrs. Brown You've Got a Lovely Daughter" was in our set list. He was inspirational because he was such a good song picker. He could pick songs out of nowhere. Sometimes I'd play a song and he'd go, "Next." I said, "I only played the intro." He'd say, "It's boring."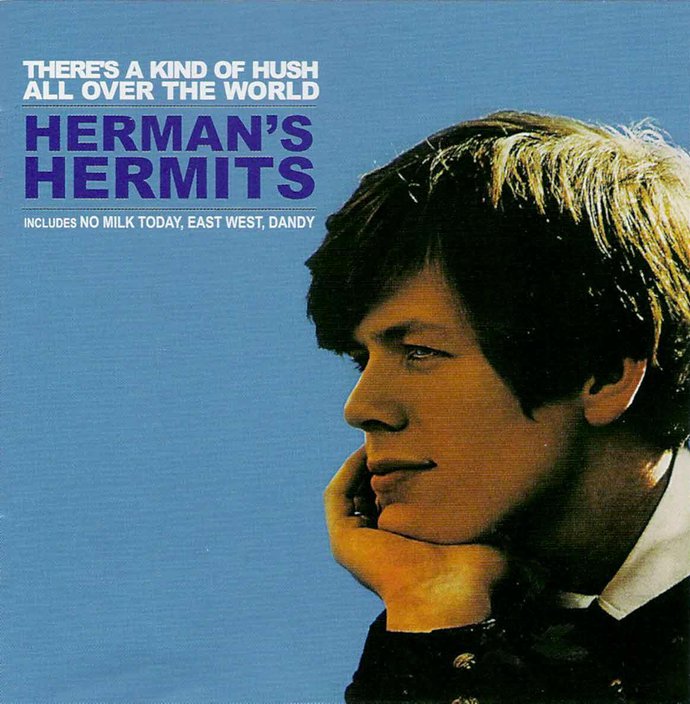 What was he like in the studio?
Fantastic. We had nothing but fun. It was always fun with him. Even he said that the most fun he ever had was making records with Herman's Hermits because we always laughed at everything. It was all we cared about. We never thought about selling millions of records; we just wanted to get on the radio. It was the BBC, remember, and the pirates ["pirate" radio stations off the coast of England]. We didn't know about America.
Related: Looking back at the hits of March 1965
One of the band's strengths was that each new song sounded different from the last. "Mrs. Brown" sounded nothing like "Can't You Hear My Heartbeat" and "Listen People" sounded nothing like "A Must to Avoid."
They were mostly up songs, even "Mrs. Brown." They played the shit out of that in England, played it to death. Because it was in a movie, they could play it without paying any fees or something, some weird thing in England. The idea was that when you would hear Herman's Hermits, you'd see Peter Noone singing. Like when you hear an Elvis Presley song, you see Elvis Presley, and when you hear Elton John, you see Elton John. You heard Del Shannon, you saw Del Shannon. We got lucky with Herman's Hermits because there was so much TV and so much visibility for anybody who was in the charts.
Watch Herman's Hermits on The Ed Sullivan Show in 1965
I think the opposite would be like the Grass Roots, who were never on the TV, so nobody knew what they looked like. Or those Tony Burrows songs in England—they had no face. Our songs all had a face, and that was part of the thing. We would constantly keep the same personality vibe. My choices were always good choices. I chose to sing "Mrs. Brown" with a Mancunian accent. And I chose to sing "Leaning on the Lamp Post" with a Yorkshire accent, and I chose "Henry VIII" with a Cockney accent, and they're all easily discernible to English people. Americans would go, "That's just an English accent."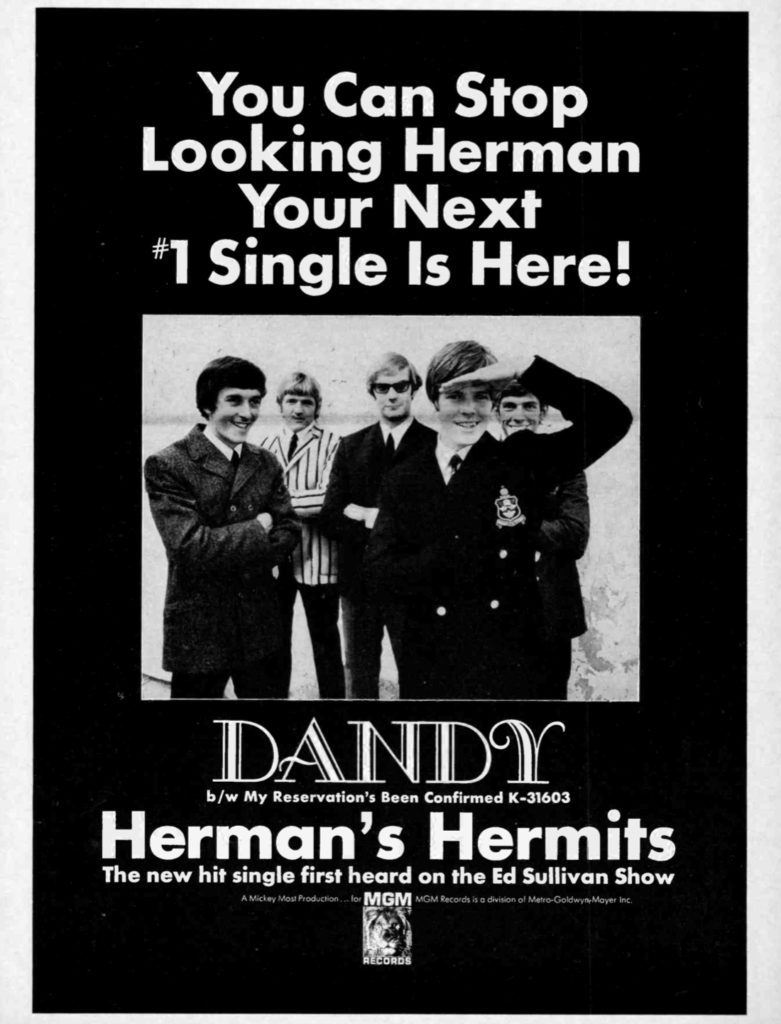 How did you come to cover the Kinks' "Dandy"?
I think it was [business manager] Allen Klein. What happened was Allen was signing up Ray Davies and the Kinks and said, "I think I can get Herman from Herman's Hermits to sing that and there'll be a number one." And Ray said, "No, I don't want him to do it. I want a number one with it." [Ed. Note: The Hermits' version reached #5 in America; the Kinks' only appeared on their Face to Face album.] It's very funny 'cause the Rockin' Vickers, which was Lemmy [later of Motörhead], they did a version of it as well, at the same time as us, from our demo, not from the Kinks' demo.
In part two, Noone talks about the Hermits' success, decline and his collaboration with a future legend.
Here's the one that started it all…

Latest posts by Jeff Tamarkin
(see all)