It's now two years since we started Best Classic Bands and we're blown away by the response we've gotten. And we're not just talking about the classic rock artists whom we write about every day–though we'll get to that in a bit. I'm really referring to the readers–yes, you, who are reading this post at this very moment!–who have embraced this website whose purpose is to celebrate the artists, music and pop culture of the classic rock era.
As we write this on June 12, 2017, our Facebook followers have somehow reached 119,000. The mind boggles. (If we could thank each one of you personally, we would.)
We're so grateful to the many talented artists and creative types who have taken the time to speak with us in the past year for interviews. Alice Cooper. Paul Carrack. The Beach Boys' Al Jardine, Mike Love and Brian Wilson talked about Pet Sounds' legacy. Clarence Clemons' nephew, Jake Clemons, who now tours with the E Street Band. Foghat original member Roger Earl and bandmate Craig MacGregor. Santana drummer Michael Shrieve reminisced about playing Woodstock as a 20-year-old.
Graham Nash discussed his acrimonious split with David Crosby. CCR's Doug Clifford and Stu Cook, who tour as Creedence Clearwater Revisited. Paul Anka at 75 looked back and forward. Eric Bloom of Blue Öyster Cult. Donovan talked to us about his greatest hits. The Monkees' Michael Nesmith. Paul Dugdale, who directed the Rolling Stones' two 2016 tour documentaries. ABKCO Records' executive Teri Landi, who oversaw the Stones' 1960s mono box set. The Turtles' Howard Kaylan. Beatles reissues producer Giles Martin. Songwriting legend Jimmy Webb. Authors Adam White and Barney Ales, who wrote the stunning book, Motown: The Sound of Young America.
Joe Elliott of Def Leppard. 2016 Rock Hall inductee Steve Miller. And 2017 Rock Hall inductee Rick Wakeman. British blues legend John Mayall. Jay Geils, who sadly left us this year. Bob Sarles, who co-directed the recent documentary on Rock Hall member Bert Berns. The Zombies' Rod Argent and Colin Blunstone, who are celebrating the 50th anniversary of Odessey and Oracle. Two-time Rock Hall inductee (Santana, Journey) Gregg Rolie. Boston's Tom Scholz. Nancy Wilson of Heart and now, Roadcase Royale. Timothy B. Schmit.
Just after our first anniversary, we were lucky to name Jeff Tamarkin, who had contributed numerous stories in our first year, as our new Editor. Jeff has been one of the most respected and prolific music journalists for decades. He's an experienced editor, has written liner notes for scores of albums, and is a published author. We're fortunate to have him full-time.
And that amazing Who's Who list above doesn't even include Jeff's previously unpublished interviews with Gregg Allman, Lou Reed, Linda Ronstadt, Tom Jones, Yoko Ono, Ronnie Wood and Leon Russell.
From the archives of Record World magazine, we unearthed lost interviews with Columbia Records' legendary A&R executive John Hammond and Beatles producer George Martin, that hadn't been seen in 45 years.
A big "thank you" to legendary FM DJ Dennis Elsas, who allowed us to re-purpose his radio interviews with Gregg Allman, ELO's Bev Bevan (who discusses the inside history of the band) and Bill Wyman.
Herb Alpert let us share his tribute to Leon Russell.
In Year Two, we offered several exclusive premieres of songs and videos. We're grateful to Graham Nash, Meat Loaf, Gerry Beckley of America and Blue Rose Music (for the John Oates–Bekka Bramlett duet of a Steve Forbert song), who allowed us to share some of their new work with you first.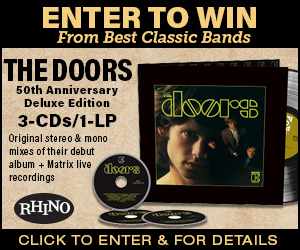 We're grateful to the catalog divisions of the "Big Three": Warner Music Group's Rhino, Sony Music's Legacy Recordings and Universal Music Group's UMe for providing many larger-than-life prizes for our contests, as did our friends at Time-Life, BMG and Concord Music Group. In the past year, our reader giveaways have included amazing box sets from David Bowie, Pink Floyd, Otis Redding, the Beach Boys, Eric Clapton, the Doors, Bon Jovi, the Band and many more.
As we wrote last year: We urge you to buy their concert tickets. Buy their music. Be active in our Facebook community. Whether your all-time favorite act is the Allman Brothers Band, the Rolling Stones, the Eagles, Tom Petty, ELO or Fleetwood Mac, or someone else altogether, we all share a love of music from the classic rock era.
A huge favor to ask: Since many of you are only aware of our stories via your Facebook feed, we'd be grateful if you'd sign up for our Newsletter. (You'll thus be aware of all of our new content since, unless you've adjusted your Facebook settings, you'll only see perhaps one in five of our posts there. And the more you Like/Comment/Share our stuff there, the more you'll see in your feed.)
Please tell your friends about us!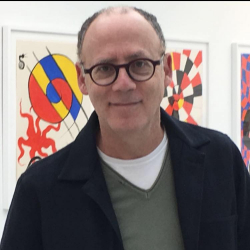 Latest posts by Greg Brodsky
(see all)