You know and likely love the deeply soulful voice of Paul Carrack, heard on U.S. pop radio on such timeless classics as "How Long" by Ace (#3 in 1975), Squeeze's "Tempted" (#49 in 1981), "The Living Years" by Mike + the Mechanics (#1 in 1989) and his own single "Don't Shed a Tear" (#9 in 1987). After breaking through as the frontman in Ace, he joined Squeeze and has played with Roxy Music, Elton John, Roger Waters, Ringo Starr, Nick Lowe, Pretenders and most recently Eric Clapton (to name some but not all) in addition to his own solo career.
Add to that two songs which he wrote/co-wrote that were recorded by the reunited Eagles – "Love Will Keep Us Alive" on 1994's Hell Freezes Over and "I Don't Want to Hear Any More" on 2007's Long Road Out of Eden – and it all adds up to a substantial and rather interesting career.
The BBC calls the Sheffield, England native "something of a national treasure." Yet Stateside audiences have yet to embrace this talented singer, songwriter and keyboard and guitar player as fully as he deserves to be. Which feels like a shame, especially when one listens to his 2016 album, Soul Shadows, a rich and quite engaging compendium of various soul and R&B flavors.
And with more than four decades under his belt, Carrack, born April 22, 1951, remains game about making music. "I'll do anything. It's fun to sing," he says. He's releasing another album, One on One, in June 2021.
In 2016, Best Classic Bands connected via Skype with Carrack in the recording studio he has built over the years in the garage of his suburban London home. He was working on a recording that demonstrates how, "I'll have a go at anything. It's a song that's about England winning the World Cup in 1966," Carrack says with a laugh. "These guys, these comedians, they're doing a whole show because it's been 50 years. They asked me if I'd do a vocal."
Carrack's main thrust for some time now has been his own record label, Carrack-UK, that he launched in 2000 with his Satisfy My Soul album. "The amazing thing is that we've had radio play on the mainstream, Radio Two it is over here," he notes. "On this album, we're on single number three, and it's on the A list. So you back that up with constant gigging and it's not too shabby.
"In 1976-77, when Ace was on the slide after our one big hit, I thought it was all over. We had about a year in the States and we came back to London and it was all new wave and punk, and I thought, that's me done then. So I tried to get what work I could," he says.
Some of those "punks" were veterans of the preceding English pub rock scene, like Carrack's pal and creative collaborator Nick Lowe. After he did a stint in Roxy Music at the tail end of that band's run, he was connected with Squeeze.
It's a relationship that still carries on today. "When I'm making an album, [Squeeze lyricist, singer and rhythm guitarist] Chris Difford and I generally write a song or two. It's funny, we get together and Chris…. I think he's a wonderful lyricist. Sometimes he comes to me with the kind of love songs where I think, Chris, I can write that shit. I couldn't write 'Tempted' or 'Labeled With Love' or any of those songs to save my life. So I said, that's what I'm looking for. He said, 'Ah, OK, I got ya.' Came back with this lyric for 'Bet Your Life.' I just happened to have this little jam that Jack [Carrack's son and now drummer] and I had come up with, and it kind of dovetailed beautifully."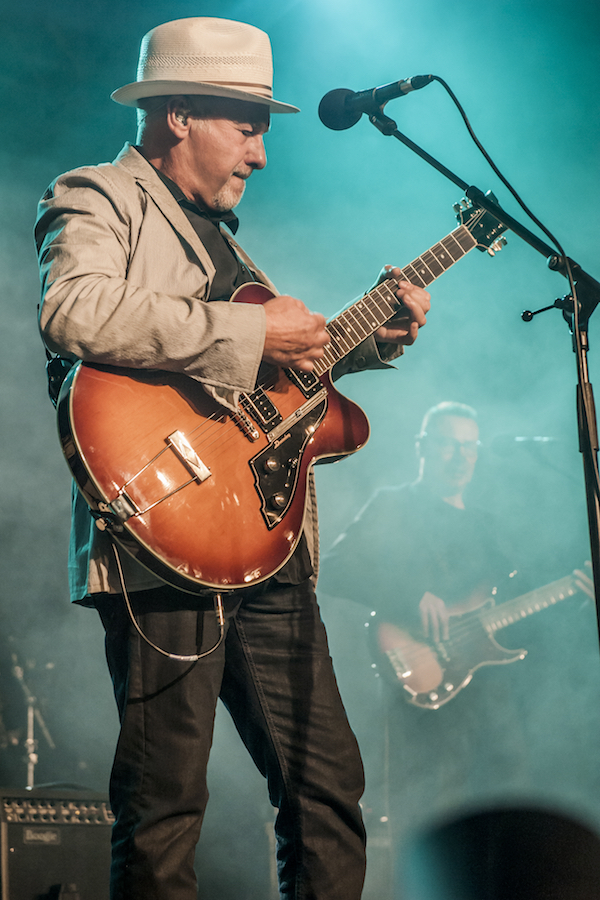 When not busy with his own career, Carrack gets to enjoy himself and earn a few quid these days as a regular member of Clapton's band. "I'd played on a couple of his albums," he explains. "Had just gotten a call out of the blue. I'd also done a couple kind of charity events with these kind of scratch bands that Gary Brooker [of Procol Harum fame] used to put together. So I knew he thought I was OK, I was pretty good.
"When he called me up, funnily enough, the day before I'd had a hernia operation," Carrack recalls, "and I was out of my head, really. I was like, Hi, yeah, yeah, yeah man. Then I looked at the dates and I realized that my tour finished on the 28th of February, and on the 29th I flew to America to join him. But I did a whole world tour, and it was pretty amazing.
"It's first class all the way, very well taken care of. Some of those big venues, they were OK, but it's great when you then get to play somewhere like the [Royal] Albert Hall. That's like playing in a club after all that," Carrack notes.
Plus, "I got to play with some incredible musicians in the last two or three years that I would never have gotten to play with," he enthuses. "I'm thinking of people like Steve Gadd, Steve Jordan, Willie Weeks – these guys that are really top-notch. I was in awe of those guys."
In January 2018, Carrack played a private concert in Paris as a member of Clapton's band. He played with him again on Slowhand's 2019 dates.
Related: Carrack is featured on our list of the 12 finest blue-eyed soul singers
Carrack's the kind of musician that enjoys collaboration, even when he has to share the spotlight with other singers as he did in Mike + the Mechanics with the late Paul Young. "He wasn't just a great singer," Carrack says. "In fact a lot of people think of him more as a performer than a singer. But if you think of him as a performer, he was a great singer.
"We had a lot in common as far as our backgrounds," he continues. "We were both Northern working-class kids who'd done rock 'n' roll. But personalities? Totally the opposite. He loved to be the center of attention. And God love him, he was a fun-loving guy, he was a rock 'n' roll guy. I think sometimes it was difficult for us both early on. Because I think we were both probably a little insecure. And we were both happy to have the gig. I think we kept each other on our toes a little bit. But he was a big miss.
"And I think once he was gone we should have just packed it in there," he says of the Mechanics, which Mike Rutherford has kept going with a new set of singers. "I stayed on for another album, but I was also trying to crack on with my own thing. And every time I got a bit of momentum going it seemed I had to drop it and fall in with that, because that was the most successful thing. It got to the point where I thought, I've just got to crack on and do my own thing and build up my own little brand. I've helped a lot of people with their brands."
And his brand is thriving. "We've played some fairly good-sized rooms now," Carrack says. "For a cottage industry, it's not bad. And it was a good move to make, because it's obviously the way."
All told, Carrack is a fairly satisfied man, and music continues to have its rewards, he concludes, at least "when it's all going for you. When you're on form and working great, it's fantastic."
When Carrack does a solo tour, tickets are available here.

Latest posts by Rob Patterson
(see all)