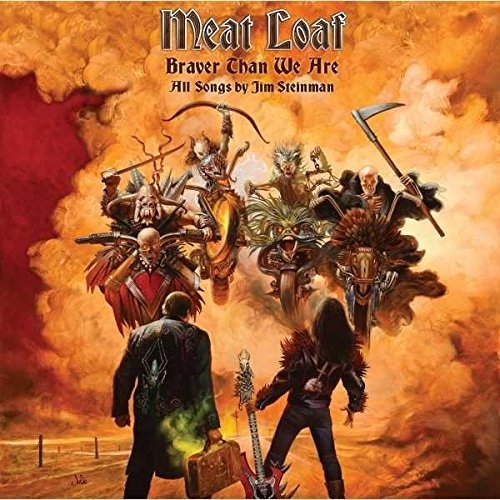 Best Classic Bands is pleased to present the exclusive premiere of "Going All the Way," the first single and brand new video from Meat Loaf's latest album, Braver Than We Are! The new song from the Grammy Award-winning musician and film, TV and stage actor is a collaboration with Jim Steinman, Meat Loaf's partner on such legendary classic rock albums as the original Bat Out of Hell and Bat Out of Hell II: Back Into Hell.
The track also features Karla DeVito and Ellen Foley on vocals, decades after Meat Loaf collaborated with them on the smash hit "Paradise by the Dashboard Light."
The album was released by 429 Records digitally, on CD and vinyl in the U.S. on Sept. 16.
Braver Than We Are debuted at #11 on the Billboard Top 200 Albums Chart and at #4 on their Rock Chart. For the album, Meat Loaf recorded 10 songs written by Steinman. While Paul Crook produced the album, Steinman acted as creative consultant throughout the recording process, working alongside Crook and Meat Loaf sending suggestions, adding verses and contributing opinions on every aspect.
Says Meat Loaf, "'Going All The Way' is such a classic Jim Steinman song, and with Karla DeVito and Ellen Foley on vocals, we were able to bring back the feeling of the group in the song. My hope for the video is to evoke emotion when you watch and listen to the new single."
Related: The inside story of Meat Loaf's Bat Out of Hell 
Meat Loaf has been busy over the past few months with a flurry of promotions and several major interviews. He appeared on numerous TV shows, including NBC's The Today Show on Sept. 12, Fox & Friends on Sept. 13, Oprah's Where Are They Now, Access Hollywood, Entertainment Tonight, The Big Interview with Dan Rather, PBS' Metro Focus, CNBC's Closing Bell and many more.
Braver Than We Are track listing
Who Needs The Young
Going All The Way (Is Just The Start)
Speaking in Tongues
Loving You's a Dirty Job (But Somebody's Gotta Do It)
Souvenirs
Only When I Feel
More
Godz
Skull of Your Country
Train of Love
Related: Steinman's Bat Out of Hell – The Musical coming in 2017
In a career spanning over four decades, Braver Than We Are is Meat Loaf's fourth album featuring songs exclusively written by Steinman. A painting featuring the two of them together for the first time is on the album cover. Bat Out of Hell (1977) and 1993's Bat Out of Hell II: Back Into Hell together have sold a reported 67 million copies.
Watch our exclusive premiere of Meat Loaf's "Going All the Way" video!
Don't miss a post! Sign up for Best Classic Bands' Newsletter; form is on every page.

Latest posts by Best Classic Bands Staff
(see all)