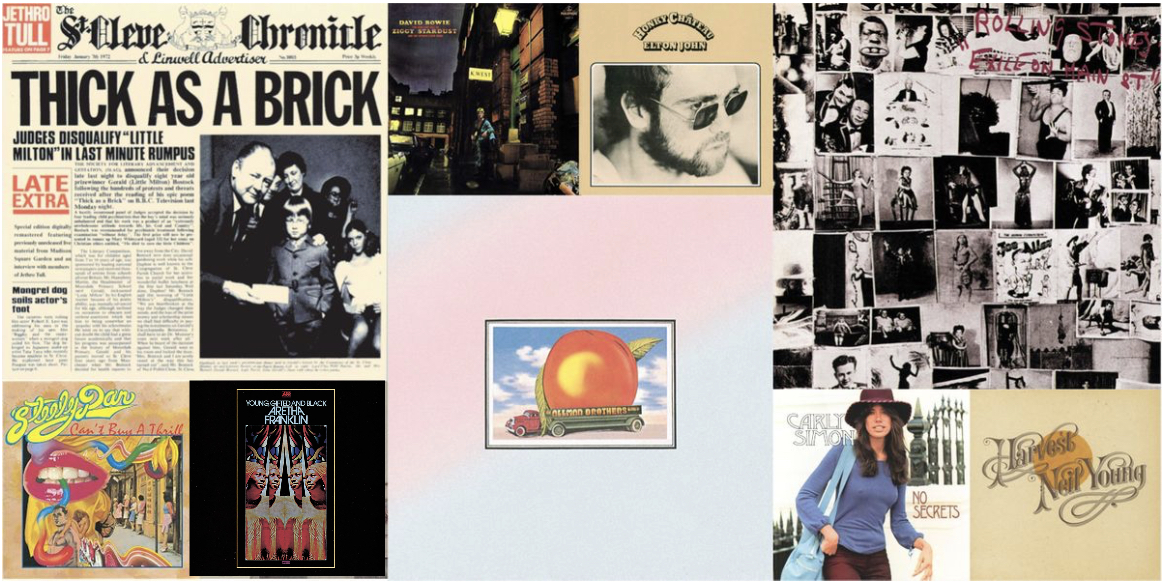 In the past, when we've compiled listicles of the best/most significant rock albums of a given year, we've kept the number to 50 titles. But when we set out to take stock of the albums that made 1972 what it was, we found ourselves facing a conundrum: There was simply no way to keep it to that number! Every time we took an axe to one of the great albums of that year, we immediately felt guilty and had to put it right back in. We tried, we really did, but we just couldn't pretend that only 50 albums mattered that year.
So, with that in mind, we decided, hey, we don't have to keep it to 50—no one's gonna arrest us if we go over! It's our website, and we can do whatever we want! So why not make the 1972 list a king-sized one, spotlighting a whopping 72 albums?
That's what we've done here, but even to get to that number we had to excise some great albums that mean a lot to us and have spent much time on our turntables and CD players (yeah, we're old school) since their release five decades ago. Yours too, we're guessing.
We're sure you will let us know which ones we still missed, and that's OK—let us have it! We may even agree with you, who knows?
This list contains full-length original albums released during the calendar year of 1972. They are mostly studio recordings, although we did allow some vital live albums to sneak in. We did, however, draw the line at compilations, greatest hits collections, etc. None of those here. We wanted to concentrate on brand new music that we heard for the first time that year and that is still worth hearing today.
Also, as you will quickly notice, we allow "rock music" to have a pretty inclusive reach. You'll find everything from country-rock to proto-metal, prog to soul. Everyone has different taste, and while we did stay away from albums that just can't be described as rock no matter how far you stretch the definition (i.e., classical, polkas), we're pleased that such a vast variety of sounds appealed to rock fans at that time, and still does.
The albums are listed alphabetically by artist's name (and if you're wondering why it starts with Alice Cooper, that's because it was still a band name at the time). No artist was allowed more than one entry, although if they had another major release that year, we tried to at least mention it. We should note that the chart numbers cited in the article are all U.S.-centric, taken from Billboard, except where noted.
Most of these albums are still in print, and readily available. We've made it easy for you to buy the ones you want by providing Amazon links. Go crazy! You deserve it. It really was one fine year for classic rock music on vinyl LPs. You can never have too much '72.
Alice Cooper—School's Out—The band's fifth studio album was by far its biggest to date, reaching #2 on the Billboard LP chart and delivering its biggest-ever single with the anthemic title track. They'd do even better with the next one, Billion Dollar Babies, but School's Out established Alice Cooper as a superstar act.
The Allman Brothers Band—Eat a Peach—How do you follow one of the greatest live albums ever recorded (At Fillmore East)? With a double, hybrid set—some live, mostly studio—packed with more classics. The album was released shortly after the untimely death of founding co-lead guitarist Duane Allman and actually outpaced the Fillmore set sales-wise. Several months after its release, the band would suffer another tragic loss when bassist Berry Oakley perished in the same manner Duane had.
Eric Andersen—Blue River—Having grown a reputation as a fine Greenwich Village folkie via his albums for Vanguard, Andersen moved to Warner Bros in 1969 and then to Columbia. This was his first LP for the label, and it displayed a quantum leap in songwriting and production. The title track, "Sheila" and "Is It Really Love at All" were sophisticated, delicate and melodic, garnering the singer-songwriter quite a bit of FM radio airplay.
The Band—Rock of Ages—Despite their already extensive history as a performing entity, the Band had been known mainly as a studio group since they'd emerged in 1968 with Music From Big Pink. But by 1971 they'd solidified their reputation as a killer live act too, and it was time for an in-concert album, They came up with one of the great ones, captured during four Christmas-week shows at New York's Academy of Music and released in the summer of '72.
Big Star–#1 Record—The debut album by the Memphis band that included former Box Tops singer Alex Chilton did not make much of an impact in its own time: It missed the Billboard LP chart entirely. But in the decades that followed, it grew an audience of devoted followers who credit it for kick-starting power-pop at a time when seemingly everyone else was making complex prog and jam music. Look in almost any list of all-time great rock albums and it will be there, usually accompanied by a five-star review.
David Bowie—The Rise And Fall Of Ziggy Stardust and the Spiders From Mars—The influence of this recording on the future of rock music cannot be denied. In Ziggy…, Bowie created an indelible character and storyline that pushed back rock's goal line. Its effect on the glam and, later, punk scenes was incalculable. But beyond that, it's simply a great collection of songs and performances that is still seen today as a landmark achievement in rock.
David Bromberg—Demon in Disguise—He was a session musician who'd contributed to albums by Dylan, Carly Simon, Gordon Lightfoot and others when he signed to Columbia Records in 1972. His self-titled debut included a track co-written by George Harrison, but it wasn't until he released the followup later in the year that David Bromberg truly began attracting a dedicated following. His virtuosity on several instruments (but mostly guitar) seemed to offset his droll, almost strained singing, but there was a naturalness to it that worked well. It didn't hurt that five members of the Grateful Dead added their expertise to the sessions.
Jackson Browne—Jackson Browne—A charter member of the burgeoning L.A. singer-songwriter club in the early '70s, Jackson Browne was already an in-demand composer when he cut his eponymous debut (also known as Saturate Before Using). With songs like "Doctor My Eyes" and "Rock Me on the Water," there was no denying that this was a talent to watch. Half a century later, he's still in top form.
The Carpenters—A Song for You—A brother-sister mainstream pop act in which the sister not only sang but played drums, and the brother pretty much called the shots musically? An unlikely formula but it caught on, catapulting them to #2 with both their 1970 Close to You album and its self-titled followup. Mostly, they were a singles group though, and that continued when "Hurting Each Other," from this album, rose to #2. A Song for You indicated that they were ready to try some expansion, however; the Leon Russell-written title song was incredibly haunting and beautiful, and the chart-topping "Top of the World" proved yet another tune with widespread appeal.
Harry Chapin—Heads & Tales—A great storyteller right from the start, the New York City-born Harry Chapin caught the public's attention with "Taxi," which led off the second side of this debut LP. The realism of the tale of the driver and his passenger—who turned out to be a woman he'd once loved but who'd abandoned him—was only one of several offerings that marked the folk-style singer-songwriter as a significant new voice.
Jim Croce—You Don't Mess Around With Jim—He was with us such a short time, his career burning brightly for just a few years when he lost his life at age 30 in a plane crash. He'd had a couple of albums behind him when the title track from this new one reached the top 10 and established him as a singer-songwriter who could create indelibly catchy tunes and words that stuck. "Time in a Bottle," also from the album, would find its way to #1 two months after Croce's death.
Related: What were the #1 singles of 1972?
Deep Purple—Machine Head—If you were only going to buy one Deep Purple album, it should probably be the one that has the original "Smoke on the Water," right? Well, this also has some other DP classics, like "Highway Star" and "Space Truckin'," and it was also the band's biggest seller. They'd enjoyed a stray top 10 single in America with "Hush" in 1968, but this album truly put them on the map outside of the U.K. for good.
Neil Diamond—Hot August Night—Neil Diamond was still gaining popularity in 1972, even after scoring such top 10 singles as "Cracklin' Rosie" and "I Am, I Said" in the early '70s. When he booked 10 shows at L.A.'s Greek Theatre in the summer of that year, they all sold out, and the singer-songwriter documented one of the shows for this double-LP release, which itself reached the top 5 and became one of his acknowledged classics.
Dr. John—Dr. John's Gumbo—If you ever wanted to answer the question, "What does New Orleans sound like?" you could do worse than to play this album for the questioner. With his definitive interpretations of songs like "Iko Iko," "Junko Partner" and "Tipitina," Mac Rebennack established himself as the quintessential Big Easy artist.
Eagles—Eagles—It's difficult to fathom in retrospect, but the debut album by Eagles did not make #1, or even the top 20—it landed at #22 on the Billboard LP chart. Retrospect is a funny thing though, because once Linda Ronstadt's former backup band took off, and songs like "Peaceful Easy Feeling," "Witchy Woman" and "Take It Easy" entered rock's permanent lexicon, it's just been assumed that this recording by the new country-rock band out of L.A. was a runaway smash success.
Emerson Lake and Palmer—Trilogy—As the prog genre blossomed and its adherents tried to cook up new ideas to out-prog each other, ELP spent 1971 releasing Pictures at an Exhibition (by Modest Mussorgsky) and touring far and wide. For their followup, they came up with Trilogy, relatively modest in comparison but still rather ambitious. It became their most popular release to date.
Roberta Flack and Donny Hathaway—Roberta Flack & Donny Hathaway—The pairing of the two R&B singers, both signed to Atlantic Records, was a natural. Flack had enjoyed a chart-topping LP in 1970 with First Take and was just coming off a #1 single with "The First Time Ever I Saw Your Face" (which had first appeared on that album). Hathaway had been more of a behind-the-scenes guy when they teamed up, but their duet on "Where is the Love" won them a Grammy and put him in the spotlight. Sadly, he committed suicide at the tail end of the decade.
Aretha Franklin—Young, Gifted and Black—Although her albums, dating back to her pop days with Columbia Records, had been uniformly excellent, Franklin was mostly known as  a singles artist, especially once she arrived at Atlantic. Two hit singles, "Rock Steady" and "Day Dreaming," came out of this LP, but it was the album as a whole that earned the bulk of the praise, winning Franklin a Grammy for Best Female R&B Vocal.
Rory Gallagher—Live in Europe—Guitar fanatics still say today that the Irish artist never really got his due in the States. This live set (sometimes just known as Live!) is proof—it only reached #101 on the charts and he never made it that high again. Still, it's got some killer playing, showing off Gallagher's blues-rooted virtuosity to its full extent.
Jerry Garcia—Garcia—The debut solo album by the head Dead, everything on Garcia was played entirely by the guitarist/singer/songwriter, except for the drums, which were filled in by the band's Bill Kreutzmann. Several of the songs on the album—including "Bird Song," "Deal," "Sugaree" and "Loser"—remained in the Grateful Dead's repertoire till the end of their days. The same year gave fans Bob Weir's Ace (which featured all of the Dead) and drummer Mickey Hart's Rolling Thunder, not to mention the band's triple-live Europe '72—quite a year for the faithful.
J. Geils Band—"Live" Full House—Many who witnessed Boston's J. Geils Band in concert came away swearing there was no hotter live act in rock at the time. "Live" Full House was the proof. Singer Peter Wolf, guitarist Geils, harmonica man Magic Dick and their pals seriously tore it up, bringing a raucous R&B spirit to their show—this baby still rocks the house today.
Genesis—Foxtrot—They were still deep into the Peter Gabriel period and the idea of having hit records was far from their minds—the album didn't chart in America and there were no hit singles from it. Still, the band's fourth album, with its big closing extravaganza "Supper's Ready," expanded Genesis' audience outside of the U.K., broadening the audience for the prog band both at home in England and here in the States. Bigger things would soon come their way.
The Grateful Dead—Europe '72—At the same time that their personnel was in turmoil—keyboardist/harpist Ron "Pigpen" McKernan was increasingly ill, drummer Mickey Hart had bolted, they were breaking in new members—the Dead were rapidly becoming a phenomenon in America, their audiences among rock's most fervent. They decided to give Europe a try that spring and went over well, enough so to get a triple live album out of it, arguably some of the most potent music they ever recorded. Many fans consider it their best album.
Dan Hicks & His Hot Licks—Striking it Rich—The all-acoustic ensemble out of the Bay Area was something of a throwback: part swing, part country-western, some blues, a coating of humor and cheeky attitude over it all. They were all virtuoso musicians and captivating singers and their songs stuck to your bones. Striking It Rich was their third album, and contained several of their signature songs, among them the great "I Scare Myself" and the hep "Walking One and Only."
Nicky Hopkins, Ry Cooder, Mick Jagger, Bill Wyman, Charlie Watts—Jamming With Edward—The Rolling Stones had plenty going on in 1972, including their double-LP Exile on Main St., and the summer tour in support of it. But the year started with the release of this off-the-cuff session featuring three Stones along with American guitar great Ry Cooder and the piano session king Nicky Hopkins. Some of it meanders, but it's still a fine example of what happens when musicians take a break and just do what they love—for fun.
Related: Who was Nicky Hopkins?
Hot Tuna—Burgers—The offshoot of Jefferson Airplane (who would break up this year), featuring guitarist/singer Jorma Kaukonen and bassist Jack Casady, released two live albums (one acoustic, one electric) before making this first studio collection. With violinist Papa John Creach and drummer Sammy Piazza in the fold, they put together a solid collection of blues-rock that announced they were for real. More than half a century later, Kaukonen and Casady still keep Hot Tuna cooking.
Humble Pie—Smokin'—The Steve Marriott-fronted British band just couldn't catch a break in America for its first few years. Then, in 1971, they released a live set from NYC's Fillmore East and suddenly people started to get it. The question of whether that newfound recognition would carry over to their studio efforts was answered with Smokin' the following year. Although one key member, guitarist Peter Frampton, had departed to try his luck with a solo career, Humble Pie's bluesy, boogieing proto-pub-rock finally found its way into the U.S. top 10.
Jethro Tull—Thick As a Brick—With 1971's Aqualung having elevated them into a serious commercial enterprise, Ian Anderson and his merry band took a further leap into mainstream rock with their fifth LP. Thick As a Brick landed at #1 in the States and they were ready for the arena circuit. While some of their early, jazz- and blues-influenced subtlety was lost, the charm  and the uniqueness were mostly still intact.
Related: What were the top-selling albums of 1972?
Elton John—Honky Chateau—Elton John was a star in America almost from the moment he first came to the attention of the listening pubic, but he had yet to attain the coveted #1 position with any of his albums. Honky Chateau took care of that, and would be followed by six more chart-toppers by the middle of the decade. The most prominent songs on Honky Chateau were its almost-title track, "Honky Cat," and "Rocket Man," but it was the general tone and excitement of the collection (the first to feature his road band) that helped give it that extra push.
The Kinks—Everybody's in Show-Biz—The Kinks had gotten a raw deal when the American Federation of Musicians banned them from touring the U.S. in the last few years of the '60s. They made some great albums in the interim (Arthur, Village Green Preservation Society) but had a lot of catching up to do. Lola and Muswell Hillbillies continued that trend but it wasn't till the release of the double-LP Everybody's in Show-Biz—one studio record, one live—that they truly began finding an audience that would stick with them till the end of the day.
Little Feat—Sailin' Shoes—Although guitarist/singer Lowell George was pretty well known as a songwriter and from his work with Frank Zappa, Little Feat got off to a slow start—their self-titled debut didn't even chart. Sailin' Shoes didn't make the top 200 albums either but several of its songs—the title track, "Tripe Face Boogie," "Cold, Cold, Cold" and their own version of George's "Willin'"—found sympathetic radio programmers and soon Little Feat had a small but very dedicated audience.
Loggins and Messina—Loggins and Messina—Kenny Loggins was a struggling songwriter and Jim Messina was best known for brief stints with Buffalo Springfield and Poco. They met and put their heads together, and while their debut album didn't make much of a splash, this second one did. On the strength of the top 5 single "Your Mama Don't Dance," the duo took off quickly, enjoying a solid partnership until Loggins left to go solo and became a huge MTV-era star.
Manassas—Manassas—If you're Stephen Stills and you've been in two massive bands—Buffalo Springfield and Crosby, Stills and Nash—and you've already turned out two top 10 solo albums, you deserve a break. Along with ex-Byrd/Burrito Brother Chris Hillman and a crew of phenomenal players, Stills put together this low-key, country-flavored band and made this fine debut album, which also sold handsomely. There'd be one more, which wouldn't do quite as well, and then it was time for Stills to move on again.
Related: What about 50 great albums of 1971?
Curtis Mayfield—Super Fly—Technically a soundtrack, this is basically a solo record, the third by the former Impressions frontman. It touched on issues of the day, from drugs to Black empowerment to ghetto life, and was super funky without leaving behind the hallmarks of the soul genre that had brought Mayfield fame. The title track, in particular, is emblematic of its time, and you can't hear it today without immediately thinking of the heady times in which it was conceived.
Bette Midler—The Divine Miss M—The singer was new, unless you were a habitué of the gay bathhouses in New York City, where she was already a star. The album was produced by her accompanist, a young man named Barry Manilow, who was himself looking to expand his presence. Midler was a formidable force, and her covers of songs by the Dixie Cups, the Andrews Sisters and John Prine took her straight into the top 10, winning her a Best New Artist Grammy.
Joni Mitchell—For the Roses—Her fifth studio album, and highest-charting to that point, only produced one radio hit, "You Turn Me On, I'm a Radio," but like everything else she'd done (including the preceding set, Blue), the album was loved by the critics and a growing number of singer-songwriter enthusiasts. With a nod toward jazz, For the Roses provided a signpost of what was to come from this brilliant artist.
The Moody Blues—Seventh Sojourn—Its title aside, Seventh Sojourn was the eighth release by the Moody Blues, Less heady, more down-to-earth, its most popular track even rocked, as well it should have with the title "I'm Just a Singer (In a Rock and Roll Band)." It would also prove to be their last for some time—after its release, the band went on hiatus, not resurfacing again with new material until 1978.
Related: Our Album Rewind of Seventh Sojourn
Van Morrison—Saint Dominic's Preview—It's hard to believe in retrospect that this recording, his sixth album, actually charted higher in America than either Moondance or Tupelo Honey, both considered classics of the era. But it did, largely on the strength of such gems as the title track and the rousing "Jackie Wilson Said." It also helped that the songs were less esoteric than usual, many of them simple romantic anthems, which enabled radio to air them without hesitation and bring in many new fans.
Mott the Hoople—All the Young Dudes—Try as they might, the British band led by the charismatic Ian Hunter just couldn't catch a break in the U.S. Their first four albums largely stiffed and audiences weren't warming up to them. To the rescue came David Bowie, who produced their new one (the first for Columbia Records) and penned the title track, as great a '70s anthem as any. It still didn't sell in great quantities but it brought Mott into the spotlight.
Graham Nash & David Crosby—Graham Nash David Crosby—Crosby, Stills and Nash (oh yeah, and Young) were the biggest thing in rock a couple of years earlier and then flamed out quickly. Everyone kept busy making solo albums (all of them superb) but then these two guys decided to see what they could do on their own. Turned out they didn't need those other guys—the excellent songwriting and singing carried over to their first album as a duo and the album sailed into the top 5. Others would follow.
Rick Nelson & the Stone Canyon Band—Garden Party—The former teen heartthrob from TV's The Adventures of Ozzie and Harriet had scored a string of smash hits in rock 'n' roll's early days, then fell from favor. In 1969 he formed what many consider the first true country-rock group, the Stone Canyon Band. But when he performed at a rock 'n' roll revival concert in New York in 1971, the audience, expecting those old hits, booed Nelson, prompting him to go home and write this title track about the experience. Ironically, it became his last top 10 single in Billboard's Hot 100, although the album itself petered out at #32.
Randy Newman—Sail Away—A true songwriters' songwriter, Newman had become the darling of the L.A. elite, and several of his songs had been recorded by other artists. Sail Away wouldn't change his status all that much among the record-buying public at-large—it only reached #163—but it did add to his buzz and garner him more radio play than he'd had before.
Nitty Gritty Dirt Band—Will the Circle Be Unbroken—Although credited to the Nitty Gritty Dirt Band—prior to this point a marginal country-rock outfit—this was more of a various artists collection. But what a VA collection it was! With contributions from such bluegrass and folk legends as Doc Watson, Maybelle Carter, Merle Travis, Roy Acuff and Earl Scruggs, the three-LP set did more than any recording before it to introduce the music that would form the basis of Americana to the mainstream rock audience. Today, it's considered a true classic.
Elvis Presley—As Recorded at Madison Square Garden—Ever since his fabled 1968 comeback via a TV special, the King had remade himself as a must-see live performer. Until 1972, however, New York City hadn't had that opportunity since the '50s, so his concerts at the Garden were a big deal, and not surprisingly, they were released and sold well. There was no doubt—Elvis was back!
Procol Harum—Live: In Concert With The Edmonton Symphony Orchestra—After five superb studio albums, the British band met up with a Canadian orchestra with the intent of fleshing out their classically informed songs symphonically. It worked beautifully, and gave them their first top 10 album—even without the inclusion of "A Whiter Shade of Pale," their signature hit.
Raspberries—Raspberries—At a time when most rock bands were looking for an expansive sound—jamming endlessly, unleashing flashy solos, writing complex, multi-tiered compositions—this unpretentious Cleveland-based quartet, led by singer Eric Carmen, came out of nowhere with a reminder: simple, harmonic, melodic pop-rock will always catch on. The lead track, "Go All the Way," was unlike anything else on the radio at the time.
Lou Reed—Transformer—Having left the Velvet Underground behind—more influential than commercially successful—that band's primary singer and songwriter struck out on his own. His self-titled debut, released earlier in the year, didn't find much of an audience, but by the summer, Reed found his groove on his sophomore release, with songs like "Satellite of Love," "Perfect Day" and, especially, "Walk on the Wild Side," a song that summed up the prevailing state of things as succinctly as anything David Bowie (who co-produced it) was cooking up.
Return to Forever—Return to Forever—Jazz keyboardist Chick Corea had an idea, inspired by his stint with Miles Davis, of creating a more electric brand of progressive jazz than had been heard before.  This is the debut album by his band of the same name, and while only bassist Stanley Clarke would stick around through future configurations, and the sound would shift radically from the Brazilian-flavored jazz found herein, it announced that the possibilities were endless. Fusion was being born.
The Rolling Stones—Exile on Main St.—Millions of words have probably been written on the Stones' 1972 double LP and the tour that they undertook to promote it. Many consider it the Stones' pinnacle, as well as the best album of the year. It's raw and gritty, more than a little decadent, and man, does it rock. Songs include "Tumbling Dice," "Rocks Off," "All Down the Line," Keith Richards' "Happy," "Rip This Joint," the acoustic "Sweet Virginia," "Shine a Light"—hell, the whole thing is brilliant.
Related: All of the #1 albums of '72
Linda Ronstadt—Linda Ronstadt—She had tasted success back in 1967 with "Different Drum," a Michael Nesmith song she covered with her band the Stone Poneys. But then she faded from the scene, and her first couple of solo albums hadn't made an impact at all. This third one didn't exactly catch on either, but it gave a clearer indication of what that voice could do with just about any kind of material, and within a couple of years she'd be a huge star—and deserving of it.
Roxy Music—Roxy Music—They were successful immediately in the U.K. but in America no one seemed to know quite what to make of them. Their sound and look were unlike anything else around, and while the musicians and singer Bryan Ferry were obviously very talented and unique, they might have been ahead of their time by just a bit too much. So the album tanked in America, but once they caught on —much later in the decade—folks were able to revisit this debut and understand that Roxy Music was truly on to something from the start.
Todd Rundgren—Something/Anything?—His third album revealed him to be an amazing multi-tasker: Rundgren not only self-produced this double set but played all of the instruments and sang all the vocals throughout most of it. The opening track, "I Saw the Light," would be his first real hit single and would come to be considered a pop classic of the early '70s, while "Hello, It's Me" (which he'd recorded originally with his earlier band the Nazz) would leap into the top 5. Pretty soon, everyone was calling him up for help.
Santana—Caravanserai—Columbia Records chief Clive Davis reportedly heard the new Santana album, the band's fourth, and called it "career suicide." It was so different than anything they'd done before, bordering on Miles Davis-inspired jazz fusion, and the boss didn't hear a single. The band released it anyway, and while it didn't reach #1 like their last two, it did go top 10 (although Davis was correct that there was no standout single). Today, many fans consider the album one of Santana's most brilliant recordings.
Seals and Crofts—Summer Breeze—The title track defines the lazy, laid-back summertime; listening to it, you might swear that you actually feel a warm gust of salty air floating your way. They were the consummate soft-rock duo, with a wild backstory that stretches back years and goes off in several fascinating directions. Their breakthrough album—their first to make the top 10—it somehow avoids sounding dated, even with that "blowin' through the jasmine in my mind" stuff.
Carly Simon—No Secrets—She was just on the verge of fame when her third album came out and made all the difference. There'd been a couple of top 10 singles (including "Anticipation"), but she needed that one song that was going to make her a household name. "You're So Vain" was it, helped a bit in the publicity department by the vocal assistance of one M. Jagger—and Simon's refusal to divulge who the song was about. Hello, top of the charts, for both LP and single—and a long, lucrative career ahead.She was inducted into the Rock and Roll Hall of Fame in 2022.
Paul Simon—Paul Simon—The news that Simon and Garfunkel had split in 1970 didn't quite rival that of the Beatles' same-year breakup, but it was still a big deal. Simon took a year off (actually teaching songwriting) before putting a new solo album out there to see if there was still interest (it was his second; his first had preceded the S&G days). Well, of course, with songs like "Mother and Child Reunion" and "Me and Julio Down By the Schoolyard" he had nothing to worry about. He ended up doing OK for himself even without that other guy.
Slade—Alive!—Look at the chart numbers for this album in various locales around the world: #1 in Australia, #2 in the U.K., top 10 in other European countries. The United States of America? #158. Slade just never really caught on all that well in the States. Was it because they confused people? Were they hard rock, glam, something else? They were skinheads when we were introduced to them! But eventually, they did find pockets of devoted fans, who liked their anthems with weirdly misspelled titles like "Mama Weer All Crazee Now" and "Cum on Feel the Noize." And those fans will tell you that this live release is all the proof you need that they could rock with the best of 'em.
Soundtrack—The Harder They Come—Few in America had a clue what reggae music was when a film starring a singer named Jimmy Cliff (basically unknown outside of Jamaica and the U.K.) was released in 1972. And so, when its soundtrack was put out there by Island Records that summer, it didn't mean much. The album, with songs by Cliff, the Maytals and other Jamaican artists, had no impact in the U.S. and reggae didn't become a "thing" until Eric Clapton reached #1 with a Bob Marley cover a couple of years later. Now, of course, The Harder They Come is acknowledged both as one of the great soundtracks and compilation albums ever, Cliff is a bona fide legend and reggae is a worldwide phenomenon. Sometimes good things take time.
The Staple Singers—Be Altitude: Respect Yourself—They'd made their name as one of the most important and successful gospel groups in America. Then they decided to branch out in secular soul music, which led them to be signed by Memphis' Stax label. The payoff came in '72 with this gem, which contained a couple of anthems that defined the times: "Respect Yourself" (a crossover hit the year before) and "I'll Take Yu There," which bolted to #1 on the pop charts as well as R&B. Today, Mavis Staples is still tearing it up around the world, keeping the message alive.
Steely Dan—Can't Buy a Thrill—What was their deal? The band was basically led by a couple of guys, keyboardist/lead vocalist Donald Fagen and bassist (for the time being) Walter Becker, who wrote rather heady, oblique tunes that were produced to perfection. Rock music for intellectuals. Steely Dan caught on among the FM radio crowd but also had no trouble scoring hits—"Do It Again" and "Reelin' in the Years," from this album, remain radio standards today. They were off to a good start with Can't Buy a Thrill, and they'd have a lot more to say throughout the rest of the decade.
Cat Stevens—Catch Bull at Four—After finally breaking through in the U.S. with his fourth and fifth albums, the British singer-songwriter finally scaled the charts to the top with his sixth. Oddly, there were no hit singles culled from the album, but music fans were happy to savor the album as a whole. Although Stevens continued to enjoy a high level of popularity until he gave up pop music later in the decade, Catch Bull at Four remained his only chart-topper.
Rod Stewart—Never a Dull Moment—Rod Stewart didn't have time for a dull moment at this stage of his career! Having apprenticed with the Jeff Beck Group in the late '60s, the singer (along with that band's guitarist, Ronnie Wood) then co-formed Faces with members of the Small Faces and proceeded to find quick success. Stewart's solo career ran parallel to the band's, and he hit pay dirt with 1971's Every Picture Tells a Story, then followed it with this gem. With standout tracks like "You Wear It Well" and his cover of Sam Cooke's "Twistin' the Night Away," the album jumped right up to #2 in America, ensuring that Stewart was a bona fide rock star.
T. Rex—The Slider—The Marc Bolan-fronted English glam band was another that had trouble catching on in the U.S. the way it did at home; it wasn't until the previous year's Electric Warrior (actually their sixth album in all but only the second since shortening their name from Tyrannosaurus Rex)—aided by the tracks "Get It On" and "Jeepster"—that they found a significant footing here. The Slider also offered a couple of classics—"Metal Guru" and "Telegram Sam"—and became their biggest success in the States, after which American audiences quickly lost interest again.
Pete Townshend—Who Came First—It was inevitable that the Who's de facto leader would eventually step out to try his hand at a solo LP, and he used the occasion to offer a tribute to his guru, Meher Baba. Townshend had already made a couple of collaborative recordings to honor his spiritual master, but Who Came First is considered his true debut on his own. Although it was warmly received by most critics, it was not a huge hit, despite some excellent tracks, among them the Lifehouse demos of "Pure and Easy" and "Let's See Action," both of which received significant airplay.
Townes Van Zandt—The Late Great Townes Van Zandt—The name Townes Van Zandt is revered among aficionados of Texas singer-songwriter/outlaw music and especially fellow country/folk-rooted artists (just ask Willie Nelson). His second album, produced by Jack Clement, is most notable for the inclusion of "Pancho and Lefty," later taken to #1 on the Billboard country chart, but many of the others are just as timeless.
Joe Walsh—Barnstorm—Between leaving the James Gang and unexpectedly casting his lot with Eagles, the hotshot guitarist Joe Walsh formed the trio Barnstorm and released this self-titled debut. Produced by Bill Szymczyk, it didn't have the bombast of the previous band, but rather a more subdued sound that stayed closer to the lighter side of early '70s rock. Listeners didn't really know what to make of it, and it fared only moderately well—the group would split after its third album, fondly remembered by some, forgotten by most.
War—The World Is a Ghetto—Formed by Brit Eric Burdon after disbanding the Animals, War became something very different once he stepped aside. Building their sound around the popular funk and soul styles of the day, with a nod toward jazz, War issued one beautifully crafted song after another, and it all came together for real on this, their fifth album in all. Between the radio-staple title track and opening number "The Cisco Kid," it caught on in a big way, rising easily to #1.
Edgar Winter Group—They Only Come Out at Night—Having gained a foothold as a member of his older brother Johnny's band, the keyboardist/vocalist/songwriter struck out on his own in the early part of the decade, leading a band featuring the superb multi-instrumentalist Dan Hartman, guitarist Ronnie Montrose and producer/guitarist Rick Derringer, plus some hot rhythm players. Their early 1972 Roadwork album set the scene, but it was this followup, containing the huge hits "Frankenstein" and "Free Ride," that put them close to the top.
Related: Read our feature story on Edgar Winter's They Only Come Out at Night
Bill Withers—Still Bill—What a glorious, resonant voice he had! After making his intro with Just As I Am the previous year, the soul singer returned with what is arguably his masterpiece. With the back-to-back hit singles "Use Me" and "Lean On Me" closing out the first side of the LP, Withers grabbed hold of listeners across genre lines and made them fall in love. He was elected to the Rock and Roll Hall of Fame in 2015.
Stevie Wonder—Talking Book—Just how important was this album? It's undeniably one of Wonder's crowning achievements, but beyond that, it's considered a game-changer in the development of Black music by many. In late 2022 the New York Times devoted several pages to a reassessment of the recording, with commentary by everyone from Motown giants Berry Gordy Jr. and Smokey Robinson to jazz and pop stars like Robert Glasper, David Sanborn and Macy Gray. Released during a year when Wonder served as the opening act for the Rolling Stones' tour, it broadened his appeal greatly, aided by the success of the singles "Superstition" and "You Are the Sunshine of My Life." Read our Album Rewind of Talking Book here.
Yes—Close to the Edge—The fifth album by the prog giants (and last to feature drummer Bill Bruford), the album was nothing if not ambitious. With the entire first side devoted to the 19-minute title suite, and the second half split between two other lengthy excursions, "And You and I" and "Siberian Khatru," the album was all about the band flexing and obliterating boundaries. Audiences responded on both sides of the Atlantic by pushing the album into the top 5, ensuring that this classic lineup of Yes would go down as prog immortals.
Neil Young—Harvest—Neil Young made it clear from the time he departed Buffalo Springfield in the '60s that he would be an iconoclast, and damn the skeptics. That meant he would briefly join up with CSN, spend time with the hard-rocking Crazy Horse, and, as the whim hit him, toss out both acoustic-based and rocking solo albums. For Harvest, he hooked up with a country-informed band he called the Stray Gators, and cut some of the most durable songs of his career, among them his first and only #1 single, "Heart of Gold." For many fans, Harvest is the most enjoyable album Young ever made, and it's hard to argue that.

Latest posts by Jeff Tamarkin
(see all)