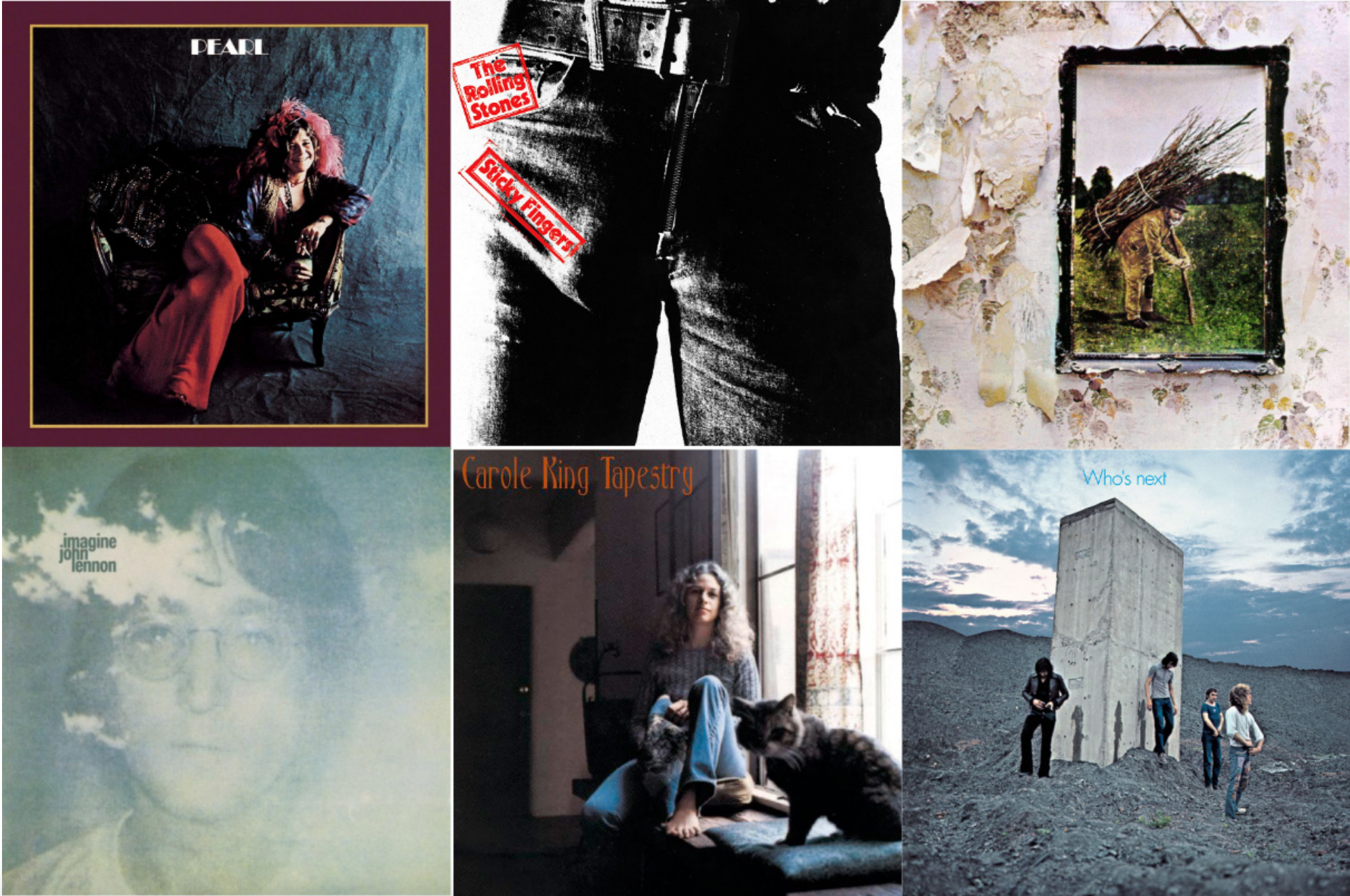 The '60s was definitely over. The music that found its way to our turntables in 1971—whether by new artists or those returning from the previous decade—often bore very different qualities than what we'd listened to just a few years earlier. The singer-songwriter movement was taking off in earnest via artists like Carole King, James Taylor, Harry Nilsson and Joni Mitchell. Other individual artists—David Bowie, Elton John, Rod Stewart, Marvin Gaye, Van Morrison and the now-former Beatles—had very distinctive musical personalities that would help shape the future of rock. Several of the bands that would come to define classic rock were just beginning to put down solid foundations—some holdovers from the '60s (Pink Floyd, the Stones, the Who, the Doors, Jethro Tull, Led Zeppelin, Santana, Sly), others brand new new to us (Allmans, Sabbath, Yes, Alice Cooper).
It was an exciting time for rock music, which was still growing in influence, commercially and culturally. Bands that had only recently performed in ballrooms and college gyms now played arenas and stadiums, and it was not uncommon for an album to sell many millions of copies.
For this survey, we looked back at hundreds of albums released in 1971 and whittled the list down to the 50 that we think represent the cream of the year's crop. Many of these titles remain cornerstones of any essential classic rock record collection, sounding as fresh now as when we first removed the vinyl from the shrink-wrapped album jacket.
Were there others? You bet! This is not meant to be definitive, nor are these necessarily all personal favorites of the BCB staff. We welcome your input on what we should have included, and if you disagree with some of our choices, what we could have omitted.
We're not ranking them; they're arranged alphabetically by artist. How many of the 50 do you own?

Allman Brothers Band—At Fillmore East—Many consider it the greatest live rock album of all time, and it may very well be. If anyone still wasn't sure if these southerners were a major new force, this slab of perfection put that doubt to rest.
Badfinger—Straight Up—Their first two albums for the Beatles' Apple label found them hovering in the Fabs' shadows. With this Todd Rundgren-produced LP the British quartet truly came into its own, creating the prototypical power pop album. Read our Straight Up Album Rewind here.
The Beach Boys—Surf's Up—The influence of Brian Wilson was on the wane as he retreated further from the band's day-to-day activities. The tracks written by the others ("Disney Girls," "Don't Go Near the Water") are fine, but the title track, co-written by Brian with Van Dyke Parks, is the album's masterpiece.
Black Sabbath—Master of Reality—Their third album and first to sell in huge quantities, this set is often credited with pushing the metal genre into darker, deeper waters. If Black Sabbath was still finding itself before, now they knew what they were.
David Bowie—Hunky Dory—It's rarely cited as one of Bowie's most significant works, and is more transitional than transformative. But there's no denying that Bowie's artistry was expanding into new areas, and the opening track, "Changes," spelled out what he and the rock generation were going through.
Watch Bowie sing "Changes" live in 2002
Alice Cooper—Love it to Death—Alice Cooper still referred to the band itself, not just its singer, when they released their third studio album, It contained what is still probably their best-known tune, "I'm Eighteen." Later in the year, Killer further established AC as one of the most important hard rock bands of the day.
Commander Cody and His Lost Planet Airmen—Lost in the Ozone—Although best known for the hit single "Hot Rod Lincoln," which appears on this debut, the eight-piece band slipped easily into western swing, rockabilly, country-rock and more.
David Crosby—If I Could Only Remember My Name—For his first solo album, Croz dug into his phone book and called upon members of Jefferson Airplane, the Grateful Dead, Santana and more, including pals Graham Nash, Neil Young and Joni Mitchell. It remains emblematic of that certain time and place.
Related: Our Album Rewind of Crosby's classic
The Doors—L.A. Woman—This is where it all ended for the Doors (if you discount those Morrison-less duds released after his death). And they went out on a high note, with the title track, "Riders on the Storm," "Love Her Madly" and more. Six albums and a legacy that is still so strong.
Emerson, Lake & Palmer—Tarkus—The trio released two albums in 1971 that came to define prog: this one and the live Pictures at An Exhibition. Both are pretty ambitious, to say the least, but Tarkus is the more durable: the side-long title track is a full-blown epic in the true sense of the word.
Faces—A Nod Is As Good as a Wink…to a Blind Horse—Following Long Player earlier in the year, A Nod… is where the Faces became something more than Rod Stewart's backup band. Every track is a stone rock classic, starting with "Stay With Me," one of their best loved tunes.
Aretha Franklin—Live at Fillmore West—When the Queen of Soul pulled in to San Francisco's hippie central she didn't know if they would accept her. Ha! They adored her, and she gave them a show to remember. The companion album by her band (and opening act) led by King Curtis is also killer.
Marvin Gaye—What's Going On—Motown's Berry Gordy Jr. was reluctant to release this concept album about a returning Vietnam vet who finds a different America awaiting him. Not only was it a huge hit, but today it's regularly cited as one of the greatest albums of all time. Sometimes the boss is just plain wrong.
Related: Our Album Rewind of the landmark release
Grateful Dead—Grateful Dead—The band's eponymous second live album is usually called "Skull & Roses" due to its iconic artwork (the band wanted to call it "Skullfuck"), and it marks a time when they briefly scaled back to the original quintet lineup. They were doing some serious rocking out in 1971 and many tunes on here stayed in their setlists till they quit.
Jimi Hendrix—The Cry of Love—Several of these recordings were not yet completed when Hendrix died in September 1970. The label released it as a posthumous tribute although we will never know if the artist would have been happy with the final product.
Hot Tuna—First Pull Up, Then Pull Down—Jefferson Airplane was hanging on by a thread in 1971, having released an album, Bark, that most fans readily admit was not up to their previous work. Guitarist Jorma Kaukonen and bassist Jack Casady already had their heads elsewhere. This electric live set is the second album by their blues-centric offshoot, following a self-titled acoustic one. They're still going strong today.
Related: The year 1975 in classic rock albums
Humble Pie—Performance: Rockin' the Fillmore—The English quartet led by former Small Faces singer Steve Marriott and guitarist/singer Peter Frampton had released four studio albums (including Rock On earlier in the year) but couldn't catch a break in the U.S. Then they put out this live album. Bingo! Read our previously unpublished interview with Steve Marriott.
Jethro Tull—Aqualung—They started out as a jazz-blues-rock hybrid, a formula they honed over three previous (and all excellent) studio albums. But it took a turn toward harder rock for Ian Anderson and company to break through to the top 10. The title track is a bona fide rock classic.
Related: Aqualung, the ultimate concept album
Elton John—Madman Across the Water—Americans took readily to this British piano-playing fellow, sending his first couple of albums into the top 10. The live 11-17-70, released earlier in '71, demonstrated chops to spare.. This somewhat autobiographical affair (its songs, of course, were co-written with lyricist Bernie Taupin), featuring classics-to-be like "Tiny Dancer" and "Levon," set the stage for the massive superstardom that would arrive the following year.
Related: Our Album Rewind of Madman Across the Water
Janis Joplin—Pearl—Sadly, she was gone by the time her second solo album, which dominated the #1 spot in Billboard for an astounding nine weeks, was released. Her only album recorded with the Full Tilt Boogie Band, it featured her definitive cover of Kris Kristofferson's "Me and Bobby McGee" and several other soul-rock pearls.
Related: Read our review of the book 1971–The Year That Rock Exploded
Paul Kantner and Grace Slick—Sunfighter—With Jefferson Airplane nearing the end of its run (their 1971 album Bark sold well but was not as strong as previous ones), the individual band members concentrated on their own projects. Kantner and Slick were lovers at the time (their daughter China graces the album cover) and they invited a few dozen friends to help flesh out their newest songs.
Carole King—Tapestry—Having co-written dozens of smash AM hits for others, the songwriter decided to sit down at her piano and cut her own tunes using her own voice. The result was one of the best-selling albums in history, #1 for an amazing 15 weeks. The singer-songwriter movement kicked into high gear here.
Watch a half-hour Carole King show from 1971
Related: The #1 albums of 1971
The Kinks—Muswell Hillbillies—Moving to a new label (RCA), the stalwart English band did not have great commercial success with their latest (#100 in the U.S.), but it has grown in stature. Not quite a concept album like others before and after, it nonetheless contains some of Ray Davies' most durable compositions.
Led Zeppelin—IV—The album actually does not have an official title, but it has always been called IV simply because that's where it fell numerically in their catalog. Like its predecessors it was a massive success, as you might expect of an album that introduced "Stairway to Heaven," "Black Dog," "Rock and Roll," "Going to California" and more.
John Lennon—Imagine—Lennon's second post-Beatles solo album was a highly personal affair. Alternately angry ("Crippled Inside," "How Do You Sleep?"), sweet ("Oh My Love," "Jealous Guy") and always brutally honest (the title track, "Gimme Some Truth"), it defined Lennon in the immediate aftermath of the maelstrom. Read our review of the Imagine Ultimate Collection.
Mahavishnu Orchestra—The Inner Mounting Flame—The movement called fusion or jazz-rock was just taking shape in the early '70s when guitarist John McLaughlin, a Miles Davis alumnus, along with other virtuosos like keyboardist Jan Hammer and drummer Billy Cobham, unleashed this furious debut.
Paul and Linda McCartney—Ram—The only album credited to both members of the couple, this followed Paul's self-titled solo debut and preceded the debut by his new group Wings later in the year. Ram was a strong set of originals, some of them low-key to reflect the country life the couple was sharing.
Joni Mitchell—Blue—Already beloved by a tuned-in segment of the rock/pop audience, Mitchell was still emerging as a wider commercial force. Blue, her fourth album, boosted her profile with brilliant songs like "A Case of You," "Carey" and "California," and has since found itself listed near the top of many all-time-greatest albums lists.
Van Morrison—Tupelo Honey—Following the landmark Moondance and His Band & Street Choir albums with this somewhat subdued set (written while he was residing in bucolic Woodstock, N.Y.), the Irish bard captured the zeitgeist on tunes like "Wild Night" and the title track.
Mothers—Fillmore East—June 1971—The incredibly prolific Frank Zappa recorded his latest group of Mothers (shortened from Mothers of Invention), fronted by former Turtles vocalists Howard Kaylan and Mark Volman, and enjoyed one of his most successful albums to date. The live versions of tunes like "The Mud Shark" and "Peaches en Regalia" are definitive.
Graham Nash—Songs for Beginners—His bandmates David Crosby, Stephen Stills and Neil Young had all released—or were about to—their own solo albums, so Nash gave it a shot. Turns out he had a lot to say too: songs like "Military Madness" and "Chicago" remain in his set list today, as relevant as they were in 1971.
Watch Nash sing "I Used to Be a King" in 2013
Related: Our Album Rewind of Nash's stunning solo debut
New Riders of the Purple Sage—New Riders of the Purple Sage—All of the songs on the debut by this California-based country-rock outfit were written by singer John Dawson, aka Marmaduke. But the instant high profile the band enjoyed was due to the input of Jerry Garcia on pedal steel guitar.
Related: The year 1970 in classic rock albums
Harry Nilsson—Nilsson Schmilsson—His most commercially successful album included several of his best-known songs: "Coconut," the Grammy-winning "Without You" and "Jump Into the Fire." Although he'd released several albums prior to this one, this is when the rest of the world woke up to what the Beatles (among his biggest fans) had already known. Read our review of this Nilsson classic.
Pink Floyd—Meddle—With Dark Side of the Moon just a couple of years away, Meddle sometimes gets overlooked. It's something of a transitional album, bridging their psychedelic, experimental early work with the more mainstream rock that would come soon. The side-long "Echoes" is a masterwork.
Poco—Deliverin'—Their third album, and first live one, is country-rock at its finest. With Richie Furay, Jim Messina, Timothy B. Schmit, Rusty Young and George Grantham in the lineup, they were at their peak as songwriters and players.
John Prine—John Prine—He continues to be overlooked by the Rock and Roll Hall of Fame and this was where it began for this exceptional singer-songwriter. Some of his most poignant songs, including "Sam Stone" and "Angel from Montgomery," were introduced here.
Related: Much more on Prine's debut for the ages
Rolling Stones—Sticky Fingers—What can you say? One of the all-time great rock albums. This marked the first full Stones album for new guitarist Mick Taylor, who got to strut on tunes like "Brown Sugar," "Bitch," "Wild Horses" and the exquisite "Can't You Hear Me Knocking." One of the highwater marks of their ongoing career.
Watch the Stones perform "Can't You Hear Me Knocking" in 2017
Related: Many of these artists are still touring; see our classic rock tour links
Todd Rundgren—Runt. The Ballad of Todd Rundgren—Rundgren played most of the instruments himself, wrote all of the tunes, produced it and established his rep as a perfectionist. Heavy on the keyboard-based ballads, it's not his best known and didn't sell well, but it made many new fans.
Santana—III—It was actually self-titled, as was their debut, but has always taken on the Roman numeral to distinguish it. Whatever you call it, it marked yet another quantum leap for the San Francisco band, who watched it sail up to #1. They would continue to expand their musical horizons, not always to gratifying results, but this was a keeper.
Sly and the Family Stone—There's a Riot Goin' On—Having enjoyed a swift ascent with their Woodstock appearance and late '60s hits, the future of the band was in doubt after some dodgy doings. But Sly and company rallied on this funky, somewhat darker effort.
Cat Stevens—Teaser and the Firecat—Perhaps his most beloved album (along with the previous year's Tea for the Tillerman), it contains such archetypal singer-songwriter classics as "Moonshadow," "Morning Has Broken" and "Peace Train."
Rod Stewart—Every Picture Tells a Story—He was fronting the Faces but that wasn't enough for the Scottish rocker. This was the one that included "Maggie May," but the title track, "Mandolin Wind" and his excellent covers also contributed to his growing reputation.
Barbra Streisand—Stoney End—She was hardly a rocker by any standard, except perhaps on this one. With songs by Laura Nyro (including the title track), Joni Mitchell, Goffin and King, Randy Newman and others, Babs proved she had it in her to rock.
James Taylor—Mud Slide Slim and the Blue Horizon—Following up a career-making record like Sweet Baby James couldn't have been easy, but JT was on a roll. "You've Got a Friend," his cover of the Carole King song, gave Taylor his only #1 single, and the album was massively popular and influential.
T. Rex—Electric Warrior—The former Tyrannosaurus Rex, led by the charismatic singer Marc Bolan, were glam royalty in the U.K., and while they never quite reached that level here, they did make a significant impact. Two of their most popular tracks, "Jeepster" and especially "Get it On," originated here.
Traffic—The Low Spark of High Heeled Boys—The followup to John Barleycorn Must Die showed continued growth for the Steve Winwood-led band, with drummer Jim Capaldi taking more of a frontman's role as well. The title track is one of the group's best-remembered tunes.
Various Artists—The Concert for Bangladesh—When Ravi Shankar told his friend George Harrison that his homeland was in trouble, the former Beatle called up some friends—Clapton, Dylan, Ringo, Leon Russell and more—and asked them to meet him at Madison Square Garden to play some music. The concert was historic, and the album was and still is considered quintessential live rock. Read our feature on the Concert for Bangladesh here.
Weather Report—Weather Report—The debut album by quite possibly the greatest jazz-fusion band of all-time featured Wayne Shorter, Joe Zawinul, Miroslav Vitous, Alphonse Mouzon and Airto Moreira. Together they stretched the boundaries of both genres.
The Who—Who's Next—For some it's not only the greatest Who album but the greatest of all rock albums. Hard to argue that one when it includes tunes like "Won't Get Fooled Again," "Behind Blue Eyes" and "Baba O'Riley." Who's Next redefined what this band was—and what they were capable of.
Related: Our Album Rewind of Who's Next
Yes—Fragile—Coming off the very fine The Yes Album early in the year, the quintet (Jon Anderson, Steve Howe, Chris Squire, Rick Wakeman and Bill Bruford)—possibly the band's ultimate lineup—took their prog music up another level with radio favorites like "Roundabout" and "Long Distance Runaround."
Related: What were 1971's top-selling albums?
v

Latest posts by Jeff Tamarkin
(see all)