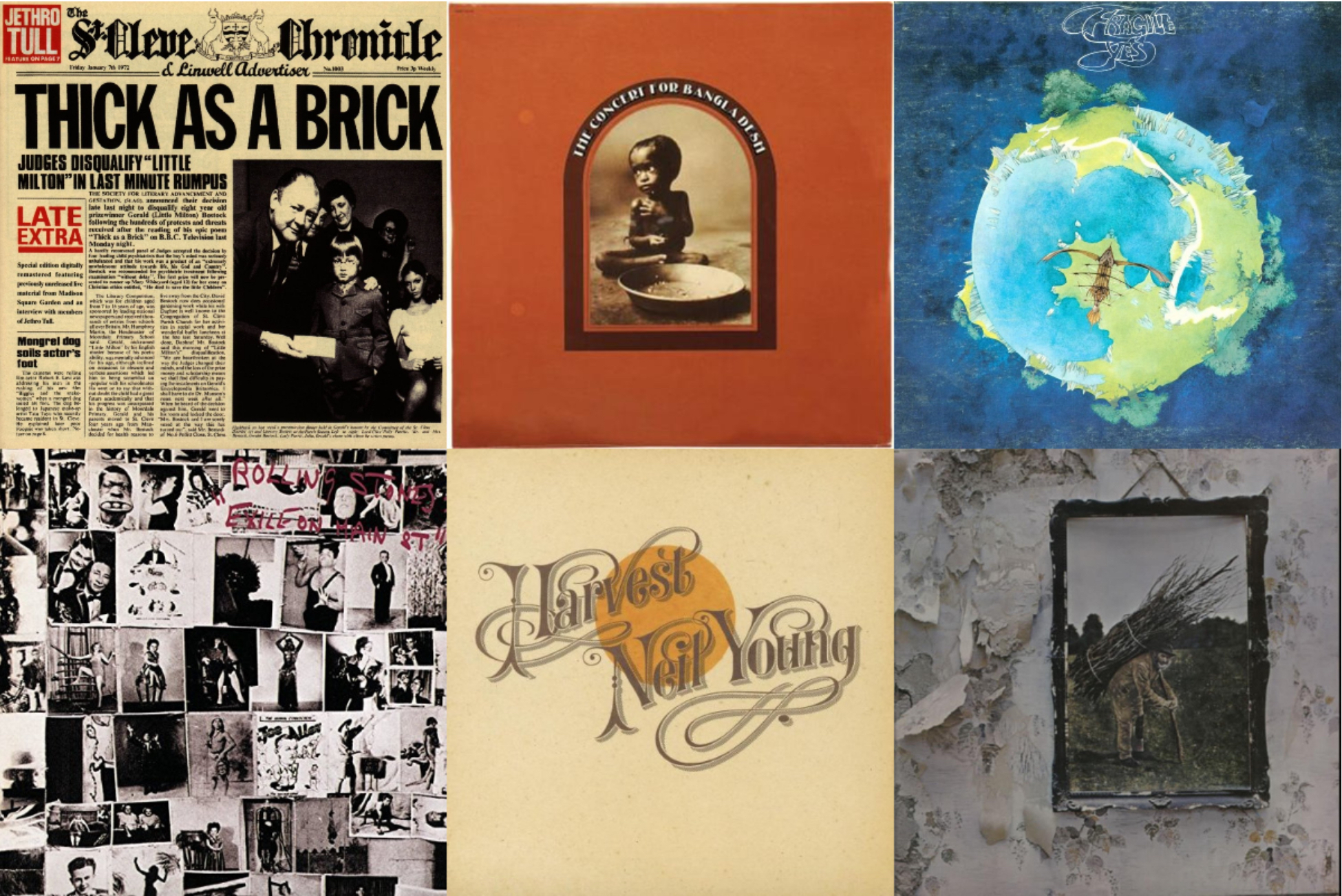 Making headlines in 1972… In movie news, The Godfather film premiered in New York City. The French Connection won five Academy Awards including Best Picture. The X-rated animated movie Fritz the Cat was released.
Five are arrested for breaking into the Democratic National Committee headquarters at the Watergate office complex. George Carlin is arrested for reciting his "Seven Words You Can Never Say on Television" at Milwaukee's Summerfest. Bobby Fischer became the first American world chess champion.
The first of 256 episodes of M*A*S*H aired on CBS. An illustrated sex manual, The Joy of Sex, is published. The video game "Pong" is released.
Recordings made by some of the biggest classic rock artists of the era dominated the list of 1972's top-selling albums in the U.S. The chart, compiled by the former music industry trade magazine, Record World, features several all-time classics among the year's Top 20 sellers, including legendary albums by Jethro Tull, the Rolling Stones, Yes and Neil Young.
By 1972, a new Jethro Tull studio album was an annual event. Their fifth,  Thick as a Brick, Ian Anderson's satire of a concept album, remains a favorite for many. The LP came in an elaborate (and expensive) gatefold cover resembling a British newspaper. The followup to Aqualung reached #1 in the U.S. and was the year's #17 best seller.
Related: Our Album Rewind of Thick as a Brick
Elton John scored with his first of six consecutive #1 albums with Honky Chateau. The album included his 2nd ("Rocket Man") and 3rd ("Honky Cat") of what ultimately became 27 U.S. Top 10 singles. What a run!
Another classic rock legend who was dominating the 1970s charts was Rod Stewart, who followed up 1971's Every Picture Tells a Story with Never a Dull Moment. The album, featuring Faces pals Ronnie Wood, Ronnie Lane, Ian McLagan and Kenney Jones, peaked at #2 and was #15 for the year.
Released just four months after the August 1971 concerts, The Concert for Bangladesh live triple album featuring performances by George Harrison & Friends (including Ringo Starr, Bob Dylan, Eric Clapton, Leon Russell, Billy Preston, Ravi Shankar, and many more. It reached #1 on Record World (though it peaked at #2 on industry bible Billboard).
Talk about longevity! Though Led Zeppelin's fourth studio album was only the year's #13 overall best seller, its cumulative numbers have outsold any others on the list by far. In the U.S. alone it's been certified by the RIAA with sales of 23 million copies. And you do know that "Stairway to Heaven" was never issued as a seven-inch single, right?
The much-sought-after musician Leon Russell had by far the biggest solo hit of his career in 1972 with "Tight Rope, a #11 pop hit from that year's Carney album. Forgive us… we're still trying to figure out how it topped Led Zep.
Chicago was yet another act that simply dominated the sales and radio charts in the '70s. Chicago V was their first of five consecutive #1 albums, thanks largely to the still-ubiquitous "Saturday in the Park."
Related: Top radio hits of 1972
Exile on Main Street was one of eight straight #1 albums in the U.S. for the Rolling Stones. The double LP gave us 18 new favorites including "Tumbling Dice," "Sweet Virginia," "Happy," "All Down the Line" and on and on, and was the year's 10th biggest seller.
We could argue that Harry Nilsson's Nilsson Schmilsson holds up as well as any album on this list. The acclaimed songwriter actually scored his only #1 single… with a song he didn't write, "Without You," which was written by Pete Ham and Tom Evans of Badfinger. The LP also includes the novelty song, "Coconut," and the amazing "Jump Into the Fire." The album was 1972's #9 top-seller.
Related: Our Album Rewind of Nilsson Schmilsson
Paul Simon began a hugely successful solo career following his split with longtime partner Art Garfunkel, with his 1972 self-titled album. What's hard to believe is that the great singles "Mother and Child Reunion" and "Me and Julio Down by the Schoolyard" peaked at just #4 and #22 on the pop charts. It was still good enough for the album to be the year's 8th biggest.
So you release a first single that vaguely sounds like the white-hot Neil Young. Its chart-topping success pulls your self-titled debut album to the top as well. Yeah, that would be America with "A Horse With No Name," and that album would become #5 for the year. The trio would go on to enjoy five more Top 10 singles during the decade.
Yes released their Fragile album in the U.K. in November 1971, just three months after recording began. (It arrived in the U.S. six weeks later.) The LP delivered the prog rock great's first real taste of Top 40 success with "Roundabout," which reached #13. (Ironically, it would take another decade before they achieved another pop hit, when 1983's "Owner of a Lonely Heart" went to #1.) Fragile, at #3 for the year, also features a great album track, "Heart of the Sunrise," from the lineup that many consider the group's finest: Jon Anderson, Steve Howe, Chris Squire, Rick Wakeman and Bill Bruford.
Signature song? Absolutely. All-time classic? Yup. Albatross? Perhaps. That would be Don McLean's "American Pie," one of the most talked-about songs in pop music history. The 1971 album of the same name was an immediate smash and became the year's 2nd biggest-seller.
And at #1? The aforementioned "white hot" Neil Young whose Harvest became the top seller of his solo career, thanks largely to the two biggest singles of his career, the #1 "Heart of Gold" and #4 "Old Man."
20. Roberta Flack & Donny Hathaway (Atlantic)
19. Joplin in Concert – Janis Joplin (Columbia)
18. Baby I'm a Want You – Bread (Elektra)
17. Thick as a Brick – Jethro Tull (Reprise)
16. Honky Chateau – Elton John (Uni)
15. Never a Dull Moment – Rod Stewart (Mercury)
14. The Concert For Bangladesh – George Harrison & Friends (Apple)
13. Led Zeppelin IV (Atlantic)
12. Carney – Leon Russell (Shelter)
11. Chicago V (Columbia)
10. Exile on Main Street – Rolling Stones (Rolling Stones)
9. Nilsson Schmilsson – Harry Nilsson (RCA)
8. Paul Simon (Columbia)
7. Big Bambu – Cheech & Chong (A&M)
6. First Take – Roberta Flack (Atlantic)
5. America (Warner Bros.)
4. Carole King Music (Ode)
3. Fragile – Yes (Atlantic)
2. American Pie – Don McLean (United Artists)
1. Harvest – Neil Young (Reprise)
Related: 1972 – The year in rock

Latest posts by Best Classic Bands Staff
(see all)