Nitty Gritty Dirt Band's 'Will the Circle Be Unbroken': Closing the Gaps
by Mark Leviton
In the '60s and '70s there were quite a few albums that brought together young musicians with the veteran blues artists who'd influenced them. We got such discs as Blues Jam In Chicago, which combined Peter Green's Fleetwood Mac with Otis Spann, Buddy Guy, Willie Dixon, etc.; The London Howlin' Wolf Sessions, bringing together Eric Clapton, Steve Winwood, Charlie Watts, Ringo Starr and other British Invasion heavies with the gruff-voiced blues giant Chester Burnett' and Fathers and Sons, a fruitful meeting of members of the Paul Butterfield Blues Band, Booker T. and The M.G.'s and Muddy Waters himself.
At the 1963 and 1964 Newport Folk Festivals, seminal "roots" musicians who had been rediscovered by record collector/researchers like Geoff Muldaur, Harry Smith and Joe Boyd—relatively obscure people such as Mississippi John Hurt, Reverend Gary Davis, Doc Watson, Sonny Terry and Brownie McGhee, Doc Boggs, Elizabeth Cotten and Sleepy John Estes—mingled with rising stars Peter, Paul and Mary, Joan Baez, Bob Dylan, John Sebastian and Judy Collins. In California, novices like Jerry Garcia, Jim McGuinn, John Phillips and Jorma Kaukonen were also digging old-timey 78s from the '20s and '30s and figuring out how to create something modern from them, and with electric instruments.
Still, especially in the more insulated world of country music, the gap between hippies and traditional players often revealed itself. It wasn't just Merle Haggard's 1969 "Okie From Muskogee" that drew a line between generations, left/right political groups, the devout Christians and "godless" spiritual seekers, the pot-smokers and beer-drinkers. Country-bluegrass pioneers Bill Monroe and Roy Acuff, and the powers-that-be at the Grand Ole Opry in Nashville, had some strict ideas about how "their" music should be played, on which instruments, and by whom ("long-haired freaky people need not apply," to quote the Five Man Electrical Band).
So when the decidedly counterculture country-rockers the Nitty Gritty Dirt Band decided it'd be a fun trip to invite some of their favorite old-timers to record their seventh studio album with them in Nashville, they got some resistance. The group had gone through various lineups since forming in Long Beach, California, in 1965; Jackson Browne and Chris Darrow were among the extensive alumni. The band were keen songwriters who could also spot good outside material, scoring serious pop hits with Steve Noonan and Greg Copeland's song "Buy For Me the Rain" (1967), Mike Nesmith's "Some of Shelly's Blues" (1969), Jerry Jeff Walker's "Mr. Bojangles" (1970) and Kenny Loggins' "House at Pooh Corner" (1971). The current lineup was Jimmie Fadden (autoharp/harmonica/vocals), Jeff Hanna (guitar/percussion/vocals), Jim Ibbotson (guitar/percussion/vocals), John McEuen (mandolin/banjo) and Les Thompson (mandolin/vocals). John's brother Bill managed the group, helped gather musicians and produced their recordings.
The Nashville Tennessean called the August 1971 sessions at Woodland Studios "one of the most important recordings done in the 45 years of the Nashville music business," but Bill Monroe flat-out refused to participate with the West Coast upstarts (actually just recently relocated to Colorado). Roy Acuff hesitated as well, telling that newspaper, "You're supposed to know a man by the character of his face," but the long-haired Dirt Band guys were "all covered up" by their locks and facial hair so he couldn't even tell how old they were. "They were very interesting," he admitted afterwards, "and they certainly knew what they were doing."
Jeff Hanna later remembered, "We were operating on a combination of fear and excitement and joy." He recognized the mistrust went both ways: "This was the time of the film Easy Rider, and we said, 'Wow, those guys who shot Peter Fonda and Dennis Hopper look just like the guys we're going to Nashville to record with!'" He gives all the players credit—from role models Jimmy Martin, Mother Maybelle Carter and Merle Travis to hotshot "New Nashville" players like fiddler Vassar Clements and Norman Blake on Dobro—for bridging both a generation gap and a cultural gap.
Randy Scruggs, who participated on guitar beside his superstar dad, banjoist Earl, told a documentary crew the versatility of the Dirt Band musicians, and their love for traditional music, made the older musicians relax and do some of their best work on the fly. The whole shebang—eventually released in November 1972 as a triple-LP by the Nitty Gritty Dird Band, Will the Circle Be Unbroken—was recorded on 2-track tape at 30 inches per second, with sound being mixed live. Unusually, the band included impromptu studio dialog, recorded on its own dedicated reel-to-reel deck, for a documentary feel, as the musicians work out arrangements, reminisce and joke with each other. The album consists entirely of first or second takes; there was no way to "fix" anything afterward, and no need to do so.
With 37 tracks, there's no room here to examine them all, but Carter Family tunes ("Keep on the Sunny Side," "You Are My Flower," "Wildwood Flower," "Wabash Cannonball" and the title tune), and the Roy Acuff features ("Wreck on the Highway," "The Precious Jewel," "I Saw the Light") can't be beat. According to Hanna, Mother Maybelle used to call his band "them dirty boys," and "brought to the session, aside from her wealth of talent, this great sort of spiritual calming" that invigorated everyone.
If you're looking for outstanding instrumental work, Clements tears into "Avalanche," an original by his wife Millie (Hanna plays washboard), and the bluegrass essential "Orange Blossom Special" (McEuen's banjo and Ibbotson's snare drum keeping up). "Black Mountain Rag" begins with Doc Watson instructing Clements on how he wants him to come in, and then demonstrates flatpicking at its finest.
For a contrast, check out Merle Travis' fingerpicking on "Cannonball Rag," a different kind of mind-bending expertise. "Earl's Breakdown" and "Nashville Blues" show everything Earl Scruggs has on offer on his 5-string Gibson RB-Granada Mastertone banjo. Watson's story song "Tennessee Stud" shows off the NGDB's own instrumental chops—Fadden's harmonica is primo—and Watson makes a point to commend bass player Junior Huskey too as they launch take #2. The band is also featured more prominently on two Hank Williams-associated tunes: Fadden sings "Honky Tonkin'" with a relaxed gusto, with Clements showing he can play a mean guitar as well as fiddle, and Ibbotson handles the lead vocal on the pining "Lost Highway," with Thompson's mandolin and Blake's Dobro in especially good form.
The United Artists label took a chance on issuing a triple album of music that'd mostly first been popular 40 years before, and was rewarded with gold certification and a Grammy nomination for Best Country Performance by a Duo or Group. WTCBU revitalized the country-rock scene and made some very old music "cool" again, leading a mini-trend that included Jerry Garcia's Old & In the Way project (which included Clements and former Bill Monroe band member Peter Rowan), Dan Hicks and His Hot Licks, and the cartoonist R. Crumb's Cheap Suit Serenaders albums.
The original multi-fold triple-LP package is a work of art in itself, with graphics and design by Dean O. Torrance (formerly of Jan and Dean) and Bill McEuen, with gorgeous handwriting by his wife Alice. That's Union Admiral David Dixon Porter on the front cover, above the motto "Music forms a new Circle."
The Nitty Gritty Dirt Band issued a second Will the Circle Be Unbroken volume in 1989, and a third in 2002, with another strong roster of guests, including Johnny Cash, Emmylou Harris, Iris Dement, John Prine, Willie Nelson, Tom Petty, Rosanne Cash, Ricky Skaggs, etc. The original album was inducted into the Grammy Hall of Fame in 1998, and in 2019 it was rightly given ample credit in Ken Burns' PBS documentary series Country Music. It continues to inspire the "crossover" of traditional country and modern rock to this day. The group's most recent release, with Hanna and McFadden presiding over a new and skilled line-up, is Dirt Does Dylan.
Watch the Nitty Gritty Dirt Band perform the "Will the Circle Be Unbroken" live
Related: Our feature story on other great triple album sets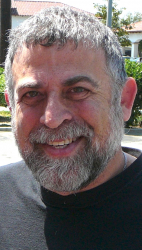 Latest posts by Mark Leviton
(see all)