Genesis 'The Lamb Lies Down on Broadway': Peter Gabriel's Theatrical Exit
by Mark Leviton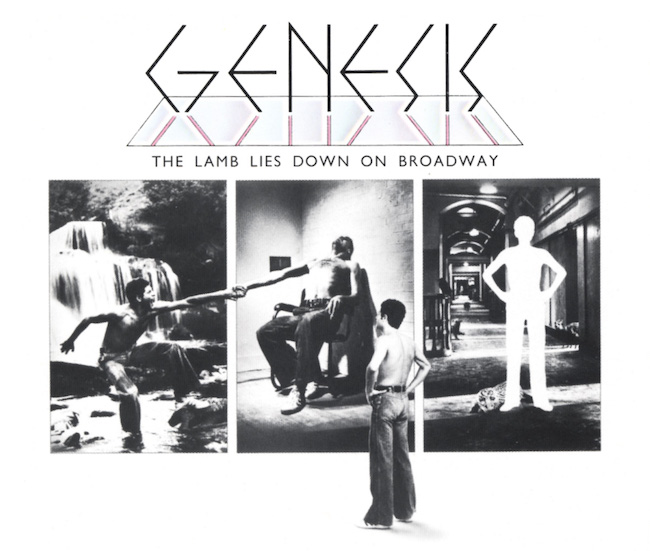 During the 102-date world tour in support of their ambitious two-disc concept album The Lamb Lies Down on Broadway, Genesis lead singer and major songwriter Peter Gabriel privately announced he'd be quitting the band at the end of the tour. This was kept a closely held secret for most of 1975; when the news got out the music papers and many fans figured that would spell the end of the group. Instead, drummer Phil Collins took over as frontman and Genesis found more financial success without Gabriel than they'd ever achieved with him. They even began to have hit pop singles on a regular basis, something they'd never even aimed for during the prog-rock years that yielded their first five albums, including Nursery Cryme, Foxtrot and Selling England By the Pound.
From their founding in 1969, Genesis had been writing and recording long, multi-part, highly theatrical pieces, often struggling to present their ideas on a limited budget. Their celebrated live performances utilized costumes, masks, sets and special lighting for the 23-minute "Supper's Ready," 10-minute "The Music Box" and science-fiction epics "Watcher of the Skies" and "Get 'Em Out By Friday," among others. Gabriel was influenced by many filmmakers, novelists and playwrights including Bertold Brecht, Federico Fellini, Kurt Vonnegut and Ingmar Bergman, as well as Indonesian shadow puppets, Japanese Noh and British experimental theatre by the likes of Peter Brook. The highly skilled band members (guitarist Steve Hackett, bassist/guitarist Michael Rutherford, percussionist Collins and Tony Banks on a large array of keyboards) were full co-creators of the music, with Gabriel generally handling the lyrics and story concepts (and playing a bit of flute).
Listen to the title track from The Lamb Lies Down on Broadway
For The Lamb Lies Down on Broadway, Gabriel came up with a complicated and somewhat opaque "urban odyssey" tale set in New York City, where the young Puerto Rican protagonist Rael encounters various odd characters, dangerous situations and sexual temptations, and meets an ambiguous, but clearly spiritual, end. Like Pete Townshend's Tommy and Lifehouse projects for the Who, Gabriel explored how rock music connected to social and political life, and pondered philosophy and religion as group phenomena. (After completing the work, Gabriel realized Townshend had already used "Rael" as the name of a seeker on the long concluding track of 1967's The Who Sell Out.) It's not necessary to understand the plot to enjoy the music: Genesis' early manager Tony Stratton-Smith described the piece as "a hymn to the integral innocence of the human spirit meeting the bacon slicer of a corruptive society," if that helps.
Working in a secluded manor retreat in Wales, the album was recorded on two mobile units to capture a more "live" sound than transpired on their first albums, recorded in standard studios. Gabriel left most of the instrumental composing to the band, which often discovered ideas while jamming and improvising; even some of the most (relatively) commercial tunes in the set, such as "Counting Out Time," "Back in N.Y.C." and the title track didn't have lyrics until basic tracks were almost entirely recorded.
Listen to "Counting Out Time"
On some of the strongest tracks, including disc two opener "Lilywhite Lilith," "The Lamia" and "In the Cage," the instrumental mesh between players is truly extraordinary, somehow both carefully designed and freewheeling.
Listen to the extraordinary "In the Cage"
For "The Carpet Crawlers" (a beautifully low-key, melodic tune that became a fan favorite) and "The Grand Parade of Lifeless Packaging," Gabriel asked for music to fit some orphan lyrics he had, and was very pleased with the result.
Related: Genesis' path to U.S. success
Album co-producer John Burns and engineer David Hutchins experimented with vocal effects, allowing Gabriel to inhabit numerous characters effectively. (Brian Eno also had a hand in post-production, credited with "Enossification.") Tony Banks used Mellotron, ARP synthesizer and conventional pianos and organs to create a deep, layered pallet, and Collins showcased his light touch and exceptional sensitivity to percussive colors. Rutherford and Hackett, often working on parts in tandem, are a virtual orchestra of delicate harp-like runs, sustained notes and near-feedback haunting the filigree of several tracks. Although during this period the public viewed Gabriel as the dominant mastermind of Genesis, his swansong with the group proves just how dependent he was on their stellar work to create the requisite drama.
Listen to "Lilywhite Lilith"
At the time of release on November 18, 1974, reviews were mixed, and the album never made it into the Top 40 on Billboard's album chart. Over the years it's been recognized as avant-garde, transcending the rapidly stagnating prog-rock scene, proving there was still plenty of creative room for more abstract, open-ended concepts. It was finally certified gold in the United States in 1990.
Related: What were the #1 albums of 1974?
The Lamb stage show utilized eight photo projectors showing over a thousand slides, newfangled lasers and a variety of outrageous costumes for Gabriel, including a glowing suit for "The Lamia," a lumpy, purposely ugly ensemble with inflatable genitalia for "The Colony of Slippermen" and various masks, which at times interfered with the audience's ability to hear lyrics. The only official release of a live show from the tour is the Los Angeles Shrine Auditorium Jan. 24, 1975, gig, issued as part of the Genesis Archive 1967-75 box, after being overdubbed and fixed up vocally shortly before Gabriel departed for his solo career.
Listen to "The Colony of Slippermen"
Gabriel's split with Genesis was relatively amicable, although various personal and professional issues (including Gabriel's absences to work with director William Friedkin on a never-realized film project) could have been handled better. Gabriel's "open letter" to the English press in August 1975 explaining his decision can be found online, and Mike Rutherford covers his viewpoint in the memoir The Living Years, as does Collins in Not Dead Yet. In most ways Gabriel's solo career co-existed with Genesis' continuing rise quite easily, but touring commitments meant he couldn't make their induction into the Rock and Roll Hall of Fame in 2010. He did show up at the ceremony that welcomed him in as a solo artist in 2014. "Surround yourself with brilliance," he advised aspiring musicians during his speech, "the brilliance of who you love being around and the brilliance of their talent."
Watch Peter Gabriel perform "The Lamb Lies Down on Broadway" in 1978
Related: Our recap of opening night of Genesis' 2021 North American reunion tour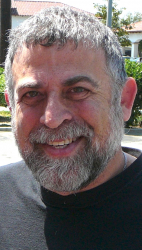 Latest posts by Mark Leviton
(see all)