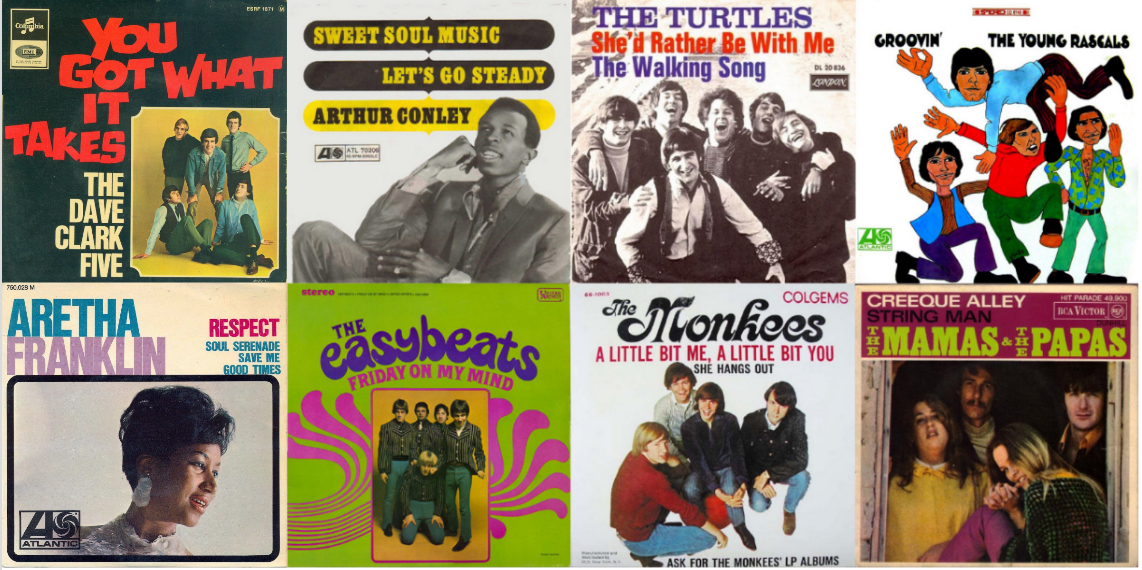 Springtime in 1967… the World's Fair had just opened in Montreal. If you knew it was dubbed Expo '67 because it was shortened from the 1967 International and Universal Exposition, raise your hand.
Muhammad Ali was stripped of his World Heavyweight boxing title for refusing military service as a conscientious objector.
In early May 1967, Elvis Presley married Priscilla Beaulieu. The King was 32; she was 21. Within a few days, the Jimi Hendrix Experience released their debut album, Are You Experienced. And New York's Top 40 powerhouse WABC had some all-time favorites on their weekly survey.
Beginning its climb up the chart at #50 (on its way to #9 nationally) was "Sunday Will Never Be the Same" from Spanky & Our Gang. They went on to earn two other Top 20 singles ("Lazy Day and "Like to Get to Know You").
At #38 was the bizarre song "I Was Kaiser Bill's Batman," credited to Whistling Jack Smith, which we wrote about here.
The Turtles' "Happy Together" had peaked a few weeks' earlier and radio audiences were ready for their next hit, "She'd Rather Be With Me," debuting at #37 this week. The song, with its soaring harmonies, would reach #3 nationally.
The Who were enjoying a rare U.S. pop hit with "Happy Jack." The song jumped from #25 to #16 but stalled nationally at #24. It would be a few more months before they scored their only U.S. Top 10 single with "I Can See For Miles."
Related: A look back at 1967 in rock music
Another British Invasion group, the Dave Clark Five were represented with the uptempo favorite, "You Got What it Takes," at #14.
Related: Our interview with Dave Clark
The Mamas & the Papas' great autobiographical hit, "Creeque Alley," jumped from #43 all the way to #12 this week. The song was one of their seven Top 5 pop hits in just a year and a half.
Related: Our feature on "Creeque Alley"
In the Top 10, the Monkees had three of the year's biggest hits including "A Little Bit Me, A Little Bit You," written by none other than Neil Diamond.
At #8 was Arthur Conley's great "Sweet Soul Music," which he co-wrote with Otis Redding (with subsequent credit also to Sam Cooke), was the biggest hit of his career. The soul is an homage to the genre and name checks several of its well known practitioners.
Taking a giant leap from #14 to #7 was Aretha Franklin with her cover of Otis Redding's "Respect." While the Queen of Soul scored 20 #1 R&B hits, the song was her only solo hit to top the pop chart.
We've written a tribute to the Easybeats' "Friday on My Mind." The incredibly catchy song was #6 this week.
Brooklyn-born local favorite Neil Diamond was enjoying a big hit on hometown station WABC with "Girl, You'll Be a Woman Soon" which jumped this week from #11 all the way to #5.
The previous week's #1 was "Something Stupid," the father-daughter duet by Frank Sinatra and Nancy Sinatra. At #4 this week.
Related: The #1 singles of 1967
You're not seeing double: at #3 was The Supremes' "The Happening." Meanwhile…
A pop vocal group from New Jersey, the Happenings, enjoyed a handful of hits in the mid-Sixties including their lively cover of the Gershwin tune, "I Got Rhythm," this week's #2.
At #1? The Young Rascals, with one of their three career #1's, "Groovin'."
50. "Sunday Will Never Be the Same" – Spanky & Our Gang
37. "She'd Rather Be With Me" – The Turtles
16. "Happy Jack" – The Who
14. "You Got What it Takes" – The Dave Clark Five
12. "Creeque Alley" – The Mamas & the Papas
10. "Close Your Eyes" – Peaches & Herb
9. "A Little Bit Me, A Little Bit You" – The Monkees
8. "Sweet Soul Music" – Arthur Conley
7. "Respect" – Aretha Franklin
6. "Friday on My Mind" – The Easybeats
5. "Girl, You'll Be a Woman Soon" – Neil Diamond
4. "Something Stupid" – Frank and Nancy Sinatra
3. "The Happening" – The Supremes
2. "I Got Rhythm" – The Happenings
1. "Groovin'" – The Young Rascals
Chart courtesy of Musicradio77.com
Related: The top radio hits of 1967

Latest posts by Best Classic Bands Staff
(see all)