Here We Come… The Monkees' Incredible First Year
by Greg Brodsky
A tiny classified ad in Daily Variety and The Hollywood Reporter on September 8, 1965, didn't reveal the name of the group. But it presaged the start of what would become Monkee-mania.
The ad from Columbia Pictures' TV production arm, Screen Gems, offered "parts for 4 insane boys… Musicians-Singers for acting roles in new TV series." And in boldface type: Have courage to work.
Producers Bert Schneider and Bob Rafelson, who created the series, cast Micky Dolenz, Davy Jones, Michael Nesmith and Peter Tork as The Monkees. The task of choosing song material fell on Don Kirshner, who ran Screen Gems' music division, soon to be named Colgems.
Taping began on May 31, 1966, and on September 12, one year after the trade ads ran, NBC aired the first episode of The Monkees. The series was an instant success and a tremendous vehicle to promote the group's albums.
Well over five decades have passed and an examination of back issues of the music trade publication Record World in 1966-67 reveals the phenomenal success that The Monkees had on the music business during their first year, with three chart-topping albums, three #1 singles and the shocking exit of Kirshner less than eight months after Monkee-mania began.
So why wasn't "(Theme From) The Monkees" released as a single? As any fan knows, the catchy song–with lead vocals by Dolenz and featured each week during the series' opening credits–led off the debut album with a full 2:18 version. It was written by the team of Tommy Boyce and Bobby Hart, who wrote, produced or co-produced, performed and sang back-up on nearly every song on the album.
The choice for the single went instead to another Boyce-Hart track, "Last Train to Clarksville." Five weeks after it debuted (at #70 on Sept. 3), the song was in the Top 10, thanks to its exposure on the weekly series. That same Oct. 8th week, The Monkees' self-titled album debuted at #70 on the sales chart.
Three weeks later, the single and the album hit #1 on Oct. 29 (with the latter replacing The Beatles' Revolver). Both were certified Gold on Oct. 27 by the R.I.A.A. "Clarksville" remained on top for another week.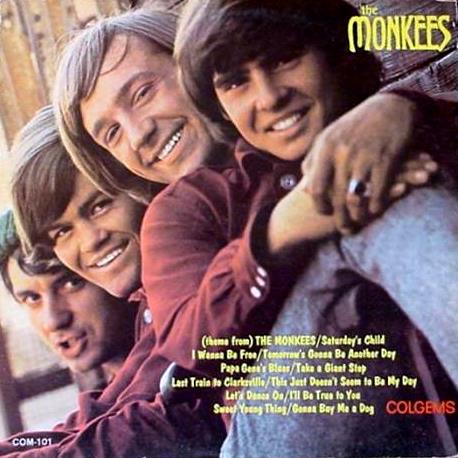 The Monkees? Monkee-mania was so hot, nothing could budge the album from its perch atop the sales chart for months, where it remained through the rest of 1966 and into February 1967.
Another single was needed to continue the momentum. The theme song was again ignored. So was the ballad "I Wanna Be Free," sung by Jones (although it would later be released as a single in many other countries in 1967).
A logical candidate might have been the Gerry Goffin-Carole King-penned "Take a Giant Step," the "Clarksville" B-side. Instead, a new recording, not taken from the album, was chosen: "I'm a Believer," written by Neil Diamond, and with Dolenz again singing lead.
"I'm a Believer," released Nov. 12, had advance orders in excess of one million copies and was certified Gold on Nov. 28, even before it debuted at #76 on Record World on Dec. 3. The single made a speedy rise on radio station playlists and went Top 10 in just two weeks.
In a Dec. 24 story, the magazine wrote, "Don Kirshner… has scored again with his production of the second single release by the hot new musical group, the Monkees."
That record, "I'm a Believer," hit #1 on Dec. 31 where it remained for six weeks.
Despite The Monkees still on top of the album charts, Colgems wanted to take advantage of the new single's momentum. Record World wrote, "Kirshner is currently at work on a second Monkees album, and advance orders indicate that it will be an even bigger best-seller than the first."
On January 9, 1967, the label rush-released More of the Monkees with 12 new tracks, many of which featured the Los Angeles musicians known as the Wrecking Crew, including drummer Hal Blaine, guitarist Al Casey, keyboard player Larry Knechtel and guitarist Glen Campbell, among others. This time, just two of the songs were from Boyce and Hart.
The Monkees are said to have recorded dozens of songs yet were not aware that this second album was being assembled. Kirshner, the Colgems Records president, had selected tracks penned by songwriters he published, including two from Diamond, another from Goffin-King, and a collaboration from Carole Bayer Sager and Neil Sedaka. The LP's liner notes, penned by Kirshner, praised the songwriters before the names Micky, Michael, David and Peter were mentioned.

On Jan. 28, the album debuted at #32. Within two weeks it was at #2, just behind the group's debut LP. On Feb. 18, the albums switched places and More of the Monkees became the group's second full-length to top the charts in less than four months.
Monkee-mania was at a frenzy. In late January, the first of what was expected to be a national chain of Monkees clubs aimed at teenagers, opened in West Caldwell, N.J. As Record World reported, "Local policemen are on duty at the club and… parents and the city council have visited on several occasions to look it over and satisfy themselves that it is run in a manner to present full entertainment to the young customers without problems or disorders that would worry adults."
In the meantime, the foursome was becoming increasingly frustrated that they had not performed the music on their own recordings and with their growing reputation as a so-called pre-fab four. Nesmith, Tork, Jones and Dolenz all had varying degrees of musical experience and proficiency, and they wanted to take greater control over the recording process, from songwriting to production to performance.
Again, it was time for another single. In retrospect, the catchy "(I'm Not Your) Steppin' Stone," a Boyce-Hart track with lead vocal by Dolenz, would have been a logical choice. But it had been released as the B-side to "I'm a Believer." Many Top 40 stations had played both songs in December and "Steppin' Stone" actually charted.
More of the Monkees had plenty of fan favorites like "When Love Comes Knockin' (At Your Door)" with lead vocal by Jones, and the zany "Your Auntie Grizelda," with Tork's goofy delivery. One of the album's best tracks was "The Kind of Girl I Could Love," with Nesmith singing a song he co-wrote. But none of them were singles material.
The choice? As before, a song not included on the current album was selected. "A Little Bit Me, A Little Bit You," another Neil Diamond composition, had been recorded in January. The single, b/w a Nesmith composition, "The Girl I Knew Somewhere," was released on March 8.
The song, with orders of a reported 1.5 million, shipped Gold, and marked Jones' first lead vocal on a Monkees single. It debuted at #36 in Record World, jumping all the way to #9 the next week. On April 29, it hit #1 (while peaking at #2 in Billboard).
Behind the scenes, the relationship between the Monkees and Kirshner was increasingly sour. In its March 18 issue, Record World reported that Monkees manager Bert Schneider had allegedly asked Kirshner "to disassociate himself with the TV program entirely, because of disagreement over how Monkees music was being handled for the show and who was getting credit for it.
"The TV show, while successful, has not been the phenomenon that the disks have been. Ratings have consistently put the show in the 20s and 30s.
"A possible further reason for dissension in the Monkee barrel is that the group does not play its own instruments, a well known secret."
One week later, a blockbuster announcement. In its March 25 issue, the Record World headline shouted, "Kirshner Sues For $35,500,000."
Behind the scenes, Kirshner had been ousted as head of the Colgems label on Feb. 27, which the magazine reported paid "an annual salary of $35,000" against, more importantly, "15% of division pretax earnings."
In the suit filed against Columbia Pictures, Screen Gems, the Monkees managers and others, "Kirshner contends that he had fulfilled his contractual commitments… to devote his 'best efforts to derive the greatest amount of income from the agreement between Colgems' and its distributor, RCA Records."
All the while, More of the Monkees kept on selling, remaining at #1 until late April.
In May, Kirshner exited his other role as head of Screen Gems' music publishing company. His statement, in the May 20 issue of Record World, pointed to the Monkees' "phenomenal success," and his own "record of accomplishment" and "constant and unremitting efforts in the interests of Columbia-Screen Gems." He went on to describe "a program of harassment" that he had been subject to by "certain executives."
Within the week, the parties in Kirshner's lawsuit countersued their former exec.
Later that month, it was time for Colgems to release another album. On May 22, a third Monkees studio album was released, Headquarters. While the album again included two Boyce-Hart tracks, it's notable for the appearance of numerous compositions by the Monkees. Nesmith was represented by three songs, Dolenz had one, and the four members were credited with writing two others.
Even more noteworthy, the Monkees played instruments on all 14 songs, augmented by other musicians. Ten of the songs on Headquarters were featured on summer reruns of the TV series via pantomimed "romp" and "chase" sequences that did not present any lip sync issues.
Though the album had no hit singles, it reached #1 on July 1 (only to be replaced one week later by The Beatles' Sgt. Pepper album).
Continuing the pattern of releasing singles before they appeared on albums, Colgems released "Pleasant Valley Sunday," a Goffin-King composition, on July 10, with Dolenz resuming lead vocal duties. On July 22, the single debuted at #54. Radio listeners couldn't get enough of the Monkees and within two weeks, the song was at #9.
It was their first single not to reach #1 in Record World, however, peaking at "only" #2 on Aug. 19, blocked at the top by the equally quick ascent of the Beatles' "All You Need is Love" one week and Bobbie Gentry's "Ode to Billie Joe" the next.
That summer, the group's former svengali announced the formation of Kirshner Entertainment Corp., with expertise in "all phases of the entertainment field… music publishing, records, television and motion picture productions, Broadway musicals, and such other allied fields as will naturally flow from these activities."
The Monkees would go on to have just two more huge hits: "Daydream Believer," released on Oct. 25 returned them to the top of the singles chart. The song, written by John Stewart, with its beautiful vocal by Jones and hooked-filled chorus, is their most beloved.
Related: Radio hits of 1967
At the end of the year, the Monkees re-recorded a song they had previously recorded but never released, "Valleri." It was released as a single, with Jones doing lead vocal chores, in February 1968 and reached #1 in Record World on March 30.
A fourth studio album, Pisces, Aquarius, Capricorn & Jones Ltd., arrived in Nov. '67. It, too, reached #1, as did an April '68 follow-up, The Birds, The Bees & The Monkees.
The Monkees TV series won the Emmy Award for Outstanding Comedy Series. For its second season, its producers addressed the backlash that had been building from fans as word continued to grow that the group hadn't performed on their earliest hits. Production changes for Season Two were perhaps too drastic, which apparently turned off younger fans. The last original episode aired on March 25, 1968.
As for Kirshner, he took the original Monkees formula of well-crafted tunes, great musicians and vocals, to help create the Archies music group in 1968, based on the popular comic book series. With singer Ron Dante providing the lead vocals, the Archies hit #1 with "Sugar, Sugar" in 1969. It was the year's biggest U.S. single. The albums didn't sell and the novelty of cartoon characters singing pop hits quickly wore off.
On September 27, 1973, he launched Don Kirshner's Rock Concert. The nationally syndicated, late-night TV program debuted with a performance by the Rolling Stones and featured appearances by scores of classic rock acts including David Bowie, the Doobie Brothers, Eagles, Santana, the Allman Brothers Band, Linda Ronstadt and Lynyrd Skynyrd.
Kirshner himself hosted the show, with his heavy New York accent. The series continued until 1981. He died on January 17, 2011, at age 76. Kirshner was inducted posthumously into the Rock and Roll Hall of Fame one year later.
Peter Tork announced in 2009 that he had been diagnosed with cancer. He, Dolenz and Jones did a Monkees 45th anniversary tour in 2011. On February 29, 2012, Davy Jones died of a heart attack near his Florida home. He was just 66.
Tork toured with Dolenz and Nesmith in 2012, 2013 and 2014. In 2016, he and Dolenz did a duo tour. In 2018, with Tork sitting out, Nesmith and Dolenz did their own duo tour. With four shows remaining, the tour was suspended when Nesmith had trouble breathing. He ultimately underwent successful quadruple bypass surgery and he was back touring with his own band that September.
Just days before the rescheduled Mike and Micky Tour was set to begin, Tork, his cancer having returned, died on February 21, 2019, at his Mansfield, Conn., home. He was 77. Nesmith died on December 10, 2021, less than a month after his 2021 tour with Dolenz, billed as the Monkees Farewell Tour.
Related: Our review of Nesmith and Dolenz' 2021 farewell tour
As of 2022, the Monkees have still not been selected for induction into the Rock and Roll Hall of Fame.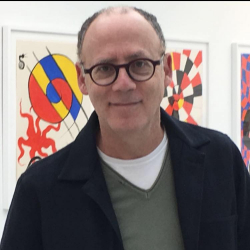 Latest posts by Greg Brodsky
(see all)