Elvis Costello and the Attractions' 'Get Happy!!': Stack of Tracks
by Mark Leviton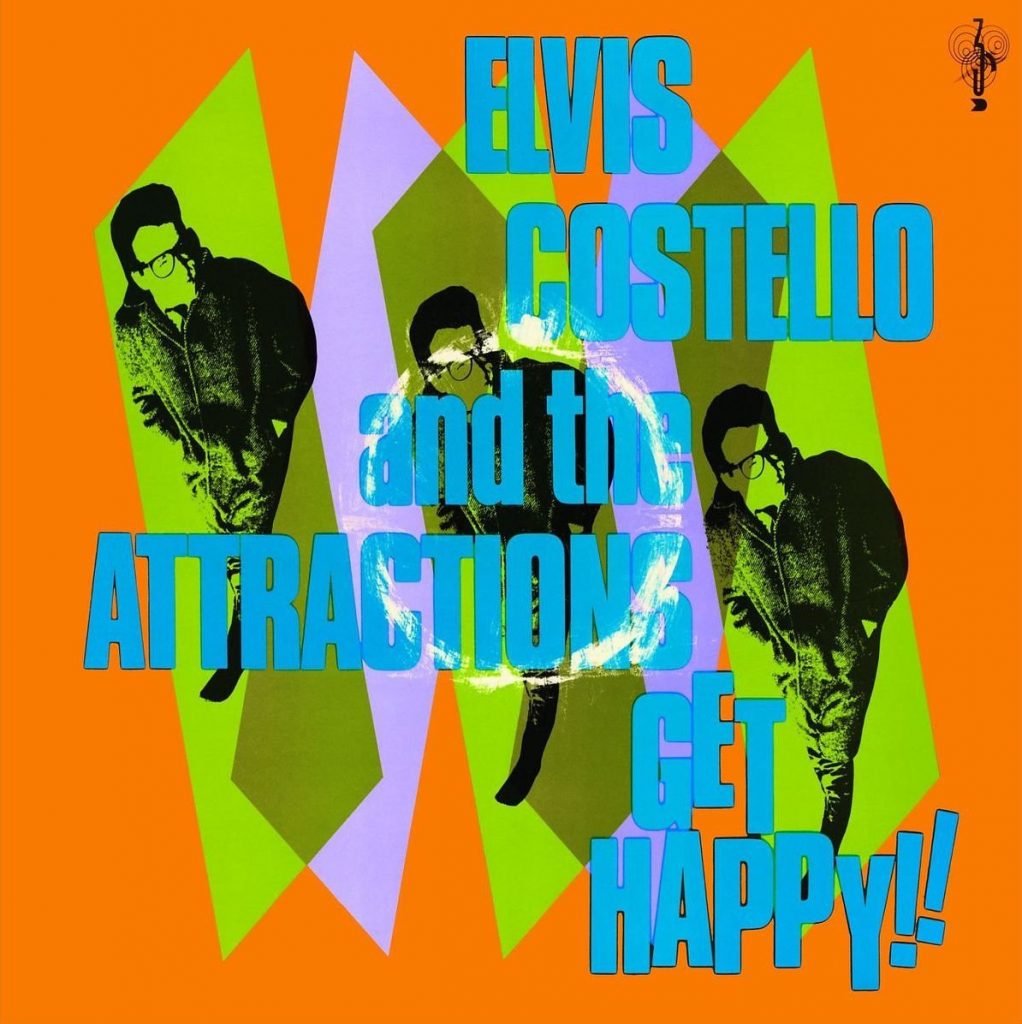 Elvis Costello's fourth album (and third with the Attractions in support), Get Happy!!, earns its double exclamation points beginning with the sleeve design, which approximates the look of a well-worn vinyl LP produced on a tight art budget. Designer Barney Bubbles (born Colin Fulcher), noticing the projected album would contain a groove-busting 20 tracks, was no doubt thinking of budget-priced K-Tel and Pickwick compilations, which gave consumers music in bulk, promoted with pushy TV and print advertisements, and garish front covers.
Those budget albums did not always contain "the original hits by the original artists"; Costello & Co. must have chuckled more than once as they donned a series of musical disguises while recording the original songs on Get Happy!!, striving to approximate the sound of their favorite Motown, Stax and Atlantic soul records. "King Horse" nicks the guitar from the Four Tops' "Reach Out I'll Be There," "Love For Tender" employs the rhythm from the Supremes' "You Can't Hurry Love," and "Temptation" steals wholesale from "Time is Tight" by Booker T. and The M.G.'s.
All pretense is dropped for a version of Sam and Dave's "I Can't Stand Up For Falling Down," but the Attractions radically alter the tempo. The U.K. R&B scene is represented by a version of Tony Colton and the Big Boss Band's 1965 single "I Stand Accused," which Costello actually lifts from the same year's more popular version by the Merseybeats.
Get Happy!! is both an expert homage to the sound of '60s R&B and a collection of some of the most intense, gut-wrenching, clever and joyfully sad songs Costello ever wrote. As is typical of him, the lyrics are continually surprising, full of puns and reversals of viewpoint: "high fidelity" can refer to the clarity of sound and sexual faithfulness simultaneously. Even the album title is strangely ambiguous, with the overemphatic punctuation smelling of desperation.
Get Happy!! was mostly recorded in October 1979 at Wisseloord Studios in Hilversum, The Netherlands, where the group, engineer Roger Bechirian and producer Nick Lowe thought there'd be fewer distractions for musicians known for partying. Still, Costello says "a tray of cold Heineken, vodka, and orange juice was delivered to the control room each afternoon." Alcohol had been a problem for Costello earlier in the year during the highly successful U.S. "Armed Funk Tour": in April during a stop in Columbus, Ohio, he reportedly went on a drunken, racist rant in a bar that made national headlines. He later wrote that for a time, "I hated just about everything in my world, reserving the greatest disdain for myself." When Rolling Stone covered the story, it titled the piece "Elvis Costello Repents," to his everlasting chagrin.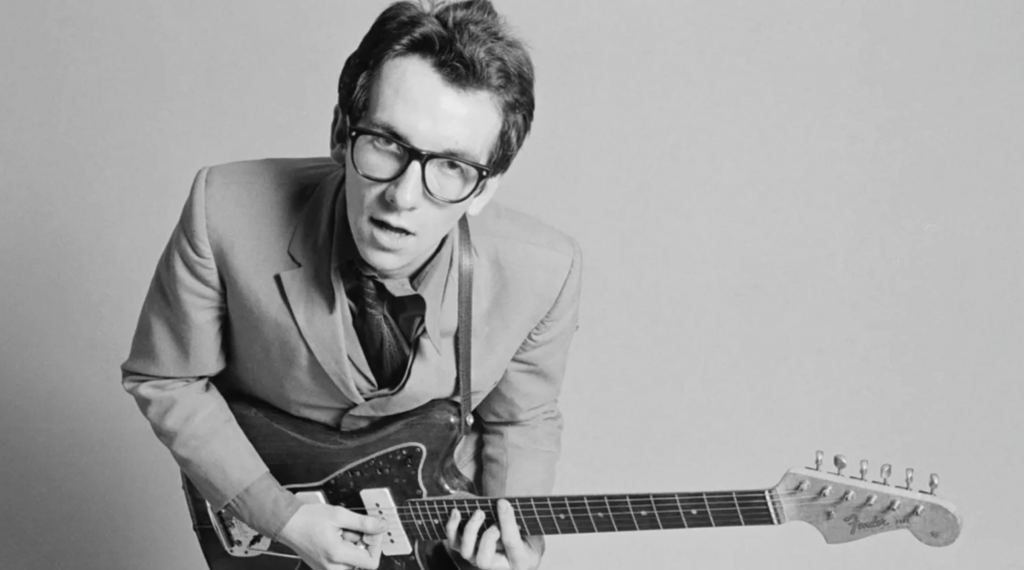 Some of the new tunes Costello had in hand for the Hilversum sessions had been tried out on stage and studio before, but were rejected as being too "new wave" sounding (a term never willingly embraced by Costello). Listening to vintage American R&B records by the likes of Al Green, Garnet Mimms and Curtis Mayfield during the tour finally provided the band with a sonic direction, and it rode the concept into an album considered one of Costello's artistic peaks. Only three of 20 songs are over three minutes long, another reason the album sounds like a stack of rapidly cycling 45s on AM radio of the '60s. No guitar solos, no bass solos, no drum solos, just great songs with knife-sharp instrumental arrangements.
Related: The year 1980 in 50 albums
There's insufficient room here to examine all 20 tracks in detail, but there's hardly a clunker in the bunch. The peppy Motown-inspired "Love For Tender" kicks it all off, 1:57 of pure power, with a sneering Costello vocal, Steve Nieve's Farfisa and Bruce Thomas (bass) and Pete Thomas (no relation, drums) locked in. The lyrics are an elaborate string of metaphors for love-as-currency: "Are you ready for correction?/'Cause the wages of sin are an expensive infection/I'll make you bankrupt/Better pay up now, don't interrupt." Bruce Thomas' bouncing bass line is an early highlight of "Opportunity," along with Nieve's wandering keyboard lines and the Hi Rhythm Section-style minimal guitar. The melody rises and falls with Costello's snide observations: "The chairman of this boredom is a compliment collector/I'd like to be his funeral director."
"Secondary Modern" (a type of trade school for the British lower classes) is a smoldering ballad in a Stax mode that remains lyrically opaque to most Americans but has a great, swampy mood: "This must be the place/Second place in the human race."
Pete Thomas' furious snare begins "King Horse," which has an intriguing arrangement, with eerily placed background vocal echoes, a galloping bass line and majestic grand piano combined with organ. Pete Thomas is in control of the proceedings throughout, showing why he's widely considered one of the greatest drummers in rock. Especially during the bridge section, it's like the E Street Band has been crossed with ABBA, harkening back to the group's previous album Armed Forces. "Possession" varies the opening lyric of Lennon-McCartney's "From Me to You" ("If there's anything that you want/ If there's anything that you need"), and has one of Costello's best and most spontaneous vocals (at one point his voice cracks) set to a propulsive beat. Once again, the wordplay is stellar: "So I see us lying back to back/My case is closed, my case is packed."
"Now there's newsprint all over your face/Well, maybe that's why I can read you like a book" is the opening couplet from "Man Called Uncle," a spritely, runaway 2:17 with Nieve's outstanding piano/organ combo. Costello recorded "Clowntime is Over" in different tempos, and while the glacially slow version released later has more power, Get Happy!! has the fast one, which isn't bad either. (At least a few times during live gigs in subsequent years, Costello used the slow version as a concluding walk-off "fuck you" to audiences he thought were inattentive.)
The waltz "New Amsterdam," one of three songs released as singles from Get Happy!!, is the only track on the album actually recorded in London as a demo by EC before decamping to The Netherlands, where it couldn't be improved upon.
One of the greatest of all Costello compositions, "High Fidelity," ends the first LP side. Released as a single, it continued a run of hits in his native Great Britain but didn't chart in America. This is where Costello's pop and soul chops merge seamlessly into the kind of stomper favored by Britain's Northern Soul scene. A concert favorite in Costello sets for 40 years now, the opening lyrics, "Some things you never get used to/Even though you're feeling like another man," have a direct power matched by the flawless work of the band.
Related: Our Album Rewind of Costello's Armed Forces
Penned by Homer Banks and Allen Jones, "I Can't Stand Up For Falling Down" was originally relegated to the B-side of Sam and Dave's single "Soothe Me," but the Attractions saw the potential of matching the low-key, heartbreak-soaked lyrics to a faster dance groove. Another hit U.K. single resulted (in the U.S., nada).
The album has several outliers. "5ive Gears In Reverse" is downright funky. "Motel Matches" is an excellent country song (it even references George Jones' "Who Shot Sam") with a series of tricky rhythm changes, but it sticks out like a sore thumb. Vocally, Costello is on fire, spraying out the puns ("In your eyes there is a vacancy/And you know what I'll do/When the light outside changes from red to blue." The ska "Human Touch" betrays EC's recent work with the Specials, rather unsuccessfully.
The album ends with the triple-whammy of "Temptation," "I Stand Accused" and "Riot Act," with three different moods, from Booker T. to Merseybeat to nothing-but-net Attractions on the only song Costello says even obliquely refers to his drunken moment of shame in April: "I got your letter, now they say I don't care for the colour that it paints me…/You can read me the riot act/You can make me a matter of fact/Or a villain in a million/A slip of the tongue is gonna keep me civilian." "Riot Act" makes for a particularly impassioned ending to the set, with Costello lacerating himself and his critics both.
Get Happy!!, released on Feb. 15, 1980, reached #2 on the British album charts and #11 in America. Prolific as hell in The Netherlands and back home, Costello quickly released various outtakes and alternate versions on singles and EPs that clustered around Get Happy!! and its follow-up, Trust. Anyone exploring further should start with the 2003 Rhino double-CD reissue of Get Happy!!, which contains 30 bonus tracks, including "Girls Talk," "Just a Memory," "Watch Your Step" and other worthies that didn't make the final LP lineup. His leftovers would be another artist's prime cuts.
Watch Elvis Costello perform "High Fidelity" live with the Allen Toussaint band at the North Sea Jazz Festival
Tickets to see Costello perform are available here and here.
Related: Our Album Rewind of 1981's Trust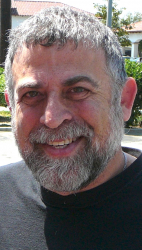 Latest posts by Mark Leviton
(see all)