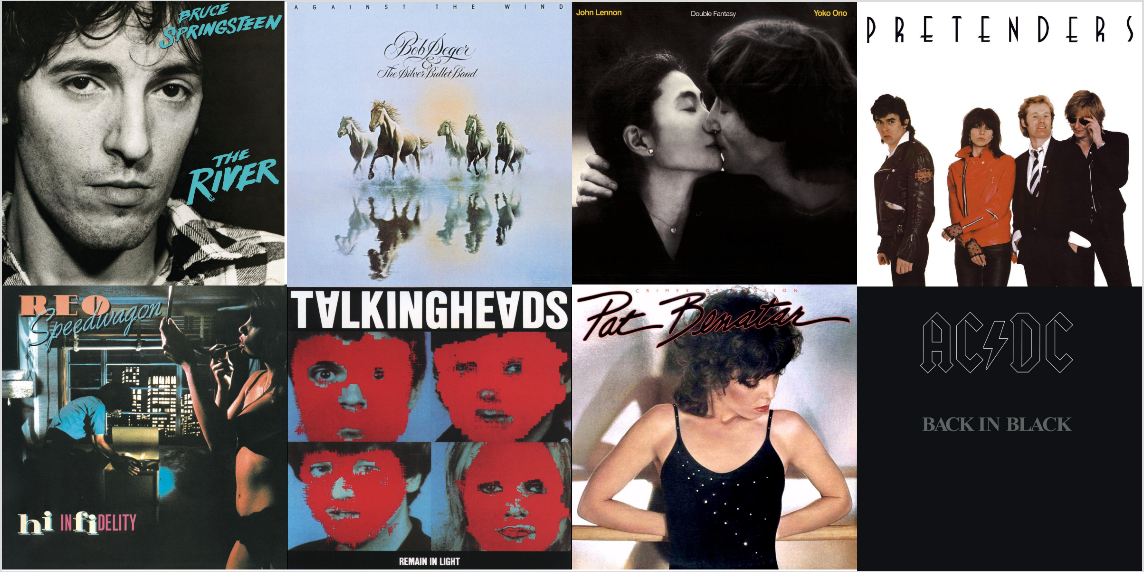 We've looked back at the incredible music of the year 1970. Now it's time to jump ahead 10 years and see what was happening a decade later.
The 1970s had been a decade of musical explosions—new genres had emerged while old ones withered, new artists had redefined and expanded rock and many names of the past had disappeared. Over that 10-year span, new attitudes had undeniably replaced, or at least coexisted with, the old.
The big question, as the 1980s dawned, was where would it go from here? Would the '80s simply be a continuance of what the '70s had given us, or would the entire landscape soon be unrecognizable from the one that had just passed?
The first year of the new decade offered some hints: 1980's most important and impressive new releases were all over the place musically, from raging punk and screaming heavy metal to reflective singer-songwriter meditations to polished mainstream rock and then some. But there were also definite signs of change in the air—some albums stayed within familiar bounds but others suggested that the new decade would be as different from the previous one as the '70s was from the '60s. (This Irish band called U2 sure has a new sound—wonder if it'll catch on.)
We looked back at hundreds of albums released in 1980 and whittled the list down to the 50 that we think represent the most significant or memorable of the year's crop. Many of these titles remain cornerstones of any essential classic rock record collection, sounding as fresh now as when we first removed the vinyl from the shrink-wrapped album jacket.
The list isn't intended to be definitive and, honestly, they're not all necessarily our personal favorites, nor are they all best-sellers—they were chosen because we feel they represent best what was happening that year, whether artistically, commercially, socially or because they just do. Chances are you will disagree with some of our choices and find that some of your own favorites are missing. Please let us know your thoughts in the comments section!
We're not ranking them; they're arranged alphabetically by artist. How many of the 50 do you own?
AC/DC—Back in Black—The first entry on our alphabetical list is also the biggest in terms of sales; it's currently listed as the second most successful album of all-time, behind only Michael Jackson's Thriller. The first by the Australian hard-rock band to feature singer Brian Johnson, it became a template for the still-emerging metal genre.
Pat Benatar—Crimes of Passion—Our Album Rewind review called the singer's second release "the record that would consolidate Benatar's place in the rock firmament" and "an unqualified success that would eventually sell more than five million copies." No disagreements from us!
Related: Our Album Rewind of Crimes of Passion
Black Sabbath—Heaven and Hell—Could Black Sabbath even continue to exist without Ozzy Osbourne? Their first with Ronnie James Dio as frontman provided the answer: most definitely. Although it wasn't as successful commercially as some of its predecessors, the LP likely helped Sabbath survive well beyond the new decade.
The Blasters—American Music—The title of the debut by the Southern California roots-rock band summed up what they were all about. Fusing rockabilly, barroom blues, punk energy and other no-frills forms, the band, led by brothers Dave and Phil Alvin, was a reminder of rock's rebellious origins.
Jackson Browne—Hold Out—Browne became one of the L.A.-based singer-songwriters that helped define that '70s movement, but Hold Out marked his first-ever #1 LP, proving he had staying power. Impeccably written, performed and recorded, Hold Out holds up well today.
The Cars—Panorama—The Cars were on a roll, their first two albums having sold massively and established the Boston new wavers as a significant force. Panorama, written almost entirely by the band's Ric Ocasek, didn't contain as many durable songs but kept the band's streak going, peaking at #5 in the U.S.
Related: Our interview with the Cars' Elliot Easton and Greg Hawkes
Eric Clapton—Just One Night—Recorded live in Japan in late 1979, the double album provided a retrospective of Clapton's solo career to date, avoiding the Cream and Blind Faith eras. Backed by an ace band, the guitarist-singer was still performing at the top of his game.
The Clash—Sandinista!—The British quartet had the audacity to follow their two-LP gem London Calling with a triple set that largely left their punk roots behind and meandered through soul, funk, reggae, rap and other genres. Some found it excessive, but most critics loved it and it brought the band closer to the American mainstream.
Elvis Costello and the Attractions—Get Happy!!—Costello's fourth album in all, and third with his touring band, bore a distinctive R&B stamp. Although it was both a commercial and critical favorite, the album proved something of an anomaly in the singer-songwriter's catalog.
Def Leppard—On Through the Night—The debut full-length album by the British group was hardly considered a success in America, where it only reached #51 on the Billboard chart. But it helped usher in a new subgenre called the New Wave of British Heavy Metal and served notice that they were something to keep an eye on. In a few years, the payoff would come.
Bob Dylan—Saved—The second of three albums in Dylan's so-called Christian trilogy didn't fare as well commercially as its predecessor, Slow Train Coming, but it's a solid set of mostly original songs. The performances, by Dylan, his band and singers are all top-notch too.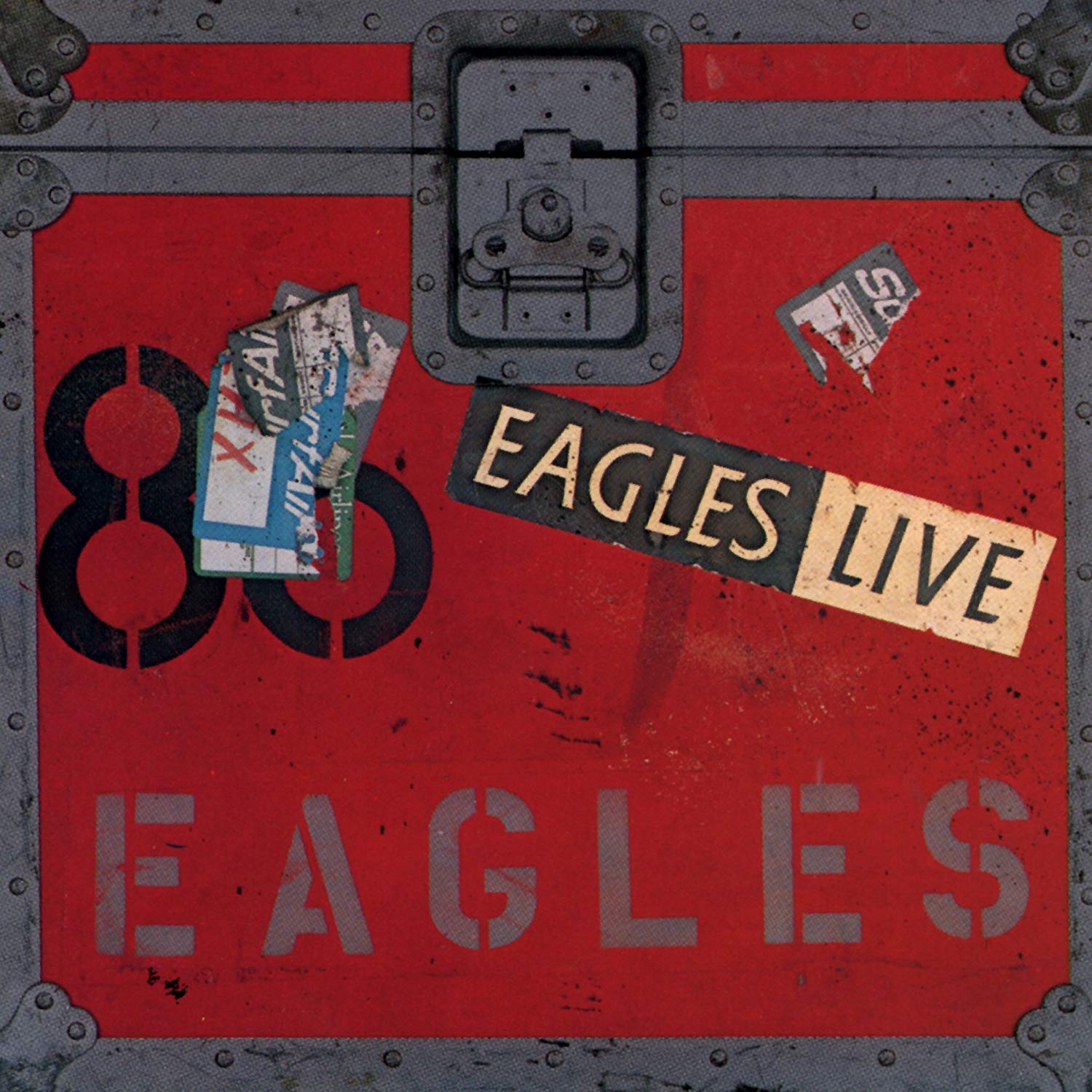 Eagles—Live—The first live album by the SoCal group came after two massively successful studio albums, Hotel California and The Long Run. The arrangements and sound hardly varied from the familiar studio versions, and it would later be revealed that the album was heavily overdubbed, Nonetheless, it was a top 10 seller and something of a coda, having been released after the band split up.
Peter Gabriel—Peter Gabriel—The former Genesis co-leader had a thing for simply naming his albums Peter Gabriel—this was the third of four. So, for the record, this is the one that included tracks like "Biko" and "Games Without Frontiers" and was the biggest seller of those four in America.
J. Geils Band—Love Stinks—The Boston stalwarts were in the process of transitioning from an R&B-inspired party-time band to something more on the pop side of things. The title track was the big draw here but it wasn't until the followup, Centerfold, that we'd really see what they had in mind.
Genesis—Duke—Genesis was a bit lost as the decade changed over, having mastered the artsier side of things with such prog landmarks as The Lamb Lies Down on Broadway. With drummer Phil Collins now firmly in charge of the vocal department, they moved unabashedly into more commercial mainstream rock with this big seller.
Hall and Oates—Voices—Having dominated the '70s as that decade's biggest duo act, the pair cautiously moved into a more dance- and pop-friendly sound that would do wonders for them with the advent of MTV in the following years. "Kiss on My List" became a classic.
Heart—Bebe Le Strange—Although it didn't contain as many memorable songs as its past few predecessors, and the newness factor had dissipated, Heart's fifth album, with somewhat revised personnel, kept the band's commercial streak going.
Iron Maiden—Iron Maiden—Singer Bruce Dickinson wouldn't even join for a couple more years, and the album made little impact in the U.S., but the debut album by the British metal band must be considered as a harbinger of things to come in the metal world.
The Jam—Sound Affects—America never quite got the Jam, who were massively popular in the U.K., but Sound Affects was one of their most satisfying albums and it became their highest charting here, peaking at #72 in Billboard. With great tunes like "Start," "Pretty Green" and "That's Entertainment" it should have done much better.
Billy Joel—Glass Houses—To say he was on fire would be an understatement. Coming off 1977's The Stranger and 1978's #1 52nd Street, Joel came out with an album packed with classics, including "It's Still Rock and Roll to Me," "You May Be Right" and others. It went straight to #1 and took home a Grammy for Best Male Rock Vocal.
Journey—Departure—Their first top 10 album featured the hit "Any Way You Want It" and ushered in a string of huge-selling albums. This would be the last full (non-soundtrack) studio album for founding member Gregg Rolie but his exit didn't hurt them: the following year's Escape went to #1 and included the now-classic "Don't Stop Believin'."
Joy Division—Closer—Sadly, they only recorded two albums before singer Ian Curtis killed himself, so Joy Division's story is more one of what could've been than what was. Still, Closer was an impressive work that marked them as one of the more original bands coming out of Britain at the time. The survivors would immediately form New Order, and that's a whole other history.
Judas Priest—British Steel—The metal band's most successful album to date was their first with new drummer Dave Holland. In retrospect it is often seen as one of the great albums within the genre from that decade, helping to kickstart the golden age of metal.
John Lennon and Yoko Ono—Double Fantasy—Released just a few weeks before Lennon was murdered, Double Fantasy was supposed to be his comeback after a five-year hiatus—and a celebration of his continuing life with Yoko after some rocky times. It became a massive hit, of course, and contains several of Lennon's greatest tunes, including "Woman," "Beautiful Boy" and "Watching the Wheels," which took on even greater significance under the circumstances.
Related: Dec. 8, 1980, a day we can never forget
Loverboy—Loverboy—The Canadian band's debut was quite popular, although their next couple would surpass it by far in terms of sales. While critics were lukewarm to the mainstream FM-rock sound, fans took readily to what the new band had to offer.
Bob Marley and the Wailers—Uprising—The final studio album released during the reggae god's lifetime, Uprising was also one of his most spiritual. With tracks including "Redemption Song" (which became one of his signature tunes) and "Could You Be Loved," it furthered his worldwide popularity.
Related: Marley gave his final show in 1980
Paul McCartney—McCartney II—Released a decade after his first self-titled solo album, McCartney II isn't really intended as a sequel—the only thing it really has in common is that he plays virtually all of the instruments himself. But it was a solid effort with some great songs like "Coming Up" and "Temporary Secretary" that proved his popularity wasn't going anywhere.
Motörhead—Ace of Spades—Actually the British hard rock band's fourth album in all, it was their first released in America and created a bridge between the punk and metal worlds. For most Americans it was also their first exposure to Lemmy Kilmister, who'd been around for a while but would soon be considered one of the all-time heroes of the genre.
Ozzy Osbourne—Blizzard of Ozz—If anyone thought Ozzy was just going to disappear after being sacked from Black Sabbath, they were sadly mistaken. His debut solo album (released in the U.K. in 1980, and in the U.S. the following year) was killer, an instant classic, presenting signature tunes like "Mr. Crowley" and "Crazy Train." It also gave greater exposure to guitarist Randy Rhoads, a master who would sadly be gone within a couple of years.
The Police—Zenyatta Mondatta—It was only their third album but they were already a major force for change heading into the new decade. Each new album showed tremendous creative growth and this one did too, with hits like "Don't Stand So Close to Me," "Driven to Tears" and "De Do Do Do, De Da Da Da" marking a bigger, more expansive sound for the trio.
Pretenders—Pretenders—Talk about a splash; this was easily one of the most striking debuts of the year. Not only was Chrissie Hynde one of the most intriguing, formidable frontwomen in rock, but the band was superb all around. Songs like "Precious," "Brass in Pocket" and their cover of the Kinks' "Stop Your Sobbing" gave notice that a major new voice had arrived.
Related: Our Album Rewind review of the Pretenders' debut
Queen—The Game—If you were asked to name Queen's only #1 album in the U.S., would you guess it was this one? Well, it's true, and when you consider that it included songs like "Crazy Little Thing Called Love" and "Another One Bites the Dust" it makes more sense. It was also their last-ever top 20 album in America though, the beginning of their decline.
Ramones—End of the Century—Choosing to follow up the powerhouse Road to Ruin with an album produced by the mercurial Phil Spector was a daring move for America's leading punk band. The band's fifth album was definitely less stripped-down and more ambitious—some fans hated it, others approved of the new direction. It became their highest charting album in the U.S., so the gamble paid off.
Related: What about the best albums of 1979?
REO Speedwagon—Hi Infidelity—They had already released eight albums and were considered just another workmanlike American band. The highest they'd ever gotten on the charts was #29. Then, bam! All of a sudden, it was their turn. This one resonated, zooming to #1 and staying there for an amazing 15 weeks, producing two smash singles, "Keep On Loving You" and "Take It on the Run." Good things come to those who wait indeed!
Rockpile—Seconds of Pleasure—Two English roots-rockers who'd been around for many years already, Dave Edmunds and Nick Lowe, led this uncompromising pure-rock 'n' roll band. They'd played on each other's solo albums and finally released this, the only official Rockpile studio album. Some said it didn't live up to their live sound, and it only fared moderately well, but it's worth giving a new listen—there's some very solid music here.
Related: Dave Edmunds shares his Chuck Berry stories
The Rolling Stones—Emotional Rescue—It's a little-known fact that 1978's Some Girls was actually the Stones' biggest-selling album, having gone six-times platinum. To some fans, Emotional Rescue seemed something of a step down—it didn't have as many memorable songs or any truly surprising new moves—but nonetheless it went straight to #1 and stayed there for seven weeks, actually longer than its predecessor.
Linda Ronstadt—Mad Love—With three songs written by Elvis Costello and three from the band the Cretones, Mad Love is sometimes considered Ronstadt's concession to the new wave movement of the day. But there are others to balance those out, including tunes done previously by the Hollies and Little Anthony and the Imperials, and the public loved it, making the album one of the singer's most popular.
Related: Our review of the recent Ronstadt documentary, The Sound of My Voice
Rush—Permanent Waves—Perhaps taking to heart the criticism lobbed at prog bands for going over the top, Rush reined things in a bit for their seventh album, tightening the arrangements and clipping some of the more complex indulgences. Still, the finale, "Natural Science," was as ambitious as anything else they'd done, and the payoff was their first top 5 placement in the U.S.
Bob Seger and the Silver Bullet Band—Against the Wind—The Detroit rocker had been working long and hard for years, building his audience slowly but resolutely, finally finding superstardom in 1976 with Night Moves and in '78 with Stranger in Town. Against the Wind gave him and his stalwart band their first-ever #1, and it was well-earned, featuring some of the most durable songs of his career.
Bruce Springsteen—The River—He'd only been recording for less than a decade, and hadn't really made the leap to superstardom until the late '70s. Following Born to Run and Darkness on the Edge of Town with a double album might have been risky for other performers of his stature but Springsteen's audience was voracious for new music and he delivered a masterpiece—virtually every song was an instant classic, and many of them played even better in live performance. He still dips into this body of work regularly today.
Squeeze—Argybargy—They were considered something of a quirky curiosity in the States, not quite new wave and not quite punk or power pop, but definitely outside of the mainstream. The songs on their third album, most written in tandem by Chris Difford and Glenn Tilbrook, were exquisitely crafted and performed, with some—"Another Nail in My Heart" and "Pulling Mussels (From the Shell)" among them—becoming rock radio staples.
Related: Squeeze is still going strong. Here's our review of a 2019 concert
Steely Dan—Gaucho—Perhaps compared to its predecessor, 1977's Aja, this was a lesser entry. But it included at least one Steely Dan classic, "Hey Nineteen," and exhibited some stylistic shifts that suggested where Donald Fagen and Walter Becker might go in the decade ahead.
Talking Heads—Remain in Light—Their fourth album was groundbreaking, but then so was everything they did. Incorporating more complex rhythmic patterns and more ambitious production, David Byrne's latest songs—including "Once in a Lifetime" and "Born Under Punches"—were expansive, seductive and mysterious. They still sound totally fresh today.
Pete Townshend—Empty Glass—As we said in our Album Rewind, "Although it's fully satisfying on its own, the album, the most successful of Townshend's solo releases, has been called a Who record that never was."
U2—Boy—The debut studio album by the new Irish quartet started off with one of their greatest songs, "I Will Follow," and had many critics pronouncing them the most innovative new thing since the punk revolution of a few years earlier. Massive success in America was still several years away—Boy only reached #63 here—but they were clearly on to something.
Van Halen—Women and Children First—Although this was only their third album, Van Halen was already unstoppable as the decade turned over. It took a few years for them to truly find themselves and this is where it happened—all four band members were masterful and they were already showing a willingness to experiment and separate themselves from the pack. Like its predecessor, the album peaked at #6 and set the scene for a decade of unbroken successes.
Steve Winwood—Arc of a Diver—The former leader of Traffic had released his first true solo album a few years earlier but Arc of a Diver was the one that proved he didn't need to be part of a group. Led off by the hit single, "When You See a Chance," the album—on which Winwood played all of the instruments—ensured that he would not be left behind as the '80s unfolded.
Stevie Wonder—Hotter Than July—Coming after an unbroken string of classic albums, topped off by 1976's Songs in the Key of Life, Wonder could seemingly do no wrong. Journey Through the Secret Life of Plants, his 1979 entry, was critically drubbed but still made the top 5. Hotter Than July was a return to form—"Master Blaster (Jammin')" alone showed he was still ahead of the game—and the album was a huge success.
X—Los Angeles—California had an extremely active punk scene and X was arguably the best of the lot. Their debut album, produced by former Doors keyboardist Ray Manzarek (he made sure it included a cover of their "Soul Kitchen"), was incendiary—hard and angry and poetic at the same time.
XTC—Black Sea—The British quartet was always more popular in their native U.K. than in the U.S., but this one, their fourth album in all, was their biggest here, largely on the strength of such college radio-friendly songs as "Generals and Majors" and "Towers of London."
Related: The #1 albums of 1980

Latest posts by Best Classic Bands Staff
(see all)