Elvis Costello & The Attractions 'Trust': A Dark Masterwork
by Sam Sutherland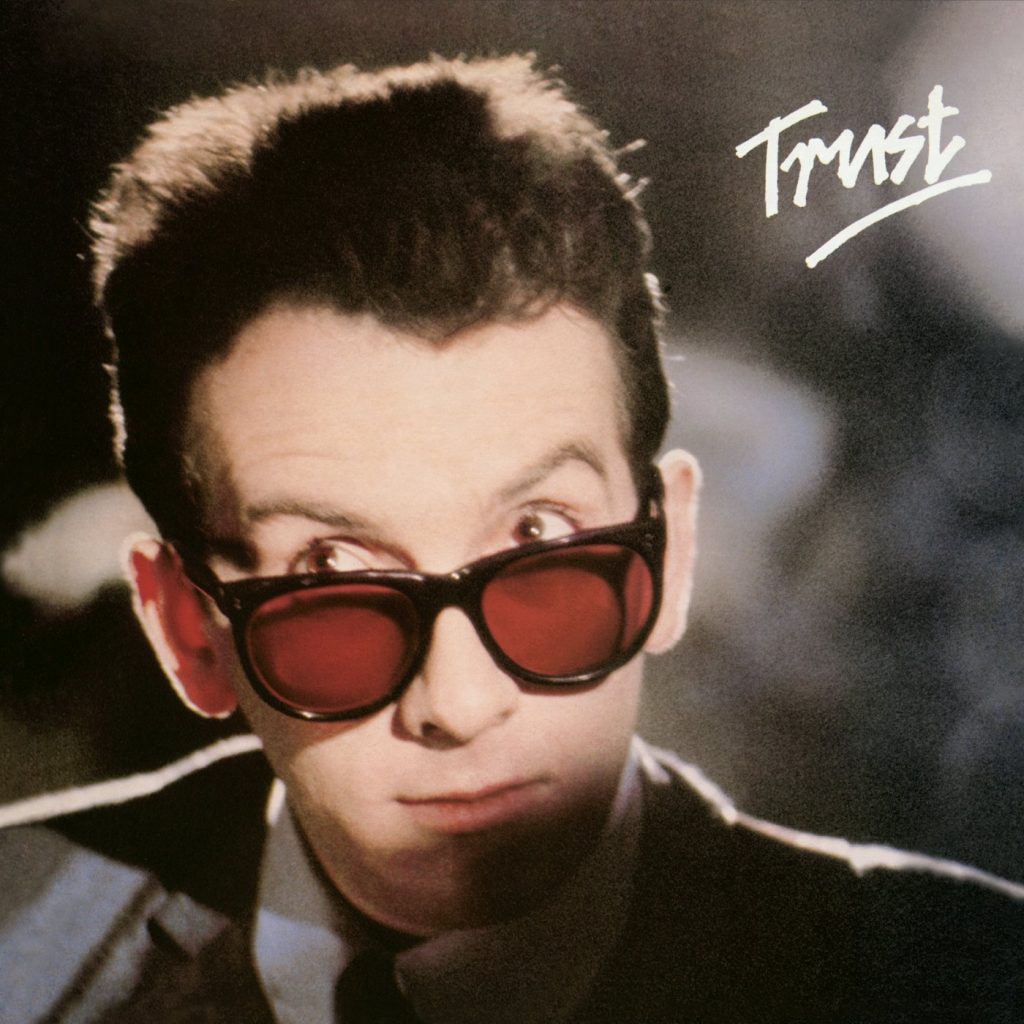 Elvis Costello's fifth album and fourth with the Attractions captures the quartet at a potent but troubled peak, its title a loaded, ironic signifier. Trust is non-existent for tortured characters enduring or enacting betrayals, deceptions and delusions that cast complicated shadows. Granted, Costello had traded in dark themes from the outset of his career; the songs were darker yet on this, the first of two full-lengths released in 1981. The Attractions played with an agility honed by extensive touring and previous studio sets, but behind the scenes, tensions were surfacing between members.
Since his 1977 recording debut, Costello had been swept into an accelerating cycle of tours and studio sessions spurred by his prolific songwriting output and producer Nick Lowe's swift pace. Assembling a working band for his sophomore set, Costello recruited players versatile enough to keep up with his rapid growth: Bassist and Quiver alumnus Bruce Thomas was his most seasoned pick, while drummer Pete Thomas (no relation) had played with pub rockers Chilli Willi and the Hot Peppers. Completing the foursome was its youngest member, Steve Nieve, a classically trained rookie whose inexperience was offset by prodigious technique.
Together, Costello and the Attractions arrived fully formed on 1978's This Year's Model, then expanded their sonic palette with 1979's majestic Armed Forces before making an exhilarating left turn into authentic, retro R&B on 1980's Get Happy!!, which tempered its cynical themes with exuberant performances. A generous array of singles and B-sides plus constant touring raised the band's profile further, but the pace took a toll on Costello, including a failed marriage, a tumultuous love affair and the notorious 1979 episode that tarred his reputation with a drunken, racist rant that made headlines, its facetious intent lost in translation.
Related: Our Album Rewind of Get Happy!! 
Years later, Costello would recall those dark years and damages he regarded as self-inflicted. "Once I recognized it was not my vocation to write a happy ending, I did my best to avoid one entirely," he would muse in Unfaithful Music & Disappearing Ink, his 2015 memoir. The darkness prevailed as the band entered London's DJM Studios in late October 1980 to begin tracking the fifth album. "This was easily the most drug-influenced record of my career," Costello would later report. "It was completed close to a self-induced nervous collapse on a diet of rough 'scrumpy' cider, gin and tonic, and various powders…and, in the final hours, Seconal and Johnnie Walker Black." Frustrations with early takes led them to regroup at Eden Studios, where the album would be completed.
However chaotic the environment, there was a method to the madness—musically, Costello sought to meld Get Happy!!'s more muscular rhythms with the richer, more melodic breadth achieved on Armed Force. Lyrics aside, the musical design would ultimately display the Attractions at their most riveting.
"Clubland" opens the album with sinister images evoking a nighttime demi-monde inspired by the band's experiences on the Get Happy!! tour, an ordeal that he would reference on several other tracks. The arrangement finds Nieve layering organ and synthesizer beneath bold grand piano flourishes, set against Bruce Thomas' melodic basslines and Pete Thomas' spare yet explosive drumming, with Costello inserting squealing, staccato bursts of guitar .
With its angular syncopations and a shift from minor-keyed verse to major midway through the chorus, the song nods to the Police ("'Message in a Bottle' with a middle eight," per Costello), the first of several new wave contemporaries consciously echoed here. "You'll Never Be a Man" is a sneering mid-tempo takedown inspired by the Pretenders in their less turbulent moments, "Big Sister's Clothes" borrows a Clash bassline, "White Knuckles" channels XTC, and "Fish 'n' Chip Paper" trades in the nimble wordplay and English imagery Costello shared with his friends in Squeeze, the East London quintet whose fourth album, East Side Story, he would produce during this same period.
The Squeeze connection is audible on "From a Whisper To A Scream" as Glenn Tilbrook, that band's co-writer, lead singer and guitarist, shares lead vocals with Costello, trading solo lines and then harmonizing on the choruses. Buttressing its dominant guitar attack is the Rumour's Martin Belmont, who had joined the Attractions for recent European tour dates after Nieve was sidelined by a serious car accident, while the rhythm section offers another textbook example of the interplay between Bruce Thomas' double-time bass figures and Pete Thomas' four-square drums. Costello's and Tilbrook's ecstatic vocals bring giddy momentum to Costello's lyrics, capturing erotic anticipation "like a finger running down a seam," to provide one of Trust's clearest extensions of Get Happy!!'s R&B fervor.
The flip side of that ardor is the coolly resigned disappointment detailed in "New Lace Sleeves," a postmortem for "bad lovers face to face in the morning, shy apologies and polite regrets." In its precise construction, Costello himself would later hear "one of the greatest Attractions performances" as cymbal, drum tap, single-note guitar, bass pulse and vocal are delicately woven into a musical framework for Costello's mordant lyrics. "She's no angel, he's no saint," Costello sings in a concise lament for lost innocence that moves with deliberate stealth, the band halting between vocal lines as if surveying threats.
The relative hush cast by "New Lace Sleeves" is shared on "Watch Your Step," its title warning of vague but ominous risks lurking close at hand. Tonally and vocally, the track echoes "Secondary Modern" from Get Happy!!, a natural medley in future live shows sustaining an atmosphere of coiled dread familiar in much of Costello's dark material from the late '70s and early '80s. Like "Clubland" and "New Lace Sleeves," "Watch Your Step" was released as a single; like them, it fell short of earlier Costello releases on the U.K. singles chart. Trust fared better on U.K. and U.S. album charts, reaching #9 in their homeland and #28 in the U.S., but significantly below Get Happy!! in both countries, despite strong reviews.
One commercial speed bump may have been Costello's prolific recording output. Ten months after Trust's January 23 release date, the quartet issued its second '81 long player, Almost Blue, this time swerving toward country under the aegis of veteran Nashville producer Billy Sherrill. Trust would thus stand as the culmination of Costello's fertile partnership with Nick Lowe. That Costello would approach country as convincingly as he had R&B was hardly a surprise, demonstrated by a tidy miniature country ballad in "Different Finger," a classic weeper steeped in adulterous guilt that was the shortest of Trust's 14 tracks.
Elvis Costello would subsequently pursue a more meticulous studio luster for 1982's Imperial Bedroom, with the Attractions soldiering on until the mid-'80s, when Costello's omnivorous taste would lead him toward new influences and an expanding network of collaborators in the decades ahead.
Bonus Video: Watch Elvis and the band perform "New Lace Sleeves" on The Tomorrow Show
Tickets to see Costello perform are available here and here.

Latest posts by Sam Sutherland
(see all)