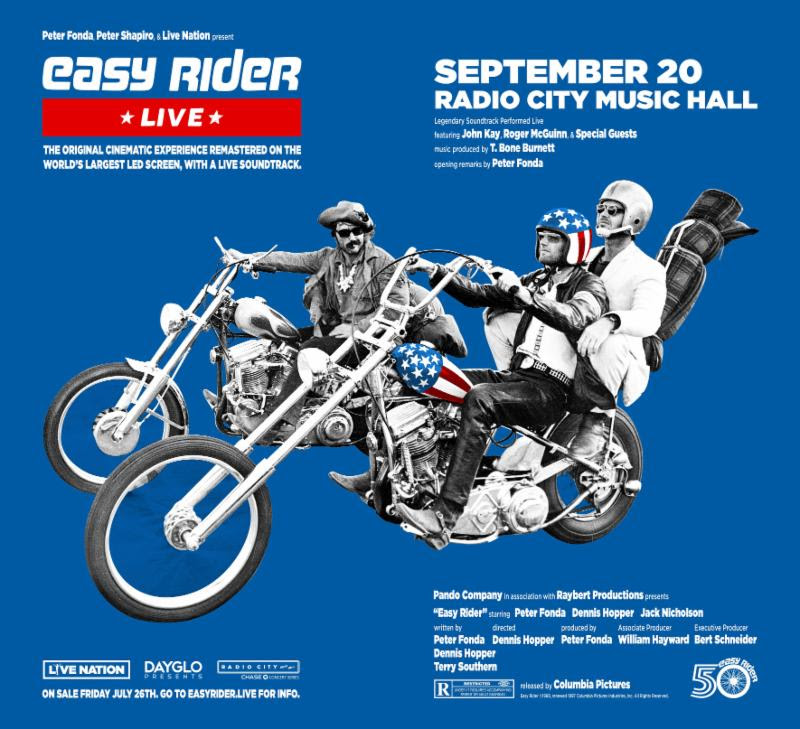 Actor Peter Fonda, who co-wrote, produced and starred in the 1969 counterculture movie, Easy Rider, died today (August 16) of lung cancer at his Los Angeles home. Fonda was a member of a legendary acting family that includes his father, Henry, sister, Jane, and daughter, Bridget.
Peter Fonda earned an Academy Award nomination for Best Original Screenplay for Easy Rider. Nearly 30 years later, he earned an Academy Award nomination for Best Actor for the 1997 film, Ulee's Gold. In between, he was in dozens of films including the 1974 cult classic, Dirty Mary, Crazy Larry.
A decade earlier, a phrase he uttered while on an acid trip with members of the Beatles ended up in their song, "She Said She Said."
But it was for Easy Rider, which was released when Fonda was 29, that he's best remembered.
Fonda announced on July 29 that the newly remastered 1969 film Easy Rider, starring Dennis Hopper and Jack Nicholson as well as Fonda, will be screened at New York's Radio City Music Hall on Sept. 20 with its soundtrack performed live and in sync with the film by the Byrds' Roger McGuinn and Steppenwolf's John Kay. The "unparalleled cinematic experience," as it's described in a press release, combined with a live rock band is a-first-of-its-kind performance at Radio City Music Hall that celebrates the 50th anniversary of the movie's July 14, 1969, theatrical release.
Kay and McGuinn will be accompanied by musicians directed by producer T-Bone Burnett. Fonda, the two-time Academy Award nominee, who not only starred but co-wrote and produced the film, will co-produce the event. The soundtrack features Steppenwolf's hit "Born to be Wild" and the theme song "The Ballad of Easy Rider" by the Byrds, in addition to songs from Jimi Hendrix, the Band and others. The music will be performed live onstage in tandem with the movie.
Related: Steppenwolf's Easy Rider connection
Written by Fonda, Hopper and Terry Southern, directed by Hopper and produced by Fonda, Easy Rider is described in the announcement as "an American independent road drama that captured the national imagination and became the touchstone for a generation." The film follows characters Wyatt (Fonda) and Billy (Hopper) as they travel the South and Southwest after successfully completing a drug deal. The film's success helped usher in the New Hollywood era of filmmaking in the early 1970s. Easy Rider explores societal issues of the 1960s such as communal living, the hippie movement and drug use. Easy Rider is listed as one of A.F.I's 100 greatest films, and in 1998 was added to the United States National Film Registry, having been deemed "culturally, historically, or aesthetically significant."
Tickets are available here.
Watch the classic Easy Rider scene featuring "Born to be Wild"
Fonda was born February 23, 1940, in New York City. He began getting regular work acting on Broadway and on television in the early '60s. Upon moving to Los Angeles, he became friends with many prominent recording artists, most notably the Byrds, and then with members of the Beatles when they rented a house in Beverly Hills in 1965.
While on an acid trip together, John Lennon heard Fonda say, "I know what it's like to be dead." Lennon borrowed the line which is used prominently in the Beatles song, "She Said She Said."

The BCB team brings you the latest Breaking News, Contests, On This Day rock history stories, Classic Videos, retro-Charts and more.

Latest posts by Best Classic Bands Staff (see all)