On June 12, 2015, we flipped the "On" switch for Best Classic Bands and we can't believe how fast the time has gone. When we hit our first anniversary in 2016, we were reminded about our launch a year earlier: "If a tree falls in a forest, and no one is around to hear it, does it make a sound? We had posted roughly 20 stories. The Who? Check. The Beatles? Check. Bob Dylan? Check. How would readers know we existed?"
Thanks to you… five years after our launch and we're still writing about the artists, music and pop culture of the classic rock era.
Yes, we're all facing the most challenging days of our lives. We've all been impacted by the Covid-19 pandemic, and now "the last concert you attended" has become the answer to a 2020 trivia question.
We're doing lots of stories about the year in music in 1970. For those of a certain age, it's mind-boggling that that was 50 years ago.
We're so grateful to the many talented artists and creative types who took the time to speak with us in the past year for interviews. David Clayton-Thomas told us about his unlikely path to join Blood, Sweat & Tears. Gregg Rolie talked about his 2x Rock Hall career with Santana, Journey and beyond. Peter Noone shared insight into Herman's Hermits' U.S. tour with The Who as their opening act.
Fellow British Invasion legend Dave Clark told us what it was like to perform on stage with all of the screaming girls at Dave Clark Five concerts. And the Hollies' vocalist Allan Clarke talked about all of their great hits.
Yes co-founder Jon Anderson discussed his years with the band, and talked about his new solo album. Steve Miller previewed his archival box set, Welcome to the Vault, and told us how "Abracadabra" came about. Musician Joe Vitale told us about playing with Joe Walsh (they co-wrote "Rocky Mountain Way") and CSN&Y.
A fan (and musician, himself) shared the incredible story of how he reunited Jimmy Page with his early '70s guitar case. Savoy Brown's Kim Simmonds talked about his five decades of the blues.
In separate stories, legendary photographer Henry Diltz offered us his unique perspective on the Laurel Canyon music scene of the '60s, and how his iconic image of Crosby, Stills & Nash became the cover photo of their debut album.
Longtime rock journalist Mark Brown continued his insider series with Eagles' producer Bill Szymczyk, this time on the making of their The Long Run album.
Related: The reason we started this website? Blame it on Burton Cummings
Our editor, Jeff Tamarkin, went into his extensive library of interviews that had run in much shorter versions elsewhere. One was with legendary filmmaker D.A. Pennebaker who discussed some of his most famous films, including Monterey Pop and the 1965 Bob Dylan documentary Dont Look Back. Procol Harum's Gary Brooker shed light on the group's classic "A Whiter Shade of Pale," Robin Trower's years in the band, and more.
A big "thank you" to legendary FM DJ Dennis Elsas, who allowed us to re-purpose his radio interview with Julian Lennon on Yoko, Cynthia, Ringo and Sean, that ran on the Beatle Channel's "Fab Fourum" on SiriusXM.
We spent much of the spring and summer of 2019 reporting on the latest news of the planned 50th anniversary edition of the famed Woodstock festival. It wasn't meant to be and we wrote an opinion piece about it: No Peace. No Love. No Music.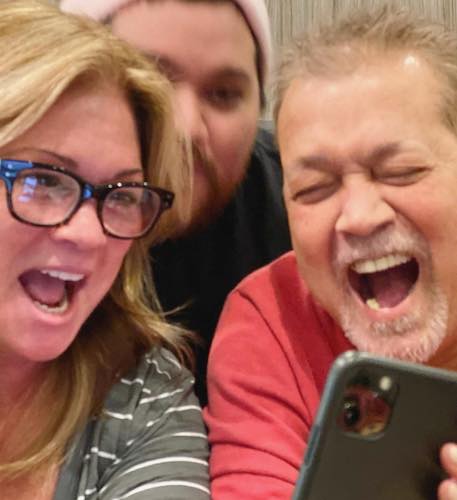 You loved the family photos that Wolf Van Halen posted of his parents, Valerie and Eddie. Our readers also enjoyed our review of legendary groupie Sally Mann Romano's raucous book, The Band's With Me. Photographer Elliott Landy shared the story behind his incredible photo of Grace Slick at the 1969 Woodstock festival.
Based on page views, many of our biggest stories of the past year had little or nothing to do with classic rock. During our second year, we began to publish stories on pop culture topics that occurred during the classic rock era. In the past year, our readers embraced our features on Billy Jack, the passing of Mad magazine caricaturist Mort Drucker, and SNL's "Schweddy Balls" sketch.
In 2019 we wrote far more obituaries than we could have ever imagined. And 2020 has seen one shocking loss after another with deaths that include John Prine, Bill Withers and Kenny Rogers.
Readers love our regular look back at radio charts from the classic rock era and the year's top selling albums. We love writing them. In the past year, we created a series on the #1 albums in the U.S. from 1968 to 1981.
We are all incredibly fortunate to be living at the same time as these remarkable artists. We urge you to buy their concert tickets. Buy their music.
A huge favor to ask: Since many of you are only aware of our stories via your Facebook feed, we'd be grateful if you'd sign up for our Newsletter. (You'll thus see all of our new content since – unless you've adjusted your Facebook settings – they only show you perhaps one in five of our posts there. And the more you Like/Comment/Share our stuff on our Facebook page, the more you'll see in your feed.)
Thanks for joining us… here's to the next five years. Please tell your friends about us!

Latest posts by Best Classic Bands Staff
(see all)