In 2019, Julian Lennon published the third in a series of children's books. [The latest title was Love the Earth, written with Bart Davis and illustrated by Smiljana Coh, via Skyhorse Publishing.] The singer-songwriter, musician, philanthropist and photographer [check out his Instagram account] did a Q-and-A with radio legend Dennis Elsas at a New York City Barnes & Noble on April 22, 2019, and then joined Elsas (and his Fab Fourum co-hosts Bill Flanagan and Tom Frangione) for a wide-ranging interview two days later on SiriusXM's Beatles Channel.
The son of John and Cynthia Lennon turned 58 on April 8, 2021.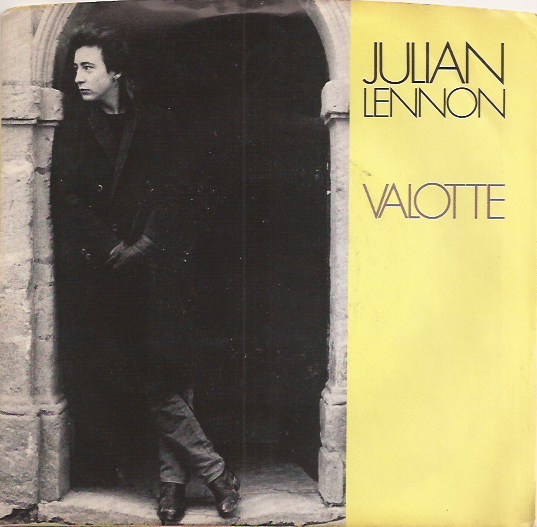 In 1984, at just 21, he released his debut album, Valotte, which yielded two hit singles, the title track and "Too Late For Goodbyes." Both songs were Top 10 singles on the Hot 100. With the still-maturing performer suddenly omnipresent, the public were amazed at how much he resembled his father in looks and voice.
In this discussion on The Fab Fourum, Lennon talks about the two distinct worlds he occupied as a child spending separate time with his two parents, his admiration for the musical talent of his brother Sean and the other sons of Beatles, reuniting with Ringo Starr after decades, and being "blown away" (his words) with Yoko Ono's actual involvement in the Imagine album.
Tell our audience about the book series and teaching children how to make the Earth a better place.
It's never been about shoving it down people's throats. It's always been about starting a conversation and awareness. For kids to bring up the questions: "Why are the oceans polluted? Why don't we have clean water in today's world?" It's about getting kids to understand the world they're getting into and also to understand the consequences of your actions and hopefully being informed enough about changing those actions.
You had a regular routine of recording, releasing an album and touring. What's ahead?
Moving forward, I'm not sure I'm gonna do an album. Albums, for me, were really a journey. A collection of songs that were connected in one way, shape or form. A lot of heart and soul went into those. With the way things are today, I'd be much happier—I'd be able to live emotionally more stable—if I'd just release a song or an ep. I can feel that I can just let certain things go that way.
You were the first guy out of the next generation. Your brother has had a great musical career but he's sort of kept out of the spotlight. James McCartney is kept out of the spotlight. Dhani Harrison has kept out of the spotlight. Zak Starkey has a prominent career but it's behind [The Who].
You have to find your own way. They're all strong, young, smart lads. They're true artists. They love their work. They love writing and going on the road.
Sean's an amazing guitarist. He's coming along fantastically as a singer and songwriter, too. That excites me. We've talked about working together; I'm sure we will. One day. I can't give too much away! I'd love to work with him; I think we have the same sensibilities in many respects. There's certainly a love of music and melody and interesting chord changes, which is my cup of tea.
We'll do what just feels right. I'm looking forward to it.
What was your experience like performing on stage in your early twenties with many of your father's peers, for Chuck Berry's 60th birthday celebration and documentary, Hail! Hail! Rock 'n' Roll?
I was shy… so shy… I was terrified. It was an honor. I had to push myself to do this kind of stuff. Most of the lads took me under their wing, for which I'm forever grateful, because there were some great players in that band. My experience with Chuck was very interesting because we had rehearsed one thing but I didn't know this about Chuck… we only had two runs at the show for the film. The one that was the most energetic and the craziest one.
Chuck and I had rehearsed particular harmonies but you can see in the film, as we come into the second verse, he's gone off on a different key. And I'm a young performer. I don't even know what the hell I'm doing there! I'm being filmed… with this band… in front of several thousand people, and I don't know what I'm doing!
But that performance, which we've played, was the most rock 'n' roll-est that we've really ever heard you.
You think so? Well, apart from Dad's solo stuff, like the Rock 'n' Roll album—I've always loved his version of "Stand By Me"—the one thing I can do is get up and sing a bit of rock 'n' roll these days. And if I'm ever dragged up on stage… "Slippin' and Slidin'" "Roll Over Beethoven"… and "Stand By Me" thrown in there as well.
Wasn't there a recent ad libbed performance of some of that material in Asia?
There might have been. (laughs) I was hanging out with Joe Walsh, who I absolutely love to pieces. There were a lot of musicians at this particular event. And everyone else was getting up and playing and they're all out on the road [all the time] and got their chops down. And (mimics) "I've been in the mountains doing photography for a few years." So I said, "Joe, will you get up and do Slippin' and Slidin' with me at least? And we did that and what a joy it was. It was just fab.
And then Ringo was doing the All-Starr Band thing as a big event on the last night. I hadn't seen him for 20 years, 30 years. I ran into him way back when in London in an old club called Tramps back in his drinking days. And we didn't have the best communication skills at that point and I walked away from that feeling a bit disheartened and down.
He didn't remember that—which is fine and I understand that. It's all been cleared up now. Joe, in fact, got Ringo to come over after his show and he didn't know I was there and we actually looked at each other and it was like long-lost family, in fact. We just hugged and embraced. Everything that I had felt bad about… it was out the window and that was that. It was great to see him again.
In the recent Above Us Only Sky documentary, you said it was confusing as a child to sometimes be in the middle of things with your Dad and then you didn't know if next week it was going to be the same or not. In your Fifties, can you see it with an adult's eyes?
Oh, yeah. Of course. Being at that age, amongst that insanity—in a good way… being at Tittenhurst Park and seeing them hanging out at the studio and the musicians, it was an experience and a half. But it was very, very strange living with Mom in Wimbledon, and then, on occasion, being invited out to Tittenhurst Park to this Disneyland for adults. I couldn't have made sense of it as a kid. It would have been impossible. But I certainly understand it as an adult.
Watch Julian playing on the grounds of Tittenhurst
You have not [previously] appeared in places and films speaking [about that]…
I'd seen some footage and the concept and I just felt… you know what, it's time to build bridges again and clarify some things because it was really about what it was like for me in those younger days and trying to explain it as clearly as I could remember. But also at the same time having such fond memories. For me, it was a good experience and cathartic at the same time.
I enjoyed the film very much and also learned quite a few things from watching it. Yoko and I have had our issues in the past, but I have to say that I was actually blown away by how much involvement she really [had]. She wasn't in the background; she was part of the mix. No question about it. And I was quite surprised and I was, you know, I have to say I bow down to her involvement. She guided him pretty well through that album. I really believe that. Obviously, he was at the forefront, but her inspiration came through.
Related: Our review of 2018's Imagine Ultimate Collection
All three books have been dedicated, in one way or another, to your mother. The first book, Touch the Earth, was "to Mum, who gave me the vision to fly without wings." The second book, Heal the Earth, "to Mum's scholarship for girls, to follow her light." And the latest book, "for Mum, forever my guiding light."
She lived life with such grace, such dignity, such love, such care. And you could feel that and see that in everything she did. And everything she represented. And how she lived her life. She's, without question, been my hero, my guiding light, my entire life. She used to say to me: "You're like me in the week. And you're like you're dad on the weekends."
I want to do a memoir sooner rather than later. Already, many of my dear, dear friends have passed away. I want to remember what I did. And a lot of friends have a different perspective than me.
I just haven't stopped one way or another since Mom passed. And I just feel like I just need to take some time out. Not disappear off the face of the planet. Just take two, three, four, five months, to go back into the studio, finish the tracks I want to finish, organically. Continue with more photography work. Start writing my memoir. And give that a chance to flourish and come together naturally.
If you're a new Best Classic Bands reader, we'd be grateful if you would Like our Facebook page and/or bookmark our Home page.

Latest posts by Best Classic Bands Staff
(see all)