Jon Anderson Talks Yes and 'Olias': 'It's Magic For Me'
by Greg Brodsky
"We are stardust, we are golden…" Joni Mitchell was inspired to write those lyrics about the original Woodstock festival. But they could easily apply to anyone who visits the village of Woodstock, N.Y. They certainly are apt when the visitor is Yes co-founder Jon Anderson, a very spiritual and thoughtful man, who spent several days there with his band in July 2019 to begin the next leg of his 1000 Hands tour. Best Classic Bands tagged along.
When asked if he was able to enjoy the time off since the first part of his U.S. tour ended in mid-May, he lamented that he had contracted what he described as "hotel kennel cough" from air conditioners while on tour in the spring, that left him sick for a month.
But there's no stopping Anderson. "Can't" isn't in his dictionary and when a visitor wished him a happy 75th birthday in advance – he would hit that landmark on October 25, 2019 – he responded: "In the next 20 years, I've gotta do some serious work. That's all I think about. There's no question about it in my mind.
"I've been writing a lot of music. I'm working on some long-form musical ideas and adding some new songs for chapter two of 1000 Hands."
Anderson began the 1000 Hands album roughly 30 years ago, working with a group of musicians that included Yes drummer Alan White and bassist Chris Squire. However, due to his heavy touring commitments with Yes, Anderson had to put the record on the back burner. "Before you knew it, I started getting involved in other projects and tours, and years went by," he explains.
Listen to the album's leadoff track, "Ramalama"
For three days, Anderson and his diverse, top-notch eight-piece band, rehearsed at the intimate Levon Helm Studios, nestled along a beautiful, wooded road in Woodstock . They were joined by fans who came from near and far to attend the daily sessions, which culminated with a packed concert on July 24.
In a wide-ranging interview, Anderson opened up about his days with Yes as well as his recording and tour plans.
"I hope we can keep the band going next year and travel the world together," he says. He and his manager "are working on something… a project… through the winter. It's a question of getting the right kind of record company behind [it] and we're hoping that they understand where I'm going over the next 10 years… 20 years (laughs). Someone who's willing to commit to a long investment—not just financially… but emotionally, musically and spiritually, where music can be going, if we get the chance."
"I just went to see Yesterday, the movie, and I cried all the way through," he says following that 2019 Woodstock rehearsal. "I know why I cried because I was so grateful for the Beatles, and what they did for me as a 24 [year-old]… They inspired me to become who I am now and whoever likes music should go and see that movie. It's a great experience. It was for me!"
At that age, Anderson was forming Yes with bassist Chris Squire. Their early repertoire included Beatles covers like "I'm Down" and "Every Little Thing," both of which they recorded.
"When Yes first started, we were so into Buffalo Springfield. I was into Jimmy Webb, the Fifth Dimension." (He begins singing their 1967 single, "Paper Cup.") "We used to do that as a band. So you learn from those people."
He's asked about writing songs for 1971's The Yes Album, the band's first without covers. "It's very simple. I was a very, very adventurous musician, so I would suggest ideas to the band. On 'Yours is No Disgrace,' we were rehearsing and I said 'We need a beginning.' So I'm watching TV and there's something called Fabian of the Yard, a police program on the BBC, and the music went (hums the theme, don don don don, don don don don, which is reminiscent of the song's opening). I just got it from the TV. We cross-pollinated all the time."
In those early '70s, Yes had a non-stop cycle of record – tour – record. "Fragile and Close to the Edge… that's where it all came about," he said, referring to the back-to-back albums from 1971 and 1972.
"Because me and [Yes guitarist] Steve [Howe] were in Holiday Inns all the time. We'd sit down and write songs and it just seemed a natural event to go from one to the next to the next. And when we went to Japan, I started thinking: 'Okay, FM in America is happening. So we can do long form pieces.' We played Close to the Edge at a radio station in Boise, Idaho, and we said, 'The doors are opening. Let's do a long form piece. Let's do four 20-minute pieces.' And we did," he says of 1973's 2-LP set, Tales From Topographic Oceans.
Yes fans were in ecstasy. In the two-plus years between The Yes Album and 1973's triple live album, Yessongs, the group released no less than eight discs, a staggering amount.
"By then, FM had… (pauses) stopped around America because it wasn't making money. So [things went back to] AM radio all of a sudden. And within two years, it was punk and disco. But we just carried on, you know?"
Not long after, Anderson, Squire, Howe and keyboardist Rick Wakeman began releasing solo albums, almost simultaneously.
Anderson's first such release, 1976's Olias of Sunhillow, plays a prominent role in his 2019 tour. The second set begins with "Flight of the Moorglade" and after an early Yes song ("Sweet Dreams") it continues with "To the Runner," in which the musician's singing voice sounds as sure and sweet as ever.
Watch Anderson sing "To the Runner," at the July 24, 2019 concert
Throughout the performance, the band offers such Yes classic rock favorites as "I've Seen All Good People," "Roundabout" and "Owner of a Lonely Heart."
Watch Anderson perform "I've Seen All Good People" in Woodstock
The evening reaches a high point towards the end with The Yes Album's "Starship Trooper," which allows bass guitarist Tim Franklin and guitarist Tommy Calton to drive the excellent 1000 Hands band through the challenging song, evoking Squire and Howe from the original Yes recording.
[The other members of the touring band include the multi-instrumentalists Jocelyn Hsu and Billy Meethers, percussionist Steady Joseph, and keyboardist Zach Miller.]
At the performance in Woodstock, as the song reaches its peak, the band dramatically segues to Olias' "Solid State" for a full minute, before returning to "Trooper." It's a magnificent closing.
"I've never performed that music before [this year]… ever. And it's just that we got into rehearsal, got to a point where I said, 'Okay, we're building up, we're building up. There's going to be a theme… (starts to hum the part)… that I know,' because I helped write it with Steve. and I said, 'We should use this at the end of Starship Trooper and take it to the next level.' So instead of going to the next section, we go to 'Solid Space.' Nobody knows it. But it sounds so powerful."
Watch a performance of the song earlier that year
This crowd knows Olias, he's told. "Well, a lot of people know Olias. It's an emotional thing to want to do it and say, 'This is Jon Anderson, and this is what I am.' So let's go to something I did in 1975 and it works. And it's magic for me."
Related: More of our interview with Jon Anderson about Yes
Three years later, in October 2022, a video was released of a collaboration with Anderson performing a 2023 tour of Yes classics with the Band Geeks. Tickets for many of the shows are available on Ticketmaster.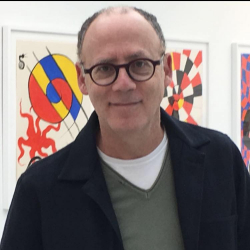 Latest posts by Greg Brodsky
(see all)