Feb 14, 2022: Sandy Nelson, Influential Early Rock Drummer, Dies
by Jeff Tamarkin
Sandy Nelson, a drummer whose flashy style and propulsive rhythms helped elevate the importance of the instrument in early rock and roll, died Feb. 14, 2022, in Boulder City, Nev. The precise cause of death was not reported, however Nelson had suffered a stroke in 2017. He was 83.
Nelson was the rare drummer who became a star in his own right during rock's early years. He placed two singles in the Billboard top 10, "Teen Beat" in 1959 and "Let There Be Drums" two years later. His subsequent singles, most released on Imperial Records, continued to chart until the end of that decade, and his albums were popular as well: His 1962 collection, also titled Let There Be Drums, landed in the top 10 and he followed that up with 10 more charting LPs.
A 1963 motorcycle accident didn't stop him; Nelson lost his right foot and part of that leg to amputation but continued to make music until late in his life.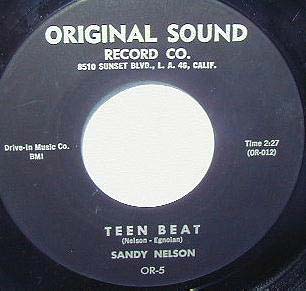 Born Sander Lloyd Nelson on Dec. 1, 1938, in Santa Monica, Calif. (author Joel Selvin spells his first name as Sandor in his book Hollywood Eden, which chronicles the early L.A. rock scene), he attended University High School (a.k.a. Uni High) in Los Angeles, a school also attended by future recording star Nancy Sinatra and the duo of Jan Berry and Dean Torrence, who would become famous as Jan and Dean.
Inspired at first by jazz drummers Gene Krupa and Cozy Cole, Nelson—initially billed as Sammy Nelson—quickly found work as a session drummer in the L.A. studios. He became a member of the Renegades, a band featuring future Beach Boy Bruce Johnston and others who would become local mainstays, and cut the single "Geronimo," produced by Kim Fowley.
In 1959, during a break on a session, Nelson and other musicians came up with the instrumental that they would call "Teen Beat." Released on the Original Sound label, it shot up to #4 nationally in Billboard. The drummer then signed with Imperial, home to Fats Domino and Ricky Nelson, and recorded "Let There Be Drums," which rose to #6. The same-titled album also reached that position.
Related: 15 cool rock instrumentals
In 1962, Nelson's final top 40 entry, "Drums Are My Beat," made it to #29 and was followed by a remarkable seven more charting singles that year alone. During this period, Nelson recorded no fewer than eight albums during an 18-month period, while also keeping busy with session dates during this period.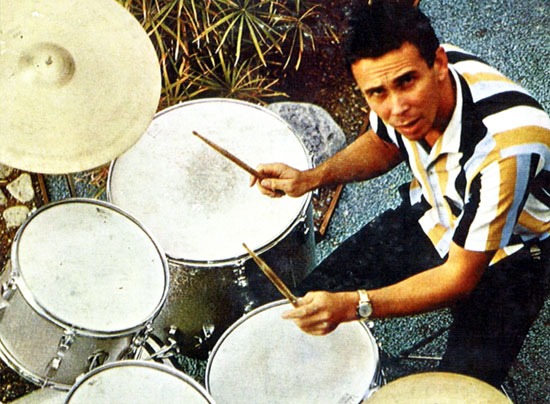 Although his 1963 accident required a lengthy hospital stay and painful rehab, and he now wore prosthetics, Nelson vowed to continue working as a musician, and he built a home studio, where he recorded "Teen Beat '65," which just missed the top 40 in late 1964. In addition to drums, Nelson learned how to play piano and other instruments.
Although he no longer reached the charts with his music, Nelson continued to play drums into the current century. According to Wikipedia, he recorded an album titled Nelsonized in 2008. Nelson has been cited as an influence by Keith Moon and other rock drummers who dominated rock after he made his pioneering contributions.
Watch Sandy Nelson play the drums in 1965 and 2015
Related: Musicians we lost in 2022

Latest posts by Jeff Tamarkin
(see all)