Deaths of Older Rock Legends Continue to Shake Us
by Jim Sullivan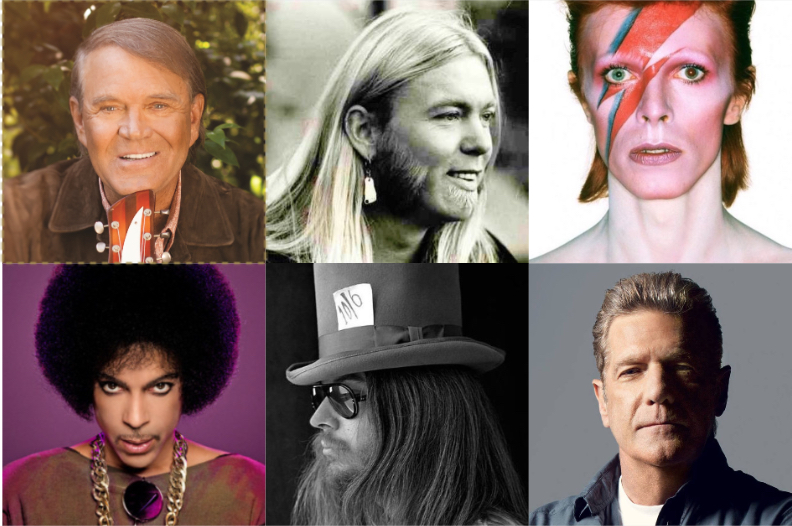 Rock 'n' roll laughs at death. Rock 'n' roll likes waving the skull and crossbones flag. Rock 'n' roll runs with the devil and shoots death the middle finger.
And yet, of late, the grim reaper keeps calling. A little more frequently and disturbingly for those of us who are boomers and fans of classic rock acts. We've been hearing this a lot recently: that 67 – or 69 or 70 – is the new 27, the latter being that fabled premature age for young sets of rock 'n' rollers to perish at, the so-called "27 Club" Amy Winehouse so wished to avoid….
You know the starting lineup: Brian Jones, Jimi Hendrix, Janis Joplin, Jim Morrison, Kurt Cobain and, of course, Winehouse.
In just 2016, we lost such greats as David Bowie, the Eagles' Glenn Frey, Jefferson Airplane's Paul Kantner, Keith Emerson and Greg Lake of Emerson, Lake & Palmer. Earth, Wind & Fire's Maurice White. Leonard Cohen. George Michael at just 53. Leon Russell. And Prince at just 57.
Related: 2016 in Review… Saying farewell to so many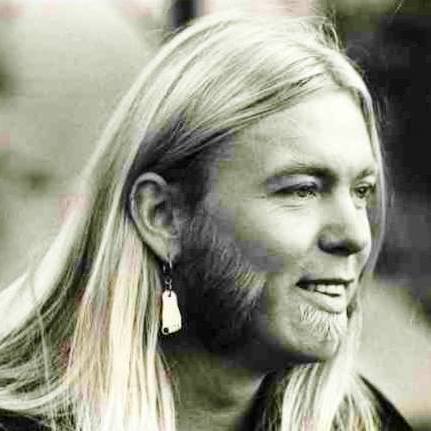 We thought it wouldn't continue so quickly in 2017. We thought wrong. Chuck Berry. Gregg Allman. Butch Trucks. Glen Campbell. Walter Becker. Al Jarreau. John Wetton. Tom Petty. Those are just some of the bigger names, and you're forgiven if you've already forgotten that some of them had passed.
A wave of deaths of older rock legends. One that we can only expect to increase in frequency as the classic rock music generation matures.
Social media death alerts spread like wildfire. Many of us have seen the Facebook posts that begin with: "They're dropping like flies." That's flip black humor, but that's what we sometimes resort to, a kneejerk reaction. Bowie's longtime producer, Tony Visconti, spotting that comment, responded on Facebook by calling those people "nitwits" and rather thought the rockers were "dying like heroes."
If you're a new Best Classic Bands reader, we'd be grateful if you would Like our Facebook page and/or bookmark our Home page.
2015 was the first year that millennials out-numbered baby boomers in the general population. But what's gone down lately has given boomers a kick upside the head. Death surrounds us.
The rockers who died at 27 all died, in part, as the result of youthful misadventure. The rock 'n' roll lifestyle, if you will. Dice rolled, gamble lost.
The latest crop to exit Planet Earth? They're in our demographic – or one generation up – and they're dying if not young-ish than at least younger than we'd hoped. Because rock 'n' roll did exude an implied promise of eternal youthfulness.
We knew that was nonsense, but like Bob Dylan singing "Forever Young," that's what we hoped against hope for.
You can't help but speculate that in some way years of substance abuse may have caught up with them. No overdoses, but perhaps slow internal damage. Bowie had been clean for years, but was once a huge cocaine abuser; same with Frey, who admitted as much and its effects on his long-term wellness when the Eagles were forced to postpone their 2015 Kennedy Center Honors ceremony. Lemmy only tamped down his intake of speed and booze slightly as the end neared… which is what we expected of him.
If you want to look back a bit, consider all four of the original Ramones: Joey dead at 49, Dee Dee dead at 50, Johnny dead at 55 and Tommy, the last to pass, dead at 65.
Whatever the ultimate cause of death, you have to figure these lives were lived to the max and not always with thoughts of longevity. The philosophy of live fast/die young and hope-I-die-before-I-get-old serves the id, the needs of the cocky, prideful youth. A kid can barely imagine life past 40, 50 or 60. Then, as you hit those marks – pick the one you're staring up at – you start thinking, "This age thing, it ain't so bad. What more is out there?"
Some years ago, I was interviewing Bowie and he was talking about his time in drug hell, dealing with paranoia and crippling self-doubt. "I think I'm actually glad to be alive," he said, adding that his present happiness may have to do with "surviving all that stuff and finding that actually getting older ain't such a bad thing, that really, I would be left with an appetite for life."
And when he was given the grim reality of his terminal cancer prognosis, Bowie the artist dove deep into the creative pool he knew and came up with the wrenching and achingly visceral Blackstar album. And the play Lazarus.
The topic of death may be anathema in today's pop world. But many rockers have considered it for years in song.
"Death is a topic a lot of people talk about," Iron Maiden guitarist Steve Harris told me about 25 years ago. "It's just something lyrically, the imagery. You can write interesting things about it."
Maiden, Metallica, Megadeth and virtually all heavy metal bands have at some point done so. As have Alice Cooper, Neil Young, Lou Reed, The Clash, Warren Zevon, and, of course, Bowie and Motörhead.
Zevon, who was 54 when he died, liked using a grinning skull with sunglasses and a cigarette image. He wrote a lot of death-related songs over the years, including one on his major-label debut album called 'I'll Sleep When I'm Dead."
When, many years ago, I asked Zevon his intent. Is it funny? He said, "Well, it is funny, but it's also not funny. Like it's not intended as a ridicule of Lynyrd Skynyrd – I don't think it's funny that rock bands get killed in plane crashes – but then the grim, crazy stuff is funny and the overall effect is scary. It's ambivalent."
After his cancer diagnosis, when he was essentially given a death sentence, he was on his old pal and benefactor David Letterman's show. Letterman gave him the whole hour for music and chat and that's where, when Letterman asked him what he might now know that we didn't, Zevon replied with his now famous, "Enjoy every sandwich."
Dave Davies of The Kinks played Boston in fall 2015. We talked after the set and, of course, I had to ask about a potential Kinks reunion and the status of the ongoing love/hate relationship between the brothers. He said there was a "fair" possibility and he and Ray would meet over Christmas. Indeed, the two did play together. Ray then joined Dave and his band for "You Really Got Me" on a London stage in December 2015.
After I'd asked Dave about the chances of a reunion, I said, "Well, if you're going to do it, you should do it soon. Because, you know, one day you won't be able to." He looked at me with his head cocked, a bit puzzled. I hemmed and said, "Well, I mean sooner or later, one of you will die and there goes the opportunity."
Dave winced. But he's a Monty Python fan as am I, and he laughed a bit ruefully, admitting the logic in it. His stroke in 2004 had nearly killed him. If one of the Davies brothers – Dave was born in 1947, Ray in '44 – was no longer with us, there would be no prospect of a Kinks reunion. Not even a remote one.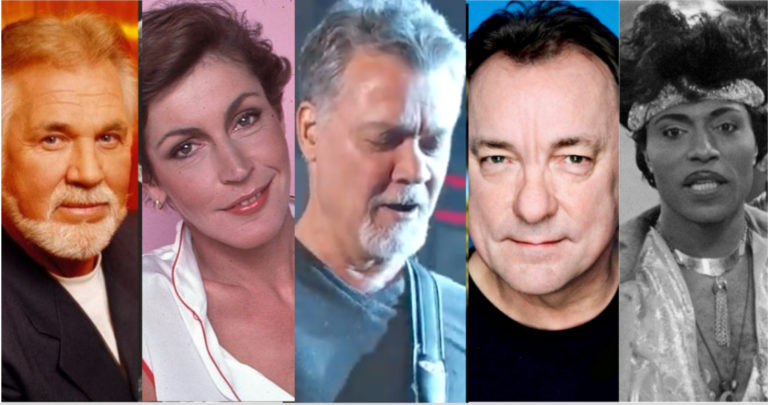 And then Dave and I had that little talk, the talk so many of us boomers often have. We remind each other to live in the moment because tomorrow is not guaranteed. We hug. We part ways.
Related: Musician deaths of 2020
Rock 'n' roll is forever young. But its players are not. Intrinsically we know that. But with the recent spate of deaths and sadly but surely more to come, we're getting more and more accustomed to that reality.
Related: Musicians who passed in 2021
Life is good. The end of life? Not so much.
Related: Musicians we've lost in 2022

Latest posts by Jim Sullivan
(see all)