Our obituary, as it appeared on October 2, 2017.
When Tom Petty and the Heartbreakers first came onto the music scene in 1976, with their self-titled debut album, fans didn't know quite what to make of them. To older rock aficionados, they were something of a throwback to bands like the Byrds, applying an aggressive '70s sensibility to the jingle-jangle of folk-rock. To the younger generation, they were a bigger mystery: The Floridians didn't conform to the mainstream sound that was dominating FM radio at the time, they sure weren't prog and they had little in common with the new punk-rock that was beginning to emerge. They were from the South but had nothing in common with the "Southern Rock" of the Allmans or Lynyrd Skynyrd.
That debut album received mostly positive reviews but it took months to catch on with radio and, ultimately, record buyers. It finally inched up the Billboard charts in the fall of 1977, nearly a year after its release, peaking at #55. Only one single from the album, "Breakdown," found its way to that chart, topping out at #40. Even "American Girl," now considered a rock classic, never resonated with Top 40 programmers.
But Petty—who died today (October 2, 2017) in Santa Monica, Calif., at age 66, after suffering cardiac arrest, just one week after completing a celebratory 40th anniversary tour—was nothing if not resilient. Petty's death was announced by his longtime manager Tony Dimitriades and reported by the Associated Press, CNN, the Los Angeles Times and others.
"On behalf of the Tom Petty family, we are devastated to announce the untimely death of our father, husband, brother, leader and friend, Tom Petty.
"He suffered cardiac arrest at his home in Malibu in the early hours of this morning and was taken to UCLA Medical Center but could not be revived. He died peacefully at 8:40PM PST surrounded by family, his bandmates, and friends."
–Tony Dimitriades, longtime manager of Tom Petty & The Heartbreakers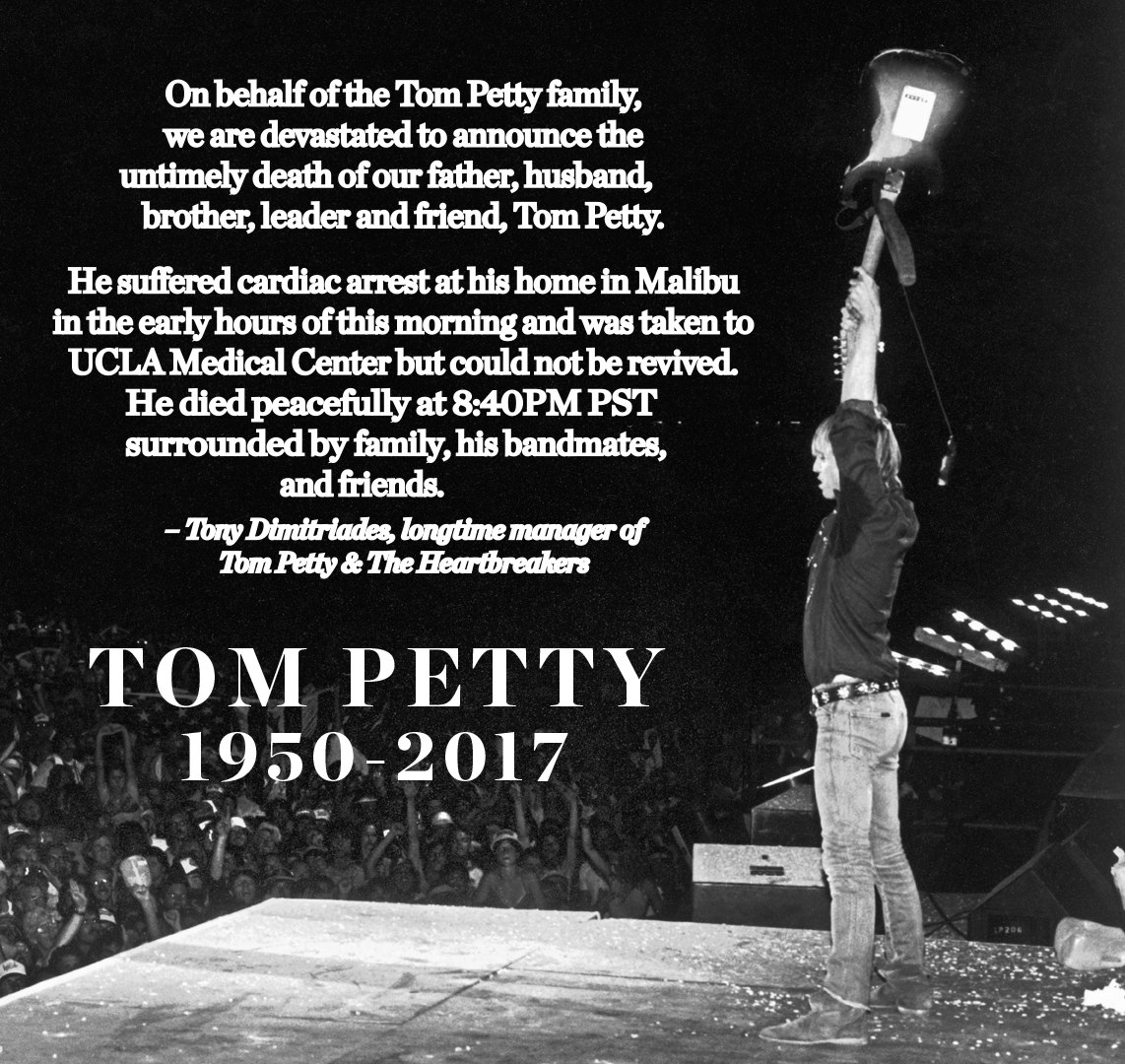 With each passing album Petty's strengths as a songwriter and performer grew, and by the time the group released its third album, Damn the Torpedoes, in late 1979, they were ready for prime time. The album (which followed 1978's You're Gonna Get It!) went to #2, with "Don't Do Me Like That" becoming the band's first top 10 single.
From that point on, Tom Petty claimed the status of American rock legend.
Related: Read our review of the band's final tour
In Tom Petty and the Heartbreakers, and also in Petty's solo work, fans found something honest and uncompromising. Like any band, they had their ups and downs, but it was mostly ups—when you went to see them in concert, you were guaranteed a real rock concert by consummate, virtuosic professionals: not virtuosic in the sense that they were whiz-bang show-offs but, rather, that every member of the band contributed integrally to the whole. Tom Petty was a rock star who didn't need to act like one—he let the music speak for itself.
Watch the final song, fittingly, of the final Tom Petty and the Heartbreakers' final concert on Sept. 25, 2017, at the Hollywood Bowl
Thomas Earl Petty was born in Gainesville, Fla., on Oct. 20, 1950. Like so many of the baby boom generation, he immersed himself in rock 'n' roll at an early age. At age 10, he met Elvis Presley when an uncle who was working on the set of one of the King's films invited young Tom to watch a shoot. But, like countless others, it was seeing the Beatles on The Ed Sullivan Show that convinced the young Petty that he was cut out to make music himself.
His first band was called the Epics, which later became Mudcrutch. Although they were never popular on the national stage, the band—which included future Heartbreakers Benmont Tench on keyboards and Mike Campbell on guitar—fared well in Florida. When Mudcrutch split, Petty, Campbell and Tench, along with bassist Ron Blair and drummer Stan Lynch, formed Tom Petty and the Heartbreakers.
Signed in the U.S. to Shelter Records, they recorded their first album in Hollywood with Denny Cordell serving as producer. With each passing year, Petty and the band refined and evolved, ultimately building a reputation as one of the great working American rock bands of all time. Their top 10 albums included Hard Promises (1981), Long After Dark (1982), Southern Accents (1985), Echo (1999) and The Last DJ (2002).
On his own, Petty placed the solo albums Full Moon Fever (1989), Wildflowers (1994) and Highway Companion (2006) into the top 10.
Among the more than 25 hit singles attributed to Petty and the band, the biggest-seller was "Free Fallin'," released in late 1989. The band's membership underwent a few significant changes during its four-decade run: Blair left in 1982, was replaced by Howie Epstein for 20 years, then rejoined in 2002. (Epstein died in 2003.) Lynch left in 1994 and was replaced by Average White Band alum Steve Ferrone on drums. Scott Thurston joined on rhythm guitar in 1991.
There were—as with any band—problems along the way, including legal disputes with MCA Records, which had bought Shelter. But through it all, Petty kept creating solid new music. In 1981, the band accompanied Stevie Nicks on her #3 single, "Stop Draggin' My Heart Around," and five years later they teamed again on a cover of the Searchers' hit "Needles and Pins," which became a top 40 single.
In 1988, and then again in 1990, Petty—along with Bob Dylan, George Harrison, Roy Orbison and Jeff Lynne—cut a pair of albums under the name the Traveling Wilburys; the first, Vol. 1 (which won the Album of the Year Grammy), reached #3 and the followup #11.
In 1985, Tom Petty and the Heartbreakers participated in the internationally broadcast Live Aid concert. In 1986, the group toured as the backing band for Bob Dylan. In 2002, the band played at Concert for George honoring George Harrison, who had died the previous year. In 2008, they headlined the Super Bowl halftime show.
In 2002, Tom Petty and the Heartbreakers were inducted into the Rock and Roll Hall of Fame.
The most recent album release by the full band (which switched to Warner Bros. Records in the '90s and then sister label Reprise) was 2014's Hypnotic Eye.
In 2007, Petty reassembled Mudcrutch for their first-ever album and toured in California. In 2016 they released a followup and embarked on their first national tour. That album hit #10 in Billboard.
Related: Our review of Mudcrutch live in NYC
More recently, Petty produced the 2017 album, Bidin' My Time, by original Byrds member Chris Hillman.
Tom Petty and the Heartbreakers had completed their 40th anniversary tour just a week before Petty's death, performing three nights at the Hollywood Bowl.
Watch Tom Petty and the Heartbreakers' video for "Refugee"
Related: Tom Petty, a rock and roll star

Latest posts by Jeff Tamarkin
(see all)