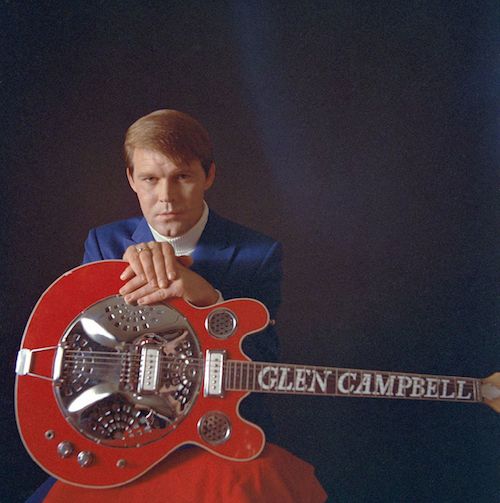 Few musical artists disproved F. Scott Fitzgerald's maxim about no second acts in American lives as heartily as Glen Campbell, who died August 8, 2017, in Nashville following a long battle with Alzheimer's disease. Campbell was 81.
His family issued the following statement:
"It is with the heaviest of hearts that we announce the passing of our beloved husband, father, grandfather, and legendary singer and guitarist, at the age of 81, following his long and courageous battle with Alzheimer's disease.
"Glen is survived by his wife, Kim Campbell of Nashville, TN; their three children, Cal, Shannon and Ashley; his children from previous marriages, Debby, Kelli, Travis, Kane, and Dillon; ten grandchildren, great- and great-great-grandchildren; sisters Barbara, Sandra, and Jane; and brothers John Wallace "Shorty" and Gerald.
"In lieu of flowers, donations can be made to the Glen Campbell Memorial Fund at BrightFocus Foundation through the CareLiving.org donation page.
"The family appreciates your prayers and respect for their privacy at this time."
Our Glen Campbell obituary: Born on April 22, 1936, in the small town of Billstown, Ark., he lifted himself out of his dirt poor sharecropper origins with his talent as a guitarist to become a player in the Los Angeles Wrecking Crew cadre of studio musicians and with bands like the Beach Boys and The Champs in the mid-1960s.
As a session man, he'd played on several of the Beach Boys' hit singles including "Fun, Fun, Fun," "I Get Around" and "Dance, Dance, Dance" (as well as on other surf and hot-rod hits by Jan and Dean, the Hondells, the Rip Chords and others). He always spoke of them fondly, and liked to pay tribute to the band.
He later forged a singing and recording career from the late 1960s into the '70s with mass-market multi-genre pop appeal through a string of Top 10 and #1 songs, and found success on television and acting in movies. He conquered a reputation for excessive drinking and cocaine abuse to become an icon for sobriety and career revival, and garnered widespread respect as a musical elder statesman. His final act in recent years was to help call attention to the heartbreak and mysteries of Alzheimer's.
Almost one year to the day of his death, Campbell's headstone was placed on his grave site in Delight, Ark.
Glen's headstone was placed at the Campbell family cemetery in Delight, AR earlier today. Family members were in attendance & sang "Amazing Grace" to close out this final chapter in Glen's extraordinary life. We thank the fans for your patience, understanding & prayers. pic.twitter.com/jXiLyEv0Ny

— Glen Campbell (@GlenCampbell) August 1, 2018
As his bio on Campbell's website rightly noted, "Glen Campbell's musical and entertainment lifetime, covering over five decades, is unmatched for its prolific breadth, popular appeal – and flat-out musical accomplishment and achievement." Such indelible hit songs as "Gentle on My Mind," the trio of hits written by Jimmy Webb–"By the Time I Get to Phoenix," "Wichita Lineman," "Galveston"–plus "Rhinestone Cowboy" and "Southern Nights" – sung with palpable feeling in his rich, clear and fluid tenor voice – are cultural bench stones that forged country crossover as well as vice-versa. He released more than 70 albums in all.
Related: Jimmy Webb talked to us about Glen Campbell
Watch Campbell sing "Rhinestone Cowboy"
His stats as a singing star are mightily impressive: 29 songs made the Top 10 and nine that reached #1 on either the country, Hot 100 pop or adult contemporary charts. He sold some 45 million records and earned 12 RIAA gold albums, four platinum albums and one double-platinum sales award. He won 10 Grammy Awards, numerous Country Music Association, Academy of Country Music and other industry awards, and was inducted into the Country Music Hall of Fame in 2005.
Related: Glen Campbell's variety show debuts, 1969
Although Campbell's accomplishments as a studio player were less known, he was an integral part of many of Phil Spector's "Wall of Sound" sessions. He can be heard on Frank Sinatra's "Strangers in the Night," the Righteous Brothers' "You've Lost That Lovin' Feeling" and the Monkees' "I'm a Believer," not to mention hits by Elvis Presley, Bobby Darin, Lou Rawls, Ricky Nelson, Merle Haggard and countless others.
Related: Campbell's early session career recalled
His star shone across the range of media as he hosted the CBS-TV variety series The Glen Campbell Goodtime Hour from 1969 to '72, and was chosen by John Wayne to star in the 1969 movie True Grit (and sung its Oscar and Golden Globe nominated theme song). He also appeared in a number of other films and was a frequent presence on TV throughout the '70s into the '80s as a guest, performer and host.
Campbell was married four times and also had a high-profile and tempestuous relationship with fellow singing star Tanya Tucker in the mid-to-late 1970s. He was survived by five sons and three daughters.
Campbell enjoyed the esteem of many of his fellow artists over his career. A late-in-life career revival came with his 2008 album Meet Glen Campbell on which he covered songs by such contemporary acts as Green Day, U2, Tom Petty and the Heartbreakers, Jackson Browne and Foo Fighters.
Related: 13 times when Campbell rocked
Campbell announced his diagnosis with Alzheimer's in 2011 and subsequently embarked on a lengthy farewell tour during which its effects were evident even as he sang and played guitar with his lifelong brilliance. A 2014 documentary, Glen Campbell: I'll Be Me, showed his struggle with the disease. He released his final album, appropriately titled Adios, in 2017.
Watch Glen Campbell perform "Gentle On My Mind"

Latest posts by Best Classic Bands Staff
(see all)