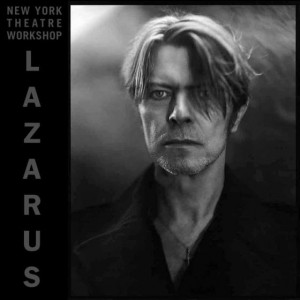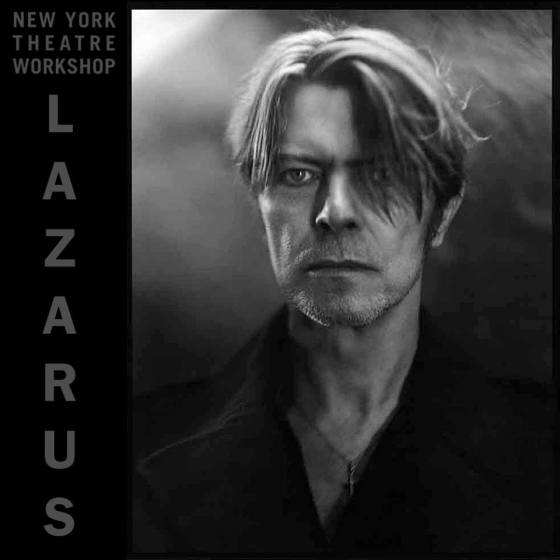 Update 1/20): Bowie's Facebook page notes that NYC Mayor Bill de Blasio has proclaimed today David Bowie Day.  (We love the casual (unintentional?) use of "Bill" instead of William, as the Mayor prefers.  The full announcement: "Also, it was announced today that New York City Mayor Bill de Blasio has proclaimed today, January 20, 2016 in the City of New York as David Bowie Day. The proclamation will be read tonight at the curtain call of the final performance of the sold-out run of Lazarus, the New York Theater Workshop production conceived and co-created by Bowie."
Update (12/8): Ben Brantley of The New York Times writes that the show is "great-sounding, great-looking and mind-numbing," creating "a haunting impression of dividedness, of life as a perplexing jumble of puzzle pieces that can never be fully assembled."
Update (11/18): Although the entire run quickly sold-out, the New York Theatre Workshop has announced that a limited number of last-minute tickets will occasionally be made available. Those interested should check the NYTW website or follow them on Twitter (@NYTW79) for updates.
One of the most anticipated musical projects of the fall season has also been one of the most closely guarded – a new collaboration between David Bowie and Tony Award-winning Irish playwright Enda Walsh, called Lazarus. Folks involved in its production are shying away from calling it a musical, but since when does anything that Bowie makes not defy genres or expectations?
"It's going to be a play with characters and songs – I'm calling it music theatre, but I don't really know what it's going to be like," New York Theatre Workshop (NYTW) artistic director James Nicola told The New York Times. The Off Broadway NYTW, home of Once and Rent, is helping to develop and stage the project, which begins performances on Wednesday, November 18th, and officially opens on December 7th. It's already become the fastest selling show that they've produced in 36 years and its brief initial run is completely sold-out.
People close to the project continue to remain tight-lipped, but we do know that the show is essentially a sequel to The Man Who Fell to Earth, the 1963 novel that inspired the 1976 film of the same name, starring Bowie as an extraterrestrial seeking water to save his home planet.
"Lazarus focuses on Newton as he remains on Earth, a man unable to die, his head soaked in cheap gin and haunted by a past love," Belgian director Ivo van Hove said in a recent interview with The New York Times, keeping staunchly to his notes. "We follow Newton through the course of a few days where the arrival of another lost soul might set him free. That's the best I can do."
Lazarus is the culmination of Bowie's longtime desire to write music for the theater, and a sneak peek of a rehearsal for the show reveals many of the same themes featured in the film and novel – alienation, disorientation, sexuality and the corruptions of earthly life. "You don't know what you're watching for about 40 minutes or so," the director warns, but he insists that audiences will be able to follow along on "an emotional level." He also teases that the show will have "a sad and shocking ending."
As for Bowie's new songs he's written for the show, van Hove told the BBC, "Some of the songs sound as if you have heard them forever – like classics… There are romantic songs – because his songs are deeply romantic – and there are songs about violence and the ugly world surrounding us. That's what these new songs are about."
The director adds that older Bowie songs are getting "a new skin."
Meanwhile, co-writer Walsh enthuses that the material for the show is definitely her territory, "a mixture of romance and itchy violence." She adds, "I understand that isolated, lonely, broken, unstable sort of character."
Michael C. Hall of Dexter and Six Feet Under fame has been cast as the protagonist Thomas Newton. He'll be joined by Tony nominee Cristin Milioti and Michael Esper (The Last Ship).
It's been a busy past few years for the man known as Ziggy Stardust. His decade-long public creative hiatus ended with a new album in 2013, The Next Day, and he's already set to release another, Blackstar, on January 8th of next year.

Latest posts by Best Classic Bands Staff
(see all)