13 Classic Triple Albums: When Rockers Expanded the Limits
by Mark Leviton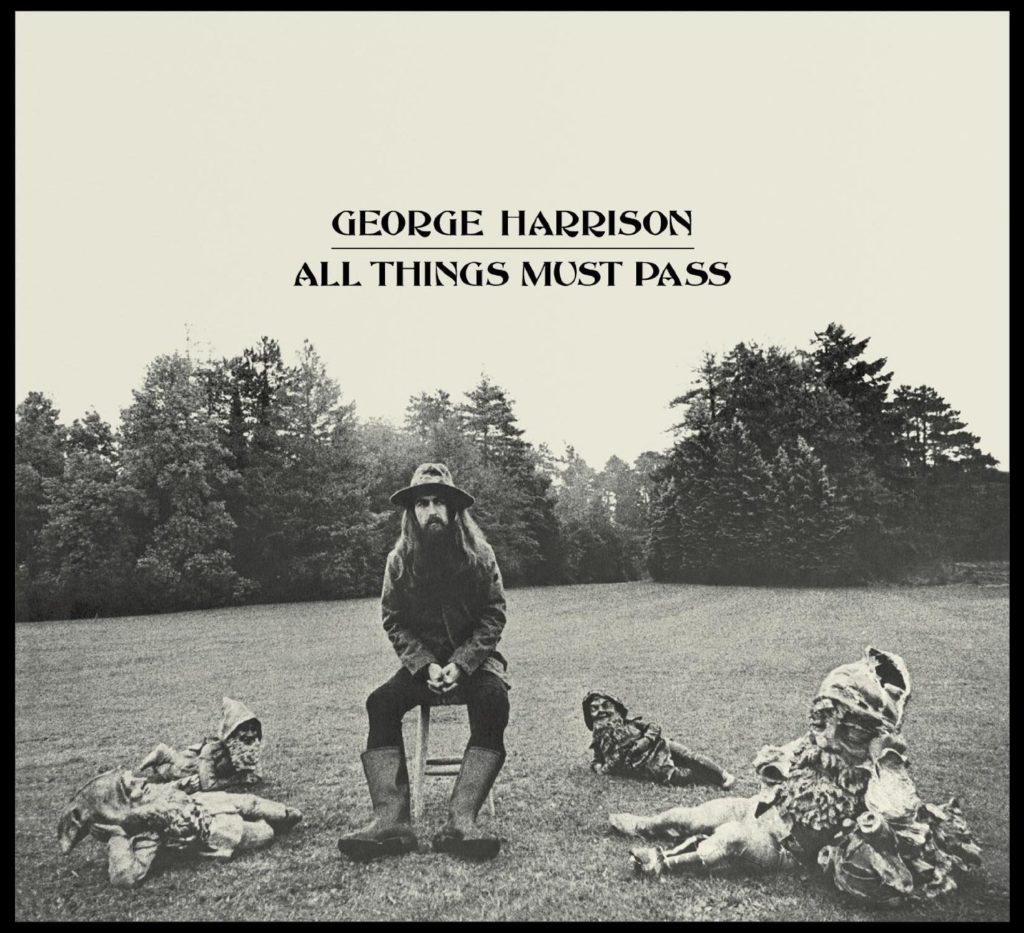 When the double LP was established as a commercial and prestigious item in the 1960s, with titles like The Beatles' White Album, Dylan's Blonde on Blonde and Cream's Wheels of Fire selling millions, it was probably inevitable that the triple LP would follow. Classical record labels had marketed boxed sets with three or more vinyl discs for decades, but it took the ascent of progressive-rock acts like Yes and ELP, and improvising bands like the Grateful Dead and Led Zeppelin, to create the market for marathon live concerts and six-sided album sets. If you were looking for more gravitas, it seemed, longer was better.
As a business proposition, pricing and packaging became an issue. George Harrison's All Things Must Pass offered its three discs in a conventional, and expensive to fabricate, heavy-cardboard box on the classical model. The invention and adoption of the cheaper triple-gatefold LP sleeve brought additional inserts, such as custom inner sleeves, lyric sheets and posters, often executed by star illustrators like Britain's Roger Dean and the Hipgnosis design firm. Some musicians accepted royalty reductions (through contractual "packaging deductions") to avoid passing on extra costs to their fans, or insisted on three-discs-for-the-price-of-two pricing. In any case, it became distressingly clear to record store clerks and consumers in the 1970s that tightly shrink-wrapping a triple-gatefold sleeve tended to warp the vinyl inside; at times it was difficult to find a triple that didn't have to be returned to the store/label for a full set of playable discs.
Related: Our feature on the best classic rock studio double albums
The vogue for triples faded as critics heaped on adjectives like "pretentious" and "bloated" and consumers tired of hearing yet another 10-minute drum or bass solo, or a stretched-out 15-minute version of what used to be a three-minute single. Although punk rockers pretty much eschewed soloing at all, when the Clash followed a double album with a triple album in 1979-80, that just about killed the rock triple album off—although it is resurrected from time to time on Record Store Day, when albums from the CD era show up as multi-disc vinyl often for the first time.
George Harrison—All Things Must Pass (Apple, 1970)
During the final Beatles recording sessions that yielded the Let It Be film/album and Abbey Road, George Harrison tried, as usual, to get his songs noticed by Lennon and McCartney. "Here Comes the Sun," "I Me Mine" and "Something" were among those placed, but several excellent tunes that ended up on Harrison's first post-Fabs album, including the title track and "Isn't It a Pity," were Beatles rejects. Co-produced by Phil Spector, the album is full of grand gestures, both light and spiritual ("My Sweet Lord," "Beware of Darkness") and hard-rocking ("Wah Wah," "What is Life"). Harrison's exceptional slide guitar is often in the foreground, but he calls on a huge cast of helpers (Eric Clapton, Billy Preston, Gary Brooker, Ringo Starr, Gary Wright, Dave Mason, members of Badfinger, etc.). Strangely, a very strong double album was bumped to three discs with the inclusion of "Apple Jam," an inconsequential series of studio noodling that pretty much everyone who bought it ignored after one listen.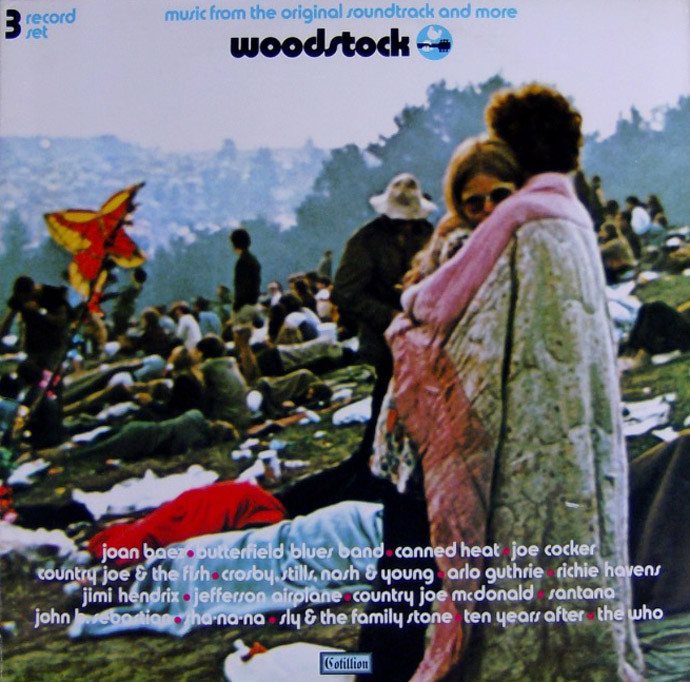 Various Artists—Woodstock: Music From the Original Soundtrack and More (Cotillion, 1970)
There's no doubt that without the feature film and companion soundtrack album, the Woodstock festival of August 1969 would have had much less impact on American musical and social culture, not to mention the financial impact on new acts that rapidly attained superstardom through the massive exposure. Some acts in the film and three-LP soundtrack were already big stars, but got an additional boost (the Who, Jimi Hendrix, Jefferson Airplane), but it's generally agreed that Santana (with "Soul Sacrifice" before they even released it on their debut album), Sly and the Family Stone (a medley concluding with a rousing "I Want to Take You Higher"), Sha Na Na (a retro change of pace that worked well on screen) and Ten Years After (with an incendiary "I'm Going Home") benefitted the most, given their relatively obscure status at the time. John Sebastian, who wasn't even scheduled to play, became a hippie icon, and Arlo Guthrie, also clearly high as a kite, likewise became famous for his stage banter. A second volume was released by Cotillion in 1971. It wasn't until 2019 that the full festival recordings, exactly as the audience heard the music and including lengthy stage announcements, were released by Rhino in a limited edition 38-CD boxed set.
The Nitty Gritty Dirt Band—Will The Circle Be Unbroken (United Artists, 1972)
By the time Southern California folk-country-rock hybrid the Nitty Gritty Dirt Band entered Nashville's Woodland Studios in 1971 to record their seventh album, they had already scored several hits on the pop charts, including a sweet version of Jerry Jeff Walker's "Mr. Bojangles" the previous year. They now intended to pay homage to the pioneers of country and bluegrass music, hoping to preserve on tape a week of freewheeling, fun "picking sessions" with some of their idols. The mix of musically and politically conservative Grand Ole Opry royalty (Roy Acuff, Maybelle Carter, Merle Travis, Jimmy Martin) and long-haired, dope-smoking West Coast hippies could have been a disaster but for the diplomatic and collaborative musical skills of NGDB's banjo picker and resident music scholar John McEuen, vocalist/guitarist Jeff Hanna and their fellow Dirt Band members. Banjo virtuoso Earl Scruggs, encouraged by his son Randy, dove right in, as did fingerpicking wizard Doc Watson and fiddler Vassar Clements. Unusually, the band included impromptu studio dialog for a documentary feel, as the musicians work out arrangements, reminisce and joke with each other (the album consists entirely of first or second takes). WTCBU revitalized the country-rock scene and made some very old music cool again.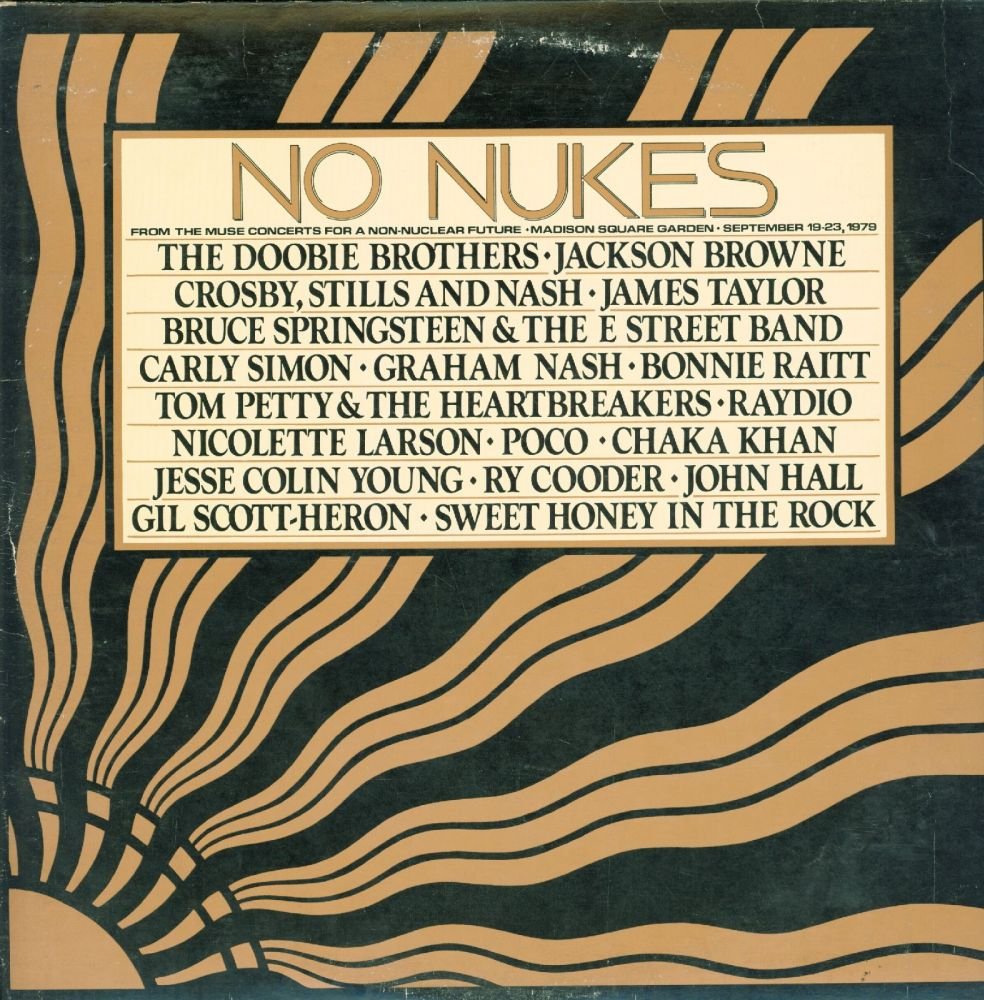 Various Artists—No Nukes: The MUSE Concerts for a Non-Nuclear Future (Asylum, 1979)
John Hall's band Orleans had scored several soft-rock pop hits by the time his political activism led him to co-found Musicians United for Safe Energy, in the wake of the Three Mile Island nuclear accident in March 1979. Hall become a prime organizer of the five-night Sept. 1979 Madison Square Garden concerts that were filmed for theatrical release and triple-LP "live" package. Hall and his wife Johanna performed two bespoke protest songs written to promote MUSE, "Plutonium is Forever" and "Power." The album also featured the first legal release of live performances by Bruce Springsteen and the E Street Band ("Detroit Medley" and a version of "Stay" with Jackson Browne and Rosemary Butler guesting). The whole concert line-up was impressive, with Bonnie Raitt, James Taylor, CSN, Carly Simon, Gil Scott-Heron, the Doobie Brothers, Ry Cooder and Tom Petty among the participants.
Santana—Lotus (Columbia, 1973)
In 1972 guitarist Carlos Santana, increasingly influenced by the jazz-fusion experiments of Miles Davis and the highly spiritual excursions of John Coltrane, reconfigured his band to give him what he wanted for the recording of his fourth album, Caravanserai. After he dumped the very successful Woodstock-era lineup that had produced three million-selling LPs and several hit singles (retaining only star drummer Michael Shrieve), Clive Davis, the head of his label, Columbia, told Carlos he was "committing career suicide" by focusing on uncommercial, mostly instrumental, improvised music. After Caravanserai and its follow-up Welcome underperformed in sales, Santana responded by recording the triple LP Lotus in Osaka, Japan, in July 1973, showcasing the new band's jazz-rock chops. It didn't even get an American release at the time. The beautifully packaged set featured Santana favorites like "Black Magic Woman," "Oye Como Va" and "Gypsy Queen," but the main focus was on extended workouts on newer material like "Every Step of the Way" and Shrieve's 10-minute drum feature "Kyoto." A track from Santana's second album, Abraxas, "Incident at Neshabur," now over 17 minutes long, took up an entire LP side.
Related: Our interview with Santana's Michael Shrieve
Grateful Dead—Europe '72 (Warner Bros., 1972)
The Grateful Dead famously drove their label Warner Bros. crazy during the recording of their first three studio albums, threatening to dose label executives with LSD, driving seasoned recording engineers to quit and disdaining anything that might look too much like promotion, marketing or common sense. Their fourth album was Live/Dead, their first real success, proving to some that they were never going to be cut out for the recording studio. They promptly proved those voices wrong with one of the greatest one-two punches of 1970 or any year, Workingman's Dead and American Beauty, which got them on the radio bigtime and even spawned (gasp!) successful 45 rpm singles. The usual turmoil continued. Nonetheless, with original keyboardist/vocalist Ron "Pigpen" McKernan in ill health, drummer Mickey Hart gone and keyboardist Keith and vocalist Donna Jean Godchaux joining up, the band decided to decamp to Europe. The spring 1972 shows were spectacular, featuring the temporarily resurgent Pigpen (he died March 8, 1973), the debut of instant classics like "Jack Straw" and "Brown-Eyed Women," and versions of "He's Gone," "Tennessee Jed," "Ramble On Rose" and "Morning Dew" that Deadheads are still talking about. In 2011 Rhino issued all of the recordings, 22 shows in a 73-CD box.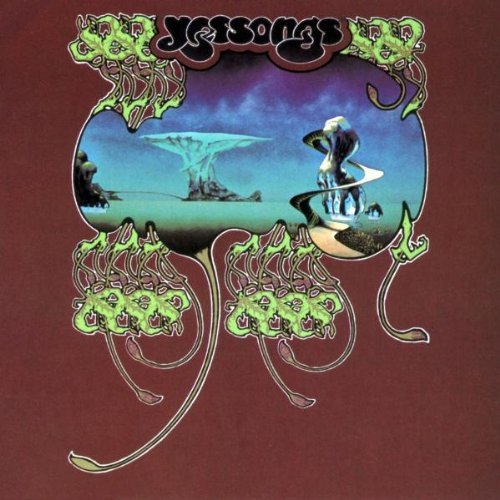 Yes—Yessongs (Atlantic, 1973)
Recorded during the Feb.-Dec. 1972 tours for Fragile and Close to the Edge by ace engineer Eddie Offord, this triple live album received equal parts praise from fans and derision from critics upon release. Three tracks feature Bill Bruford on drums, the rest his replacement Alan White. Guitarist Steve Howe, bassist Chris Squire, and the drummers are given ample time to solo on tracks like "Siberian Khatru," "Perpetual Change" and the 18-minute "Close to the Edge," but it is new keyboardist Rick Wakeman who signals the future most vividly with a chunk of his new solo album called "Excerpts from 'The Six Wives of Henry XVIII'." Yes' follow-up studio double-album, Tales from Topographic Oceans (also 1973), contains four side-long pieces conceived by vocalist Jon Anderson, inspired by Autobiography of a Yogi. Wakeman thought the album was overblown, and barely contributed, drifting away from Yes to do a series of concept albums based on Jules Verne, the legends of King Arthur, etc., that for some critics easily topped Yes in the pretension sweepstakes. In 2015, all seven shows used as sources for Yessongs were released in their entirety as Progeny: Seven Shows from Seventy-Two.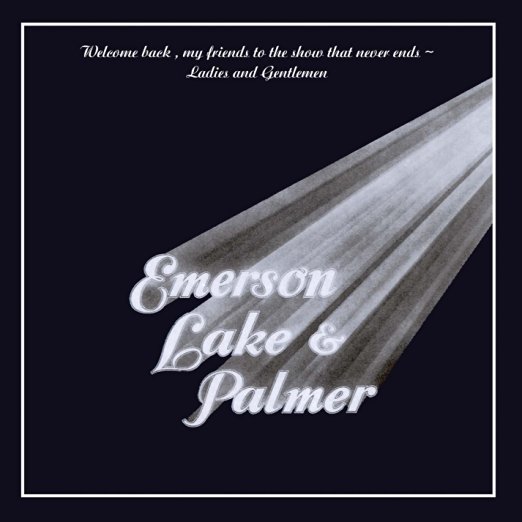 Emerson, Lake & Palmer—Welcome Back, My Friends, to the Show That Never Ends (Manticore, 1974)
The second live ELP album (after Pictures at an Exhibition) was recorded in February 1974 at the Anaheim Convention Center on the Wally Heider 24-track mobile unit. The program begins with a trio of performances from classical repertoire, Keith Emerson's usual way of signaling serious intent: reimagined versions of Aaron Copland's "Hoedown," Alberto Ginastera's "Toccata" and Charles Parry's setting of William Blake's poem "Jerusalem." The setlist continues with extended performances of almost the entire smash Brain Salad Surgery album, the half-hour "Tarkus" suite (with Greg Lake's King Crimson co-write "Epitaph" inserted), and a medley of "Take a Pebble/Lucky Man" from their debut LP. Many praised the album for presenting what was played on the night, without the post-show editing and overdubbing that had become ubiquitous for most live albums of the period. ELP fans drove it to become their highest U.S. chart position to date (#4 in Billboard), but over time it became the target for anti-prog-rock forces who argued that even if the raw musicianship was topnotch, it was applied to material that was overblown, faux classical and just plain exhausting to hear.
Frank Zappa—Shut Up'n Play Yer Guitar (Barking Pumpkin, 1981)
During his 30-year recording and performing career, the idiosyncratic and iconoclastic genius Frank Zappa obsessively collected an enormous archive of his every musical project and live show, much of which is still being issued nearly 20 years after his 1993 death. This set was one of his most fascinating ideas, a careening compilation of several years' worth of instrumental compositions and improvised guitar solos, used in live performances to link more conventional songs. With the most sophisticated editing technology and digital tools, he was able to segue dozens of spontaneous performances into new "songs" with funny monikers like "The Deathless Horsie," "Canard du Jour" and "Pinocchio's Furniture," and then give the whole thing an epically amusing title. Zappa had long been recognized as a spectacular soloist, with the ability to be biting and aggressive ("Trouble Every Day" from Freak Out!) or jazzy and subtle ("Peaches en Regalia" from Hot Rats), but this was a real treat for fans of his playing—two hours of nothing but guitar brilliance, cut after cut. He is funky ("Heavy Duty Judy"), intense in an almost heavy metal vein ("Five Five Five," "Beat It With Your Fist"), or trancelike and bluesy ("Stucco Homes"). His guitar tone and harmonic ideas identify him as the creator within a bar or two, the kind of immediate recognition few guitarists achieve.
George Harrison & Friends—The Concert for Bangladesh (Apple, 1971)
This triple documents two benefit concerts held August 1, 1971, at Madison Square Garden. Organizer George Harrison appeared on a stage with fellow Beatle Ringo Starr for the first time since 1966, and Bob Dylan appeared in performance for the first time in five years. A huge onstage band, overseen by Harrison and Phil Spector, backs everyone up. There was no doubting the quality of the lengthy Harrison and Dylan performances captured, and Billy Preston ("That's the Way God Planned It"), Ringo ("It Don't Come Easy"), and Leon Russell ("Jumpin' Jack Flash/Youngblood") added oomph. Tom Wilkes' cover design, showing a malnourished child next to an empty bowl, evoked the crisis of the Bangladesh Liberation War, which had sparked Harrison's determination to raise money quickly, with the encouragement of his friend Ravi Shankar.
Related: A look back at the Bangladesh concert
The Clash—Sandinista! (Columbia, 1980)
With 36 tracks in a dazzling variety of styles, including reggae, rockabilly, rap and gospel, Sandinista! represents a career high for The Clash, even topping their previous triumph with London Calling. Following a double-album with a triple-album could be considered a dumb career move, and there were certainly some who dismissed Sandinista! as excessive without even hearing it. Their record company wasn't happy with the band's insistence on titling the set in praise of Nicaraguan revolutionaries, or their urging that it be sold for the price of a single disc (they made it a little easier and cheaper by packaging all three discs together in one sleeve, but the Clash still had to forgo substantial royalties to keep the price down). Mick Jones and Joe Strummer, recording off and on for most of 1980, ran the show with various guests and producers, some of whom complained about a lack of credit and/or songwriting royalties once the sprawling set came out at the very end of 1980. Bassist Paul Simonon and drummer Topper Headon were AWOL part of the time, but did each get a lead vocal turn on "The Crooked Beat" and "Ivan Meets G.I. Joe" respectively, and contributed elsewhere. Highlights include the energetic, cinematic opener "The Magnificent Seven," Strummer's bluntly political "Washington Bullets," Jones' insistent, creepy "Somebody Got Murdered," the spectacular version of Eddy Grant's "Police on My Back" and the dramatic, unusual arrangement of the 1950s-ish homage with a title stolen from Apocalypse Now, "Charlie Don't Surf."
The Band—The Last Waltz (Warner Bros.,1978)
As the soundtrack to the Martin Scorsese-directed film, the audio-only presentation perhaps pales once you've seen the visuals. The Band's farewell concert, to which they invited many special guests, including Bob Dylan, Van Morrison, Neil Diamond, Neil Young, Muddy Waters, Dr. John, Ronnie Hawkins, Joni Mitchell, Paul Butterfield, etc., was held at Winterland in San Francisco on Thanksgiving Day, 1976. Five sides of the LP set include the show; the sixth is a fairly dispensable "Last Waltz Suite" performed on an MGM soundstage by the Band with Emmylou Harris and Roebuck and Mavis Staples. Rick Danko's performances of "Stage Fright" and "It Makes No Difference" are scarily riveting, Levon's singing and drumming on "Up On Cripple Creek," "Ophelia" and "The Night They Drove Old Dixie Down" are primo, and the guests generally kill it, especially Waters and Morrison.
Related: An audience member reflects on the Last Waltz concert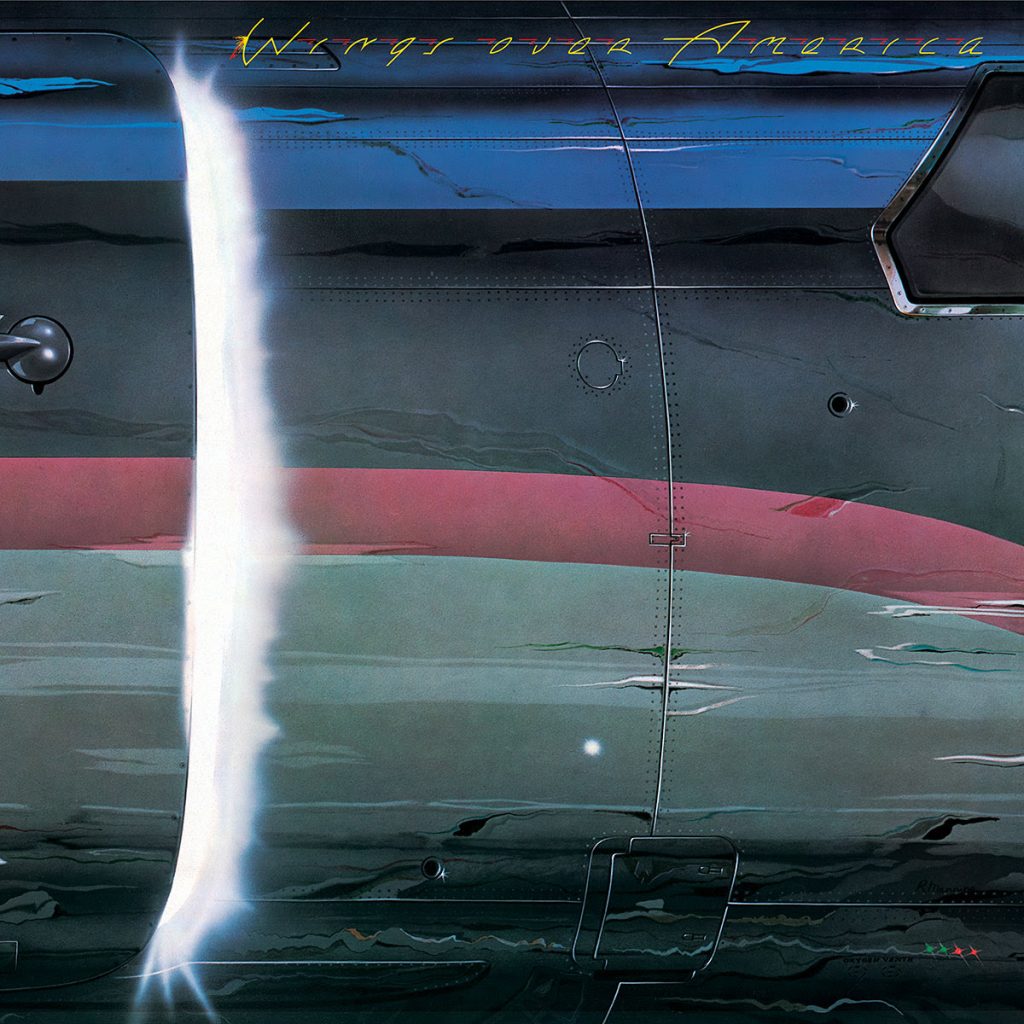 Wings—Wings Over America (Capitol, 1976)
In the days when Paul McCartney wouldn't perform Beatles songs live—which seems like ancient history at this point—a Wings concert contained a certain built-in level of disappointment for attendees. Sure, we all understood he wanted to re-establish himself with a new band and new repertoire and "live in the now," but c'mon, Paul! The 1975-76 tour profiled on this triple LP provided the first crack in the wall, with five Beatles classics—"Yesterday," "Lady Madonna," "The Long and Winding Road," "Blackbird" and "I've Just Seen a Face"—joining the setlist. McCartney reportedly listened to 800 hours of tape to make the selections, and then brought the band into the studio for extensive overdubbing. According to drummer Joe English, most of the backing vocals had to be fixed, which provides further ammunition to those who complained that Paul's wife Linda consistently sang flat (and have the bootleg tapes to prove it). The album was wildly successful, conveying the excitement of being in a room with the friendliest Beatle and his wife and friends.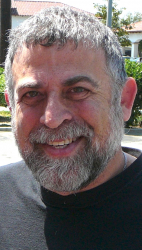 Latest posts by Mark Leviton
(see all)