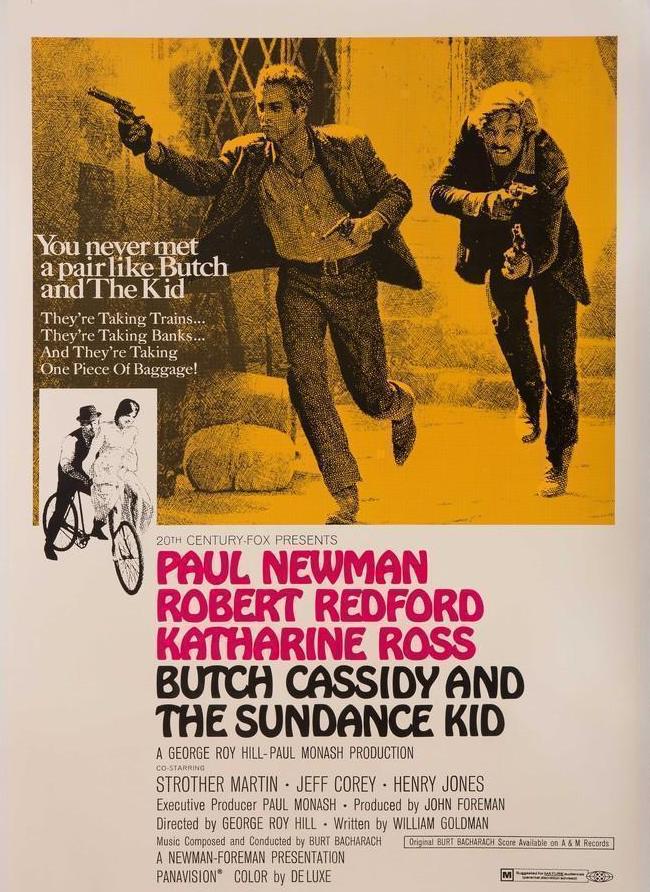 Cast two camera-friendly male actors, add a younger, rising female actress, an experienced film director, and a screenplay which would win an Academy Award (and whose writer would go on to even bigger things). Then add the musical talents of a legendary composing team. That combination led to 1969's beloved Butch Cassidy and the Sundance Kid, a film that has a special place in the hearts of movie fans for its cast, the romanticizing of its outlaw stars and a scene featuring a bicycle ride.
The Western starred Paul Newman as Butch, an outlaw and leader of the Hole-in-the-Wall gang. (He was 44-years-old and already a huge star when it opened. Among his earlier successes: The Hustler, Exodus and Cool Hand Luke.)
Robert Redford was the Kid, just 33-years-old and fresh off the success of the romantic comedy Barefoot in the Park.
Katharine Ross, 29, had co-starred in 1967's The Graduate as Elaine Robinson. Here she played Etta Place, a schoolteacher (and the Sundance Kid's love interest).
The screenplay came from William Goldman, whose remarkable body of work – before and after Butch – includes the novel and screenplay for The Princess Bride, the screenplay for All the President's Men, the novel and screenplay for Marathon Man, and screenplays for The Stepford Wives and Misery, among numerous others.
George Roy Hill was the director, and he would team again with Newman and Redford four years later on The Sting.
Watch the original trailer
The buddy movie was not particularly well-received by film critics when it opened in October 1969. Writing in the New York Times, Vincent Canby wrote: "Newman, Redford and Miss Ross… must be broadly funny and straight, almost simultaneously. They succeed even if the movie does not."
Nevertheless, audiences were immediately taken by it and, with re-releases, it ultimately earned $102 million at the box-office, tops for all movies released in 1969. The film received seven Academy Award nominations, including Best Picture and Best Director, though it failed to win those two prominent categories (losing to Midnight Cowboy for both).
The Oscar for Best Original Score (not a Musical) went to the legendary Burt Bacharach. He received a second award for the film's "Raindrops Keep Fallin' on My Head," sharing the honor with his longtime collaborator, Hal David.
The choice to sing the song was B.J. Thomas (reportedly after it had been offered to both Ray Stevens and Bob Dylan). The pop singer was fresh off his biggest success with the 1968 Top 5 song, "Hooked on a Feeling."
Thomas flew out to Hollywood to record "Raindrops" for the film. "I had an acute case of laryngitis," he told Best Classic Bands. "I had been to the doctor the day before the session and he told me, 'B.J., I don't want you even speak for two weeks.' And I said, 'Oh, doc, I've got this session.' I didn't know what was gonna happen… if Burt was going to fire me or whatever because I could hardly talk. And when we started running through the song, he never said a word. It was with just a standup bass, a guitar and a banjo.
"I went through it about five times. That's as far as I could possibly have gone. "[Bacharach] loved it. He thought it was just perfect for what he wanted for the bicycle scene."
Related: Our interview with B.J. Thomas
The song was memorably used in the scene featuring Newman and Ross' characters. (Newman is said to have done all the stunts, save for the one where he crashes, backwards.)
Watch the film's bicycle scene
The song became an enormous hit, reaching #1 for four weeks beginning on Jan. 3, 1970, becoming the year's 4th-biggest single. (It was certified Gold by the RIAA on July 22.)
Listen to the great studio version
Newman was inspired to name one of his charitable endeavors the Hole-in-the-Wall Camp, for children with cancer. Redford used his Sundance character's name to establish the film festival and TV network of the same name.
Newman died at 83 on September 26, 2008. After earning (but failing to win) six Academy Award nominations for Best Actor, he finally earned one for 1986's The Color of Money. He received two other honorary awards from the Academy.
Its screenwriter, Goldman, passed on November 16, 2018. He was 87. Ross turned 83 on January 29, 2023.
Redford turned 87 on August 18, 2023. He has earned two Academy Awards: for his directorial debut of 1980's Ordinary People, and a Lifetime Achievement Award in 2001.
B.J. Thomas died on May 29, 2021.

Latest posts by Best Classic Bands Staff
(see all)