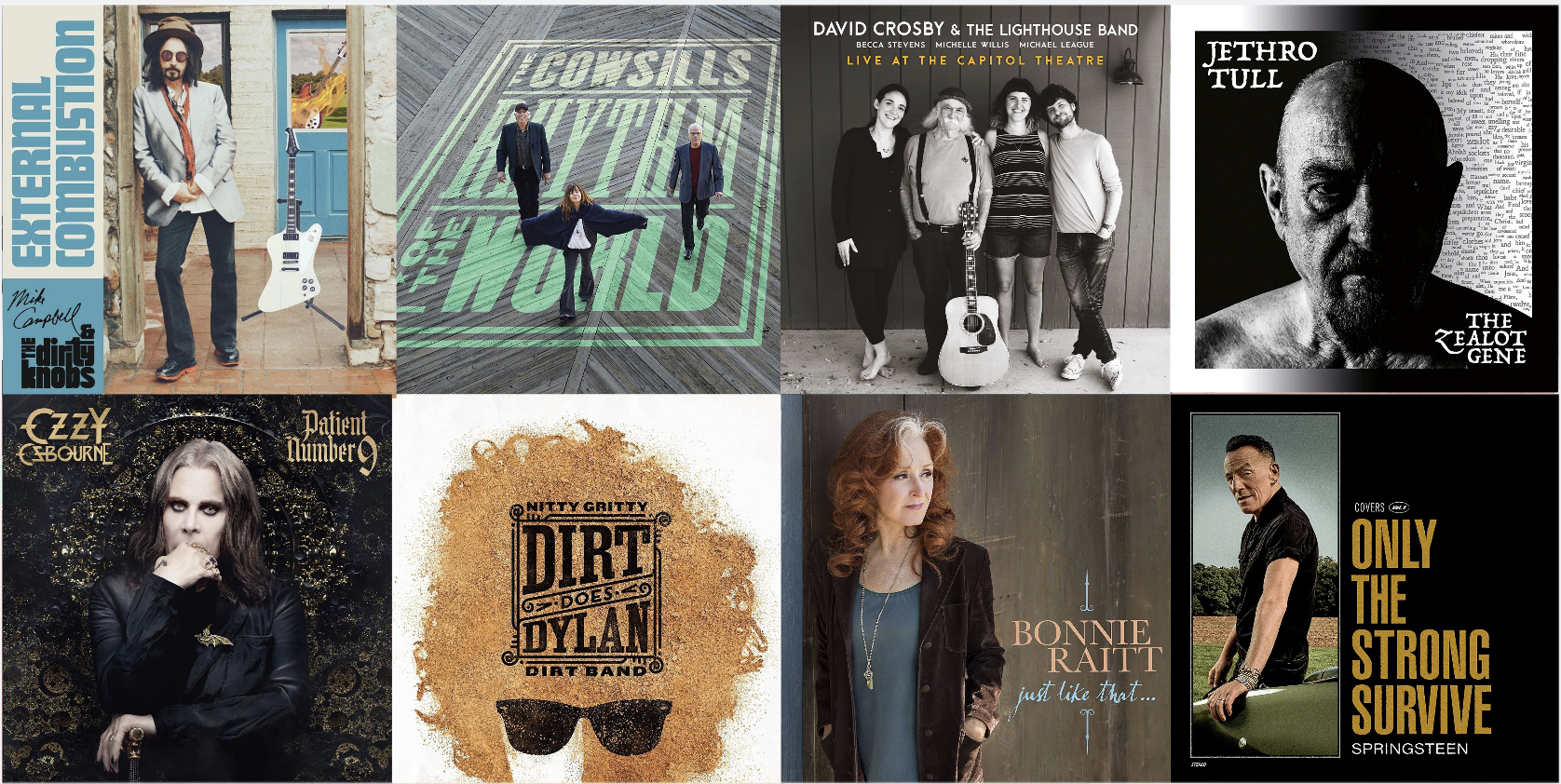 In part one of our three-installment 2022 holiday gift guide, we looked at the best of the boxed sets, reissues and historical collections aimed at classic rock fans.
Part two focused on the year's best music books.
For this third and final segment, we're focusing on newly recorded albums by classic rockers, including Elvis Costello, Jethro Tull, Bonnie Raitt, ZZ Top, Bruce Springsteen, Ringo Starr, Journey and many others.
This list is arranged alphabetically by artist—no rankings here because they're all worthy. All of these are available on CD, many also on vinyl LP and digitally. Many can be found via the handy ordering links at the bottom of this story.
For more information on any of the albums, click on the title following the artist's name.
Happy listening!
Bryan Adams—So Happy It Hurts
The 15th album by the Canadian singer-songwriter is described by the artist as a "return to life after the pandemic…The album touches on many of the ephemeral things in life that are really the secret to happiness and, most importantly, human connection."
Herb Alpert—Sunny Side of the Street
At age 87, the trumpeter, singer, bandleader and music industry executive continues to display his creativity. In addition to six original compositions, the album features classics like "Going Out of My Head," "Time After Time" and the Louis Armstrong title track.
Jeff Beck and Johnny Depp—18
Rock's newest odd couple has had a mutual admiration society going for some time. Said Beck about the title of their collaboration, "When Johnny and I started playing together, it really ignited our youthful spirit and creativity. We would joke about how we felt 18 again, so that just became the album title." And of Beck, the actor said, "It's an extraordinary honor to play and write music with Jeff, one of the true greats and someone I am now privileged enough to call my brother."
The Black Keys—Dropout Boogie
The 11th studio album by the duo received a Best Rock Album Grammy nomination and positive reviews. According to a press release, "The new album captures a number of first takes that hark back to the stripped-down blues-rock of their early days making music together in basements."
The Blues Project—Evolution
The New York City-based group's first new album in 50 (!) years includes founding members Steve Katz, on guitar and vocals, and drummer Roy Blumenfeld. The track list includes material by other current members, covers of classic blues numbers, and one song each by Al Kooper and the late Andy Kulberg, who were members of the classic '60s, lineup. (The release is available on their website.)
Mike Campbell and the Dirty Knobs—External Combustion
The former Heartbreakers guitarist returns with his second album as a leader. Says a press release, "Campbell and the Dirty Knobs' evolution, pushing the band to a new level, jumps ahead in vision and drive, proving the first record was no one-shot deal." Added Campbell about the title, "The band became this spontaneous type of combustion—to borrow a word. The longer we played, the more intuitive it got."
Judy Collins—Spellbound
Amazingly, this is the singer's first album consisting entirely of material she wrote. Our reviewer said, "Her crystal-clear voice is as strong as ever here, and the soothing 13-track program, which employs lots of piano and strings, underscores her composing talents."
Elvis Costello & the Imposters—The Boy Named If
Said our reviewer, "This record demonstrates that he remains well worthy of attention. His band still cooks. And his trademark vocals and colorful vignettes continue to fascinate…Subjects of the songs and stories range from broken hearts and illicit sex to lies and violence."
The Cowsills—Rhythm of the World
For their first album of new material in three decades, siblings Bob, Paul and Susan Cowsill have created a quintessential power pop album for the present era. "We use melody and harmony to bring some love and the hope of peace to the world," said Bob.
David Crosby and the Lighthouse Band—Live at the Capitol Theatre
His second live album as a solo artist demonstrates not only that Croz's voice is as pristine and welcoming as ever, but that his newer material—he's been on a creative roll for the past several years—is the equal of anything he's done before.
Def Leppard—Diamond Star Halos
Their first new album since 2015, the set features 15 tracks including the anthemic, stadium-ready singles "Kick" and "Fire It Up," with guest vocals from Alison Krauss on "This Guitar" and "Lifeless." The album title references T. Rex's "Bang a Gong (Get It On)."
Dr. John—Things Happen That Way
His final studio album features three new original new compositions, a reworking of his own 1968 classic, "I Walk on Gilded Splinters," plus new interpretations of songs by Willie Nelson (who appears on the album), Hank Williams and the Traveling Wilburys.
Steve Forbert—Moving Through America
Not just another travelogue: the veteran singer-songwriter sets down in those out-of-the-way places that rarely find their way into songs. Within them, he paints a picture of modern-day American life, a keen observer who keeps things simple and tells it as he sees it.
Related: What were the best new releases of 2021?
Richie Furay—In the Country
On his first studio album in seven years, the former Buffalo Springfield and Poco co-founder pays tribute to country songs that he has loved over the years. The 12-song set features such classics as "The River" (Garth Brooks), "Somebody Like You" (Keith Urban) and "I Hope You Dance" (Lee Ann Womack).
Sammy Hagar and the Circle—Crazy Times
The Red Rocker's new album, which includes bassist Michael Anthony and drummer Jason Bonham among its personnel, is a follow-up to the band's Space Between. It includes 10 songs, nine of which Hagar wrote or co-wrote, along with a notable cover, "Pump It Up," a 1978 song by Elvis Costello and the Attractions.
Bruce Hornsby—'Flicted
The final part of a trio of film projects recorded by the keyboardist-singer-songwriter for director Spike Lee, 'Flicted takes an optimistic look at the post-Covid era we're entering. The songs range from an orchestral original to a Chuck Berry cover, using a revolving cast of players.
Janis Ian—The Light at the End of the Line
The renowned singer-songwriter has retired from touring, but she offered fans this gem of an album in place of personal appearances. It's been described as "a victory lap for an artist who has nothing to lose, and nothing left to prove. If the album ends up being Ian's swan song, it's as graceful an exit as fans could want."
Jethro Tull—The Zealot Gene
For the first album of new Tull material in nearly two decades, leader Ian Anderson goes deep. He says, "While I have a spot of genuine fondness for the pomp and fairytale story-telling of the Holy Book, I still feel the need to question and draw sometimes unholy parallels from the text."
Journey—Freedom
Their first new studio album in more than a decade features 15 songs by founder Neal Schon (lead guitarist), Jonathan Cain (keyboards, backing vocals), Arnel Pineda (lead vocals) and the other current members.
Bob Lind—Something Worse Than Loneliness
The singer-songwriter best known for his 1966 hit "Elusive Butterfly" is not only still at it, but his songwriting is better than ever and his voice hasn't lost a thing. All of his recent releases have been excellent.
Taj Mahal & Ry Cooder—Get on Board
Nearly 60 years after they first played together, and formed a band called the Rising Sons, the two master musicians have reunited for this blues album. Said Cooder, "We've been doing this a while. Perhaps we've earned the right to bring it back."
John Mayall—The Sun is Shining Down
He just turned 89 and while he no longer tours, the blues legend still has something to say. "The album explores a range of styles and eclectic instruments," said Mayall, whose special guests on the recording include violinist Scarlet Rivera and Heartbreakers guitarist Mike Campbell.
John Mellencamp—Strictly a One-Eyed Jack
The Indiana singer-songwriter's 24th studio album features three collaborations with Bruce Springsteen, including the duet "Wasted Days" and the single "Did You Say Such a Thing." According to Wikipedia, Mellencamp has said he approached the album "as if all the songs were coming from the voice of a single character."
Graham Nash—Live
For his 2019 tour, Nash performed his first two solo albums, Songs for Beginners and Wild Tales, in their entirety. This live album features a seven-piece band. Said Nash at the time of its release, "The experience of revisiting the music I made almost 50 years ago, live in front of an audience, gives me the chance to actually play the songs as was envisioned those many years ago."
Willie Nelson—A Beautiful Time
From the album's press release: "Among its many musical delights, A Beautiful Time introduces a variety of newly written future pop-country classics, including five new Willie Nelson/Buddy Cannon compositions and contributions from some of Nashville's finest contemporary songwriters."
Nitty Gritty Dirt Band—Dirt Does Dylan
The collection, according to its press release, "finds a generation-spanning Dirt Band paying an appropriately great tribute to arguably the greatest songwriter of the 20th century with the help of friends like Jason Isbell, the War & Treaty, Steve Earle and Rosanne Cash."
Ozzy Osbourne—Patient Number 9
Never count out Ozzy! The Madman's 13th solo album is described in a press release as "heavy…hard-hitting…historic…everything you'd want from an Ozzy Osbourne record and maybe more." For the first time, Black Sabbath guitarist Tony Iommi appears on an Ozzy solo album. The record also features guitarists Jeff Beck, Eric Clapton, Mike McCready of Pearl Jam, and Zakk Wylde, who plays on the majority of the tracks.
Bonnie Raitt—Just Like That
Said Raitt about her latest, "I always want to find songs that excite me, and what's different this time is that I've tried some styles and topics I haven't touched on before. I'm really aware of how lucky I am. I feel like my responsibility is to get out there and say something fresh and new-for me and for the fans."
Red Hot Chili Peppers—Unlimited Love
The new release is their first with guitarist John Frusciante since 2006 and their first collaboration with producer Rick Rubin since 2011. Said the band in a statement, "Our antennae attuned to the divine cosmos, we were just so damn grateful for the opportunity to be in a room together, and, once again, try to get better." The band released a second album, Return of the Dream Canteen, in the fall, featuring music recorded during the sessions for Unlimited Love.
Timothy B. Schmit—Day By Day
The Eagles member invited special guests Jackson Browne, Lindsey Buckingham, John Fogerty, Benmont Tench, Jim Keltner, John McFee and Kenny Wayne Sheppard to join him on his latest solo outing, his first since 2016.
Scorpions—Rock Believer
The 19th album by the German band—now 57 (!) years into its career—is also their first in seven years and their first with drummer Mikkey Dee. Says an announcement, "This new album has massive energy, delivers a real adrenaline rush and shows uncompromising quality. The record consists of 11 awesome tracks, each a lyrical short story, featuring the Scorpions' characteristic trademarks from the early '80s, yet produced from a 2020s perspective."
Slash Ft. Myles Kennedy and the Conspirators—4
According to the album's Wikipedia entry, "Looking to record the album in a different style than previously, the band traveled to Nashville to record at RCA Studio A with Dave Cobb, [who] shared the band's vision of recording the tracks live together, a tactic they had not employed on the previous albums." Said Slash, "The mistakes are all in there. It's the sound of the five of us just jamming together in one room."
Bruce Springsteen—Only the Strong Survive
The Boss has always loved the soul music of the '60s and '70s, and has often covered both hits and obscurities from the genre. Here, he takes on an album's worth of those tunes, including songs originally performed by the Temptations, Aretha Franklin, the Four Tops, the Commodores and the Supremes.
Ringo Starr—EP3 + Live at the Greek Theater 2019
The still prolific singer-drummer put out a four-song EP, titled EP3, in the early fall, then followed it in November with Live at the Greek Theater 2019. The latter features a performance by Ringo and His All-Starr Band, including the leader's takes on familiar tunes like "It Don't Come Easy," "Don't Pass Me By," "Yellow Submarine" and "With a Little Help From My Friends," as well as performances by bandmates, including Journey/Santana keyboardist Gregg Rolie.
Tears for Fears—The Tipping Point
The band's seventh studio album, which reached #2 in the U.K. and #8 in the U.S., is their first studio set since Everybody Loves a Happy Ending, released almost 18 years prior.
Tedeschi Trucks Band—I Am the Moon
The ambitious four-album/four-film series is "inspired by a mythic Persian tale of star-crossed lovers, and emotionally driven by the isolation and disconnection of the pandemic era," according to the band's website. It comprises "more than two hours of music, unfolding a robust tapestry of genre-defying explorations that propel the treasured American ensemble into new and thrilling creative territory."
Various Artists—Here It Is: A Tribute to Leonard Cohen
The album, produced by Larry Klein, presents renditions of the singer-songwriter's profound songs performed by a unique line-up of vocalists: James Taylor, Norah Jones, Peter Gabriel, Mavis Staples, Gregory Porter, Sarah McLachlan, Luciana Souza, David Gray and Nathaniel Rateli­ff.
Eddie Vedder—Earthling
The third solo album by the Pearl Jam frontman features collaborations with Stevie Wonder, Ringo Starr, Elton John, Chad Smith and others.
Jack White—Fear of the Dawn and Entering Heaven Alive
Some artists had so much catching up to do in the post-pandemic climate that they released two albums this year, Jack White among them. Barely stopping to rest, the White Stripes/Raconteurs leader also undertook extensive tour dates and in-store appearances.
Wilco—Cruel Country
The Chicago band's 12th studio album, is an "exploration of the genre they've often been defined by but, until now, never fully embraced." The double album features 21 Jeff Tweedy-penned tracks, made almost entirely of live takes, created with all six members together in The Loft for the first time since the 2011 release The Whole Love.
Ann Wilson—Fierce Bliss
The latest album by the Heart co-founder came together quickly, she said. "I had originally intended to go in, record a few songs and see what I had, but it just took on this life." With the input of rocker Kenny Wayne Shepherd, she continued, "the whole project just started to grow."
Edgar Winter—Brother Johnny
For many years, Edgar Winter dodged the idea of putting together a tribute to his late older brother, the blues-rock guitar icon Johnny Winter. Finally, he knew it was time and called upon colleagues like Joe Walsh, Ringo Starr, Billy Gibbons, Steve Lukather, Michael McDonald and Joe Bonamassa to help out.
Related: The story behind Edgar WInter's They Only Come Out at Night
Neil Young and Crazy Horse—World Record
More prolific than ever, Young keeps cranking out both new albums and archival projects from his bottomless vault. World Record is a new Crazy Horse outing, co-produced by Young and Rick Rubin, filled with crunchy power chords and piles of riffs. The album cover is notable in that it's a photograph of Young's father, the journalist Scott Young.
ZZ Top—RAW
The album features the original trio of Billy Gibbons, Frank Beard and the late Dusty Hill, and consists of classic tracks recorded in connection with the band's 2019 Netflix documentary That Little Ol' Band From Texas. It captures "a gathering for an intimate session at Gruene Hall, "the oldest continually run dance hall in Texas," according to Gibbons.
Best Classic Bands is an authorized Amazon affiliate. We're grateful for purchases made by our readers.

Latest posts by Best Classic Bands Staff
(see all)