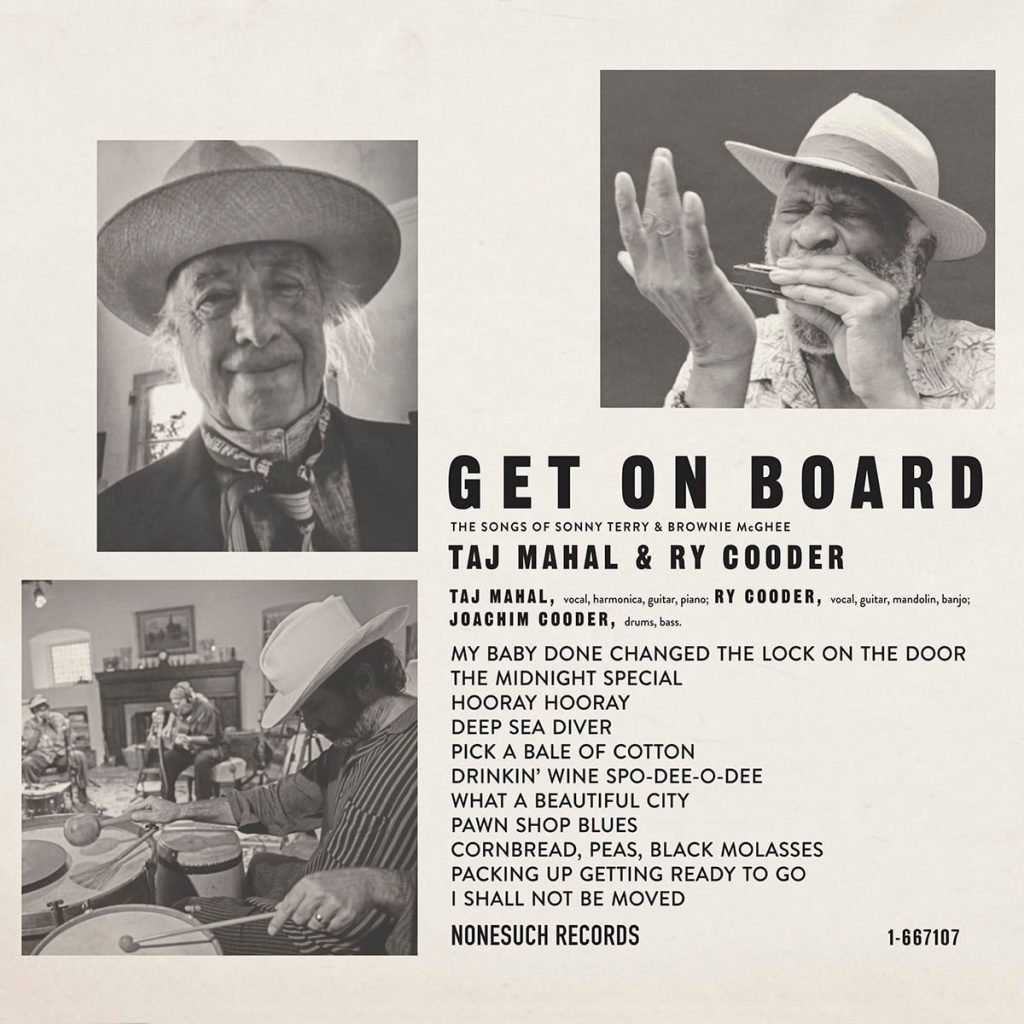 Nearly 60 years after they first played together, Ry Cooder and Taj Mahal have reunited with an album of music from two Piedmont blues masters who have inspired them all their lives: Get on Board: The Songs of Sonny Terry & Brownie McGhee, was released on April 22, 2022, on Nonesuch Records. Listen to several tracks and watch an interview with Cooder and Taj Mahal about the record below.
With Taj Mahal on vocals, harmonica, guitar and piano, and Cooder on vocals, guitar, mandolin and banjo—joined by Joachim Cooder on drums and bass—the duo recorded 11 songs drawn from recordings and live performances by Terry and McGhee, who they both first heard as teenagers in California.
Watch The Making of Get on Board
Taj Mahal and Ry Cooder originally joined forces in 1965, forming the Rising Sons when Cooder was just 17. The band was signed to Columbia Records but an album was not released and the group disbanded a year later. The 1960s recording sessions, widely bootlegged, were finally issued officially in 1992. Get On Board is Taj Mahal and Ry Cooder's first recording together since then.
Watch the pair perform "I Shall Not Be Moved"
Related: Taj Mahal took part in the Rolling Stones Rock and Roll Circus in 1968
Harmonica player Sonny Terry and guitarist Brownie McGhee, both originally from the southeastern United States, had active solo careers as well as collaborating with some of the most celebrated musicians of their time. But they were best known for their 45-year partnership, which began in 1939 and included mesmerizing live performances around the world and numerous acclaimed recordings.
Listen to their collaboration on "The Midnight Special"
"We've been doing this a while," Cooder says. "Perhaps we've earned the right to bring it back. Says Mahal, "We're now the guys that we aspired toward when we were starting out. Here we are now … old timers. What a great opportunity, to really come full circle."
Track Listing
My Baby Done Changed the Lock on the Door
The Midnight Special
Hooray Hooray
Deep Sea Diver
Pick a Bale of Cotton
Drinkin' Wine Spo-Dee-O-Dee
What a Beautiful City
Pawn Shop Blues
Cornbread, Peas, Black Molasses
Packing Up Getting Ready to Go
I Shall Not Be Moved
Cooder was born on March 15, 1947. Mahal, was born on May 17, 1942, as Henry St. Claire Fredericks.

Latest posts by Best Classic Bands Staff
(see all)