Few artists in the history of American music have been able to stay relevant decade after decade like Herb Alpert. The iconic musician, philanthropist and Rock & Roll Hall Of Fame inductee has released his latest studio album. Sunny Side of the Street arrived on Sept. 30, 2022, on his Herb Alpert Presents label. The 11 songs from the 87-year old include"Going Out of My Head" and "Time After Time," and of course Louis Armstrong's "Sunny Side of the Street." The album features six original compositions and was recorded with longtime collaborators Lani Hall, Jeff Lorber, Bill Cantos and more. Listen to many of the songs including a cover of Miriam Makeba's "Pata Pata" below.
Last year, Alpert released Catch the Wind, a collection of music recorded with his longtime partner and wife, Lani Hall. The pair have also been on an expansive 2022 tour throughout the U.S., Canada and the U.K. The tour continues this fall, with many shows already scheduled into June 2023. More dates will be announced soon. Tickets are available here and here.
One of the most accomplished artists in the music industry, Alpert has sold over 72 million records.
Listen to his covers of "Pata Pata" and "I'll Remember You" from the new album
"I'll Remember You" was written by Kui Lee and was covered by Don Ho (the artist to initially make it famous), Elvis Presley, and Andy Williams.
Alpert, born March 31, 1935, has earned 15 Gold and 14 Platinum records, most with his band, the Tijuana Brass. Beginning in 1962, with The Lonely Bull, and into 1968, Alpert and his group placed 10 albums into the Billboard top 10, nine of those consecutively, with six of them reaching #1. Alpert reportedly sold 14 million albums in 1965 alone and at one point in 1966, five Tijuana Brass albums sat in the top 20 simultaneously, a feat acknowledged by the Guinness Book of Records.
Listen to his cover, with Lani Hall, of "Going Out of My Head," which she famously sang with Sergio Mendes and Brasil '66
In our 2021 interview with Alpert, we asked him whether he had any sense that Whipped Cream and Other Delights and the single "A Taste of Honey" were going to be as huge as they were.
"The album came out normally and it didn't do anything magical. I was playing with the group in Seattle, Washington, and every time I played 'A Taste of Honey,' people went crazy. They loved it. So sometimes I played it twice. 'A Taste of Honey' was on the B-side, and my partner, Jerry Moss, liked 'Third Man Theme,' that was on the A-side. So I called him and I said, 'Man, we're on the wrong record. Turn the record over and start promoting "A Taste of Honey".' He said, 'Nah, man, you can't dance to it. It's too long and it stops and starts. Radio's not going to like it.' I said, 'Turn the record over. I'm telling you. I've got a focus group up here.' We turned it over and I don't know how long it took, but when it did take, man, that just took everything with it when that record broke, because that album went crazy. It's like 14 million sales. That was fortunate."
Alpert has won nine Grammy Awards and received the National Medal of Arts from President Obama in 2012. In 1962, Herb co-founded the label, A & M Records (with Jerry Moss) ,which recorded artists as varied as Carole King, Cat Stevens, Carpenters, Janet Jackson, Peter Frampton, Quincy Jones, Sergio Mendes, and The Police. A&M would go on to become one of the most successful independent labels in history. Less known is his striking work as an abstract painter and sculptor. Mostly below-the-radar is his significant philanthropic support of educational programs in the arts nationwide, from the Harlem School of the Arts and Los Angeles City College to CalArts and UCLA.
Sunny Side of the Street Track Listing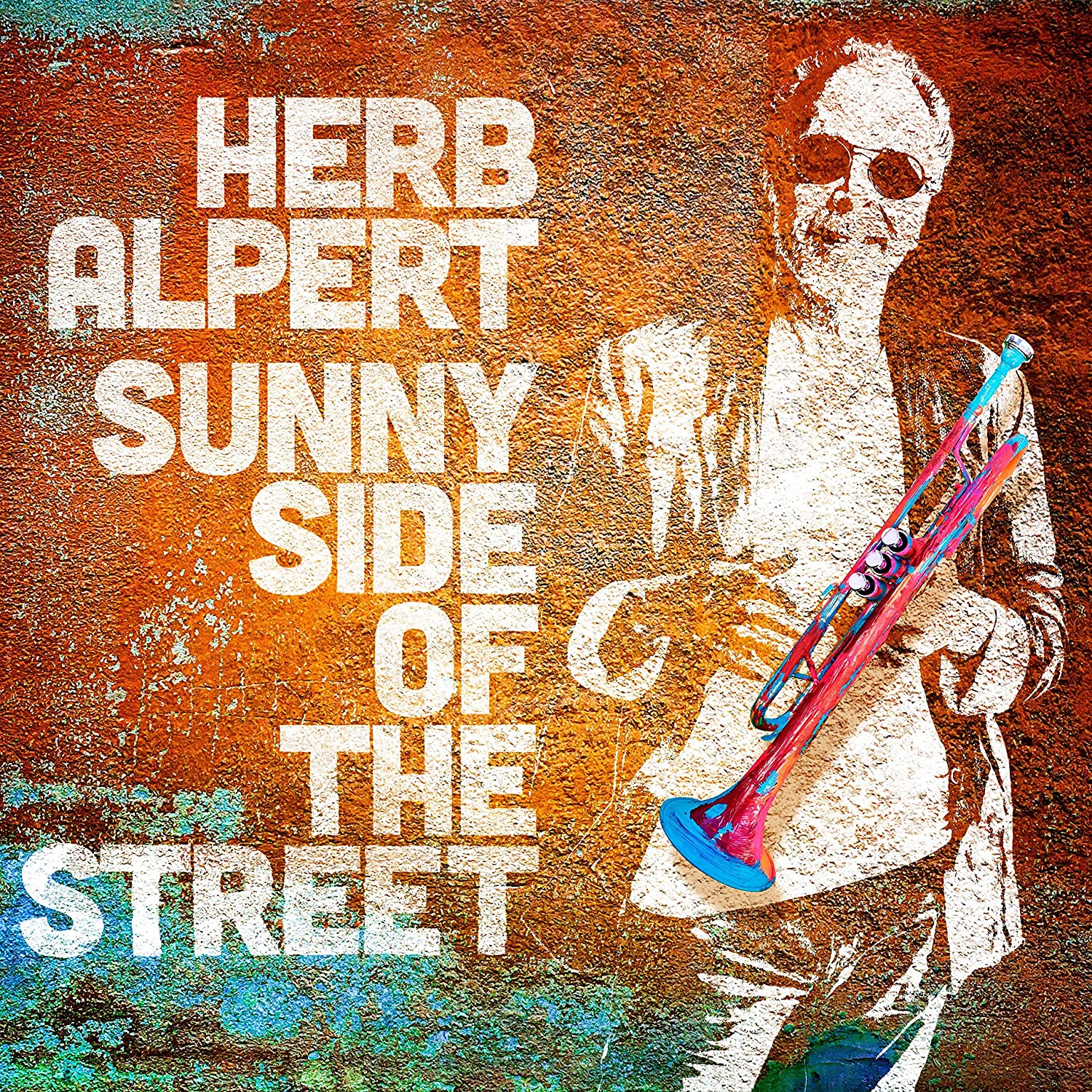 01 – Sunny Side of the Street
02 – Childhood
03 – Pata Pata
04 – Goo Goo Eyes
05 – I'll Remember You
06 – Tickle Time
07 – Time After Time
08 – Sneaky Pete
09 – Going Out of My Head
10 – Here She Comes
11 – Just a Dream Away
Listen to the uplifting "Here She Comes"
Here's his cover of the Sammy Cahn-Jule Styne composition, "Time After Time"

Latest posts by Best Classic Bands Staff
(see all)