John Mayall announced in 2021 that his touring days are over. On a post on his Facebook page that Sept. 22, the British blues legend cited "the risks of the pandemic and his advancing age." He turned 89 on Nov. 29, 2022. In October 2019, he had cancelled the remaining dates of his European/U.K./Ireland tour, citing "health issues." But age hasn't stopped him from doing great things: he released a new studio album in 2022.
In 2018, Mayall had to cancel shows "due to needing continued medical care after a bout of pneumonia." He returned with a full European tour in February 2019. Moving forward, the musician says he'll continue to perform locally near his California home.
The complete Sept. 22, 2021 statement on Mayall's Facebook page:
"I have decided, due to the risks of the pandemic and my advancing age, that it is time for me to hang up my road shoes. As a result I will be radically reducing my touring schedule and will be limiting my performances to local shows near my home in California, and the occasional concert further afield. My epic road dog days however have come to an end. I want to thank my audience for all the wonderful decades of shows, your infectious enthusiasm for my music and for your support throughout my many musical incarnations.
"It has been a privilege to have spent my life doing what I love and having you along for the ride with me through all of it. I may not be travelling to your location, but I do want to continue to share my love of the Blues with you. I have a new musical offering coming your way in the form of my album, The Sun is Shining Down [released Jan. 28, 2022 via Forty Below Records], featuring my long-time rhythm section of Greg Rzab and Jay Davenport as well as some exciting special guests [including the Heartbreakers' Mike Campbell]. I'm proud of what we came up with and excited to share it with you. I look forward to seeing those of you who can attend my local shows, and I will miss all of you who cannot, but as always, keep loving the Blues!" In Nov. 2022, the album earned a Grammy nomination for Best Traditional Blues Album.
Listen to "I'm as Good as Gone" from his 2022 album
Mayall is also the subject of a massive 35-disc boxed set, First Generation 1965-1974 – the first set of this size to be released documenting his early years.
When his 2019 concerts were cancelled, his social media team noted, "Though John is upset about disappointing his loyal fans, we all feel that it is most important to protect his health so he can be well and continue doing what he loves for many years to come."
Mayall's 2019 tour schedule was particularly arduous. He had a concert on Oct. 23 in Dresden, Germany, followed by consecutive performances through Nov. 1. The tour was scheduled through November 24 with only five days off.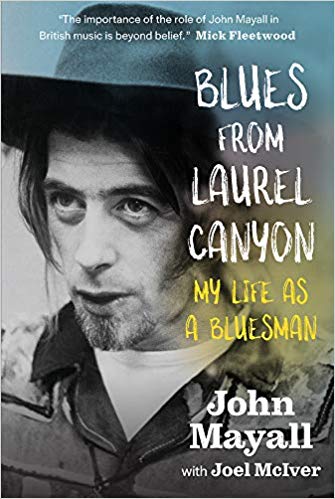 Among the many classic rock guitarists who played in Mayall's early bands were Eric Clapton, Peter Green and Mick Taylor.
Mayall has a recent autobiography. Blues From Laurel Canyon – John Mayall: My Life as a Bluesman was written with author Joel McIver.
In Best Classic Bands' 2017 interview with Mayall, the musician was asked "You're still so active, especially onstage. What do you do to keep yourself in such great shape?"
"I think it's my obligation to give the audience a full-on show with all the energy I can muster," he said. "I don't really have a clue why it happens but I'll just keep on doing it. For me it's a big thrill to communicate with audiences and give them what they expect."
Watch Mayall perform in Paris on April 11, 2019
Born on November 29, 1933, Mayall became enamored of blues and jazz early in his life, and he was already performing blues in public by the late '50s and early '60s. The singer/songwriter/guitarist/keyboardist and harmonica player released his debut album, John Mayall Plays John Mayall, in 1965, but it wasn't until Mayall hired a young guitarist named Eric Clapton away from the Yardbirds that his own band, the Bluesbreakers (sometimes spelled Blues Breakers), began getting noticed on a larger scale.
Related: Our Album Rewind of Blues Breakers With Eric Clapton

Latest posts by Best Classic Bands Staff
(see all)