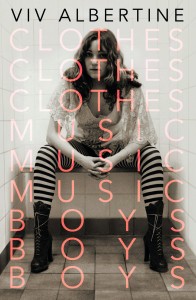 Clothes, Clothes, Clothes. Music, Music, Music. Boys, Boys, Boys
by Viv Albertine
(Thomas Dunne Books/St. Martin's Press)
In A Word: Unsparing
If you were a fan of the Slits and their sui generis, serrated, feral music, it should come as no surprise that Viv Albertine, whose scratchy, asymmetrical guitar was central to their sound, has written an honest and arresting memoir. "Anyone who writes an autobiography is either a twat or broke" is how it kicks off (and she admits to being "a bit of both"), followed by a claim that masturbation just wasn't for her.
With that out of the way, she goes on to a fine-grained, ground-level retelling of punk's early days. A refugee from a North London council house, she's there from the start: an art student hanging out at Malcolm McLaren and Vivienne Westwood's Sex boutique, the 100 Club, bartending at the Music Machine. Keith Levine tried to teach her guitar, she was Mick Jones' girlfriend, played in the Flowers of Romance with Sid Vicious, shot up with Johnny Thunders, and the first person she ever fellated was Johnny Rotten (the latter one of the book's comic highlights). Written in conversational, no-nonsense, observant style, Albertine doesn't pull any punches in her sharply drawn portraits, but she's also warm and compassionate, limning Sid's soft side and even finding something nice to say about his tragic love, Nancy Spungen.
Her time with the Slits – a band so outre, they were banned from hotels that were happy to rent rooms to the Pistols – is the book's center: a fascinating look at forming and keeping together a band whose commitment to the punk ethos of willful amateurism was both their genius and downfall. But unlike so many musician's bios, her second act of marriage, children, illness, and attempting to reconcile her staunchly held beliefs with adulthood is just as striking as the first. Even if you don't care about punk, Clothes, Clothes, Clothes. Music, Music, Music. Boys, Boys, Boys is a fascinating look at the life of a musician.

Latest posts by Steven Mirkin
(see all)